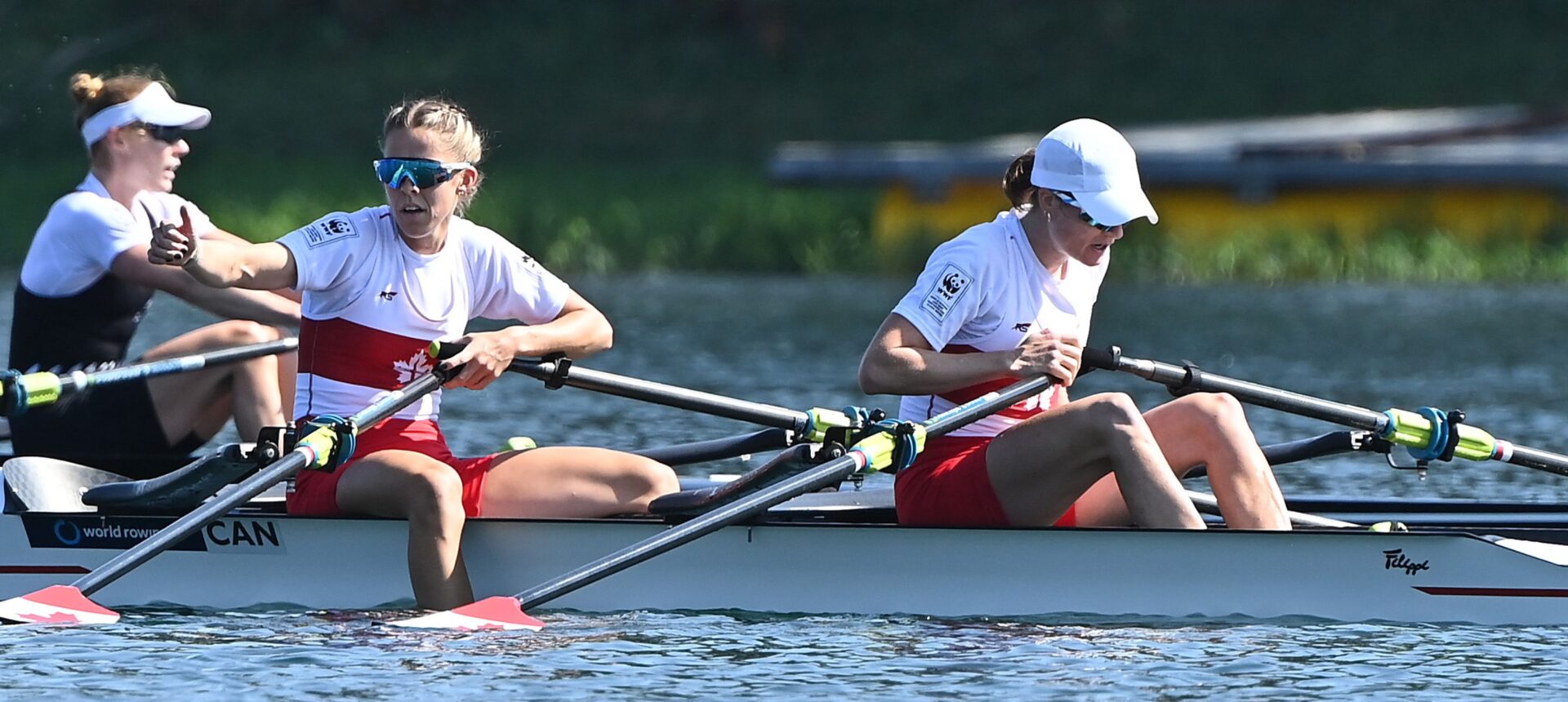 ---
BELGRADE, SERBIA — Canadian lightweight rowers Jill Moffatt (University of Western Ontario) and Jenny Casson (Kingston Rowing Club) lock in a personal best finish at the 2023 World Rowing Championships in Belgrade, Serbia today. The first time competing in an A Final at World Championships, the duo placed 4th overall in the women's lightweight double event with a time of 7:25.77.
"This week has been very special for us," said Casson. "At the last Olympic qualification regatta in 2019 for Tokyo, it was really tough to miss out on the A Final and finish 8th so this year's focus has been all about not putting ourselves in a position where we are racing for one Olympic spot in the B Final."
Moffatt and Casson secured Canada's first quota spots for Paris 2024 on Thursday, winning their semi-final race ahead of New Zealand and the United States with a time of 7:23.12.
"We were so elated that we had qualified spots for our country," said Moffatt. "Those semi-finals were the most important to us, qualifying a spot for our country felt like we had won the regatta. Switching over to race day was hard but we figured, since we already achieved our goal, why not go for more but it was no longer do or die from an Olympic qualification perspective."
At the 2022 World Rowing Championships, Moffatt and Casson finished 7th overall and 12th at the 2020 Tokyo Olympic Games.
"Making it to the A Final and finishing 4th here in Belgrade meant that it was not luck, it was hard work believing in ourselves, believing in each other and trusting that we did everything we could to get that finish," added Casson. "I think we can be really proud of how this ended."
Canadian crews competing in B final action today included the Women's Four and the Women's Quad, both finishing the B Final in 4th place. Rebecca Zimmerman (University of Victoria Rowing Club), Kristen Siermachesky (Brockville Rowing Club) Kristina Walker (Kingston Rowing Club/UBC), and bow seat, Piper Battersby – (Victoria City Rowing Club/UVic) wrap up their event in 10th overall.
Women's Quad, Shannon Kennedy (London Western Rowing Club), Grace VandenBroek (Peterborough Rowing Club/Trent U), Carling Zeeman (Sudbury Rowing Club) and Elisa Bolinger (University of Western Ontario) also wrapped up their first World Championships as a crew in 10th place.
Tomorrow will mark the final day of World Championship competition with the Women's Eight going for gold and the Men's Eight racing to win the B Final.
2023 World Rowing Championships – Canadian Team:
Women's Coxed Eight (W8+) – Next Race – A Final 
Top five nations receive Olympic qualification
Morgan Rosts – Ridley Graduate Boat Club / Ontario
Cassidy Deane – Kingston Rowing Club / British Columbia
Avalon Wasteneys – University of Victoria Rowing Club / British Columbia
Sydney Payne – Brentwood College Rowing Club / Ontario
Kirsten Edwards – University of Victoria Rowing Club / British Columbia
Alexis Cronk – University of Victoria Rowing Club / British Columbia
Kasia Gruchalla-Wesierski – Club d'Aviron Knowlton / Alberta
Jessica Sevick – University of British Columbia / Calgary Rowing Club / Alberta
Kristen Kit (cox) – University of British Columbia / St. Catharines Rowing Club / Ontario
Men's Coxed Eight (M8+) – Next Race – B Final
Will Crothers – Kingston Rowing Club / Ontario
Jakub Buczek – St. Catharines Rowing Club / Ontario
Curtis Ames – Calgary Rowing Club / Alberta
Gavin Stone – Queen's University Rowing Club / Island Lake Rowing Club / Ontario
Cody Bailey – London Western Rowing Club / Ontario
Liam Keane – Victoria City Rowing Club / British Columbia
Joel Cullen – University of British Columbia / University of Washington / British Columbia
Ryan Clegg – Western University Rowing Club / Ontario
Laura Court (cox) – St. Catharines Rowing Club / Ontario
Women's Double Scull (W2x) – Next Race – C Final
Katie Clark – University of British Columbia Rowing Club / British Columbia
Marilou Duvernay-Tardif – Knowlton Rowing Club / Quebec
Women's Lightweight Double Scull (LW2x) – 4th in A Final
Jill Moffatt – Western University Rowing Club / Ontario
Jennifer Casson – Kingston Rowing Club / Ontario
Women's Coxless Four (W4-) – 4th in B Final (10th Overall)
Rebecca Zimmerman – University of Victoria Rowing Club / Brockville Rowing Club / Ontario
Kristen Siermachesky – Brockville Rowing Club / BC NextGen Performance Centre / Ontario
Kristina Walker – Kingston Rowing Club / University of British Columbia Rowing Club / Ontario
Piper Battersby – Victoria City Rowing Club / University of Victoria Rowing Club / British Columbia
Women's Quadruple Scull (W4x) – 4th in B Final (10th Overall)
Shannon Kennedy – London Western Rowing Club / Ontario
Grace VandenBroek – Peterborough Rowing Club / Trent University / Ontario
Carling Zeeman – Sudbury Rowing Club / Ontario
Elisa Bolinger – University of Western Ontario / Ontario
Men's Quadruple Scull (M4x) – 5th in C Final (17th Overall)
Liam Smit – University of British Columbia Rowing Club / South Africa / British Columbia
Terek Been – Montreal Rowing Club / Quebec
Steven Rosts – Ridley Graduate Boat Club / Ontario
Daniel De Groot – St. Catharines Rowing Club / Ontario
Women's Coxless Pair (W2-) – 6th in C Final (18th Overall)
Caileigh Filmer – University of Victoria Rowing Club / British Columbia
Maya Meschkuleit – Don Rowing Club / Ontario
Men's Coxless Pair (M2-) – 3rd in D Final (21st Overall)
Josh King – Ottawa Rowing Club / Ontario
Luke Gadsdon – Leander Boat Club / Brock University / Ontario
Men's Single Scull (M1x) – DNS in D Final – Medical Withdrawal
Trevor Jones – Peterborough Rowing Club / Ontario
Coaches
Lauren Fisher
Jeremy Ivey
Maksym Kepskyy
Dane Lawson
Carol Love
John Wetzstein