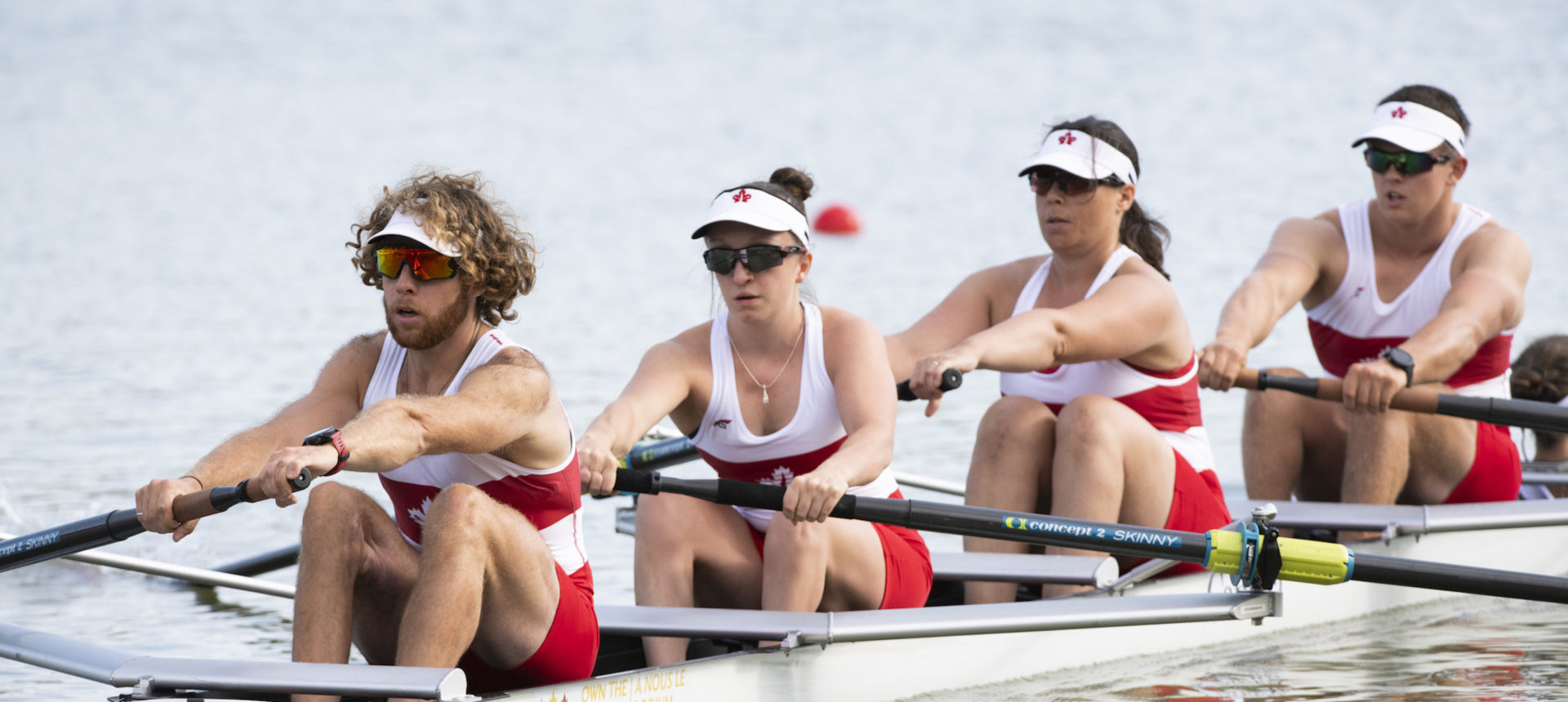 RCA believes that everyone in rowing has the right to enjoy the sport at all levels of participation. Athletes, coaches, officials, umpires and volunteers have the right to participate in a safe and inclusive training and competitive environment that is free of abuse, harassment or discrimination – collectively referred to as maltreatment.
RCA believes the welfare of everyone involved in the sport is a foremost consideration and in particular the protection of children/athletes in the sport is the responsibility of each individual and member in the rowing community.
RCA recognizes that this is an evolving area of focus for all sports in Canada. Our safe sport program will continue to focus on education, prevention and response, all of which will be supported by strong governance, policies and procedures.
Our goal is to ensure that all members and registered participants of Rowing Canada Aviron have the resources required to access a fun, healthy, inclusive and safe environment.
Individuals who are experiencing or are aware of any forms of maltreatment should make use of the support services listed below to obtain advice on how to proceed.
The Canadian Sport Helpline
The Canadian Sport Helpline, funded by the Government of Canada, is a confidential listening and referral service monitored by live operators from 8 am to 8 pm Eastern time, 7 days a week. Users will have a choice of communicating via a toll-free phone line, email, text or live chat, in the official language of their choice.
The helpline is 1-888-83-SPORT. 
If you require assistance or would like to talk to a trained professional about a suspected incident of child abuse Click here to find your local child welfare agency. If you suspect a child is in immediate danger, call 9-1-1 or your local police.
Independent Third Party for Rowing in Canada
RCA knows how important it can be to provide a safe and secure way of reporting issues that are impacting an individual directly or that they have become aware of. As required by Sport Canada, RCA has enlisted the services of an Independent Third Party, Lise MacLean of Wiser Workplaces.
A Certified Human Resources Professional (CHRP) with nearly twenty years of experience as a human resources consultant, manager and executive in the public, not-for-profit, and private sectors, Lise Maclean is a certified Workplace Investigator and is currently a member of the Sport Dispute Resolution Centre of Canada Investigation Unit and the HRPA Discipline Committee.
Lise is a highly trained and skilled professional equipped to deal with Safe Sport issues with sensitivity and in confidence.  She is able to review, advise and refer issues for further action independently of RCA. If you wish to connect with Lise, you may contact her through the Canadian Sport Helpline or directly at +1 (613) 404-2000 or  lise@wiserworkplaces.ca.
Contact us if you want to learn more. 
---
Safe Sport Policy Manual
Coaching Association of Canada Safe Sport Training
Rule of Two
Poster: Open and Observable Environments
Poster: Support Services
RCA Safe Sport: A Harmonized Approach to Prevent and Address Maltreatment in Canadian Rowing [webinar recording] [webinar slides]
RCA Safe Sport: A Harmonized Approach – Community Implementation and Next Steps [webinar recording] [webinar slides]
Safe Sport continues to be an evolving area of focus for all sport in Canada and it remains one of RCA's top priorities. Collectively, RCA and our member organizations and stakeholders can ensure rowing in Canada is protected and, as a result, all participants are able to thrive because we have created a safe and welcoming environment free of abuse, maltreatment, harassment and discrimination.
Since 2018, RCA has been investing in awareness and education related to Safe Sport. One of our priority and current initiatives is the creation and adoption of a Pan-Canadian Safe Sport Policy Manual that is harmonized across our sport – it is uniform and will be aligned at the RCA, Provincial Rowing Association and local levels. This ensures that standards of behaviour and conduct, as well as procedures, breaches and sanctions are consistent across the country and at all levels.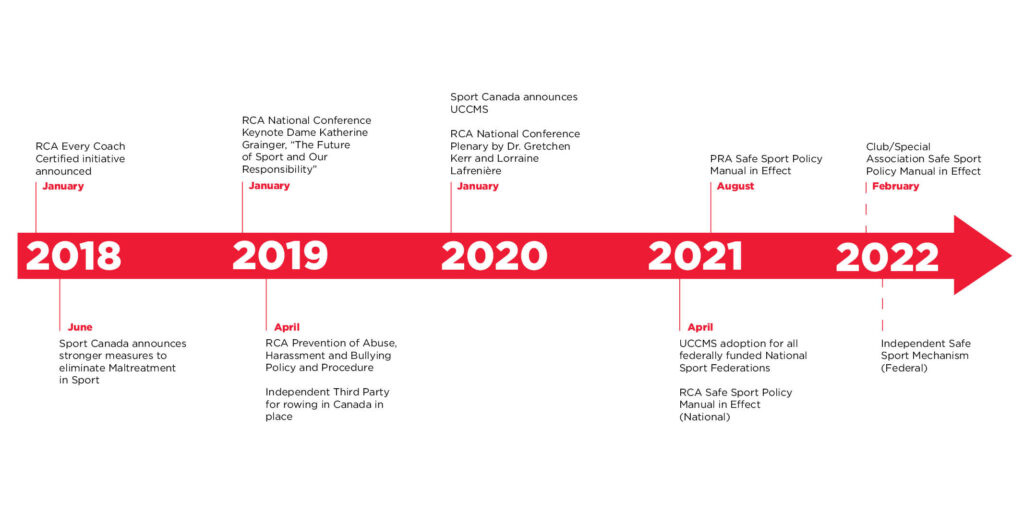 The RCA Safe Sport Policy Manual consists of 8 policies and is available here.
Community Update Webinars about the Harmonized Approach can be viewed online:
Implementation and Key Dates
The next major milestone is the adoption of the Safe Sport Policy Suite at RCA Member Clubs and Special Associations by February 15, 2022.
| | |
| --- | --- |
| April 1, 2021 | RCA Safe Sport Policy Suite Adopted and in Effect |
| August 1, 2021 | PRA Safe Sport Policy Suite Adopted and in Effect |
| February 15, 2022 | Club/Special Association Safe Sport Policy Suite Adopted and in Effect |
| March 31, 2022 | Screening and Training deadline for key roles – Level 1 and 2* |
*deadlines for specific roles TBA
Next Steps
Clubs and Special Associations should register for the upcoming webinar on November 17, 2021
Clubs and Special Associations should identify and register their Safe Sport Lead in the RCA Web Registration System (Safe Sport Lead is the main point of contact with RCA and PRAs and will oversee the implementation of tasks and ensure adherence to timelines for adoption of the Safe Sport Policy Suite at their organization)
Learn more about Safe Sport by completing the Coaching Association of Canada's Safe Sport Training
When behaviour standard breaches are alleged and complaints procedures ensue, binding decisions, including those to sanction individuals for unacceptable behaviours, will result. 
Decisions that are required to be made public can be found below.
---
Rowing Canada Aviron is committed to Safe Sport and adhering to best practices through our Every Coach Certified (ECC) initiative. This initiative is focused on educating and supporting our coaches through a foundational series of NCCP eLearning modules centered around long term development for athletes and coaches, rower safety, and ethical decision making. Coaches must also complete RCA's screening requirements, including submitting to a Criminal Record Check.
RCA also acknowledges the dedication and support of our member organizations as we collaborate to deliver on the principles of Safe Sport, ensuring coaches develop programs that provide a safe, fun, and enriching rowing environment.
The following is a list of coaches that have completed all ECC requirements and are registered as a coach at an RCA member organization.
For more information on the ECC initiative and Coaching Education and Development, please visit RCA's Coaches page. To update the list for your organization, please contact colleenmiller@rowingcanada.org
This list is up to date as of August 3, 2022.