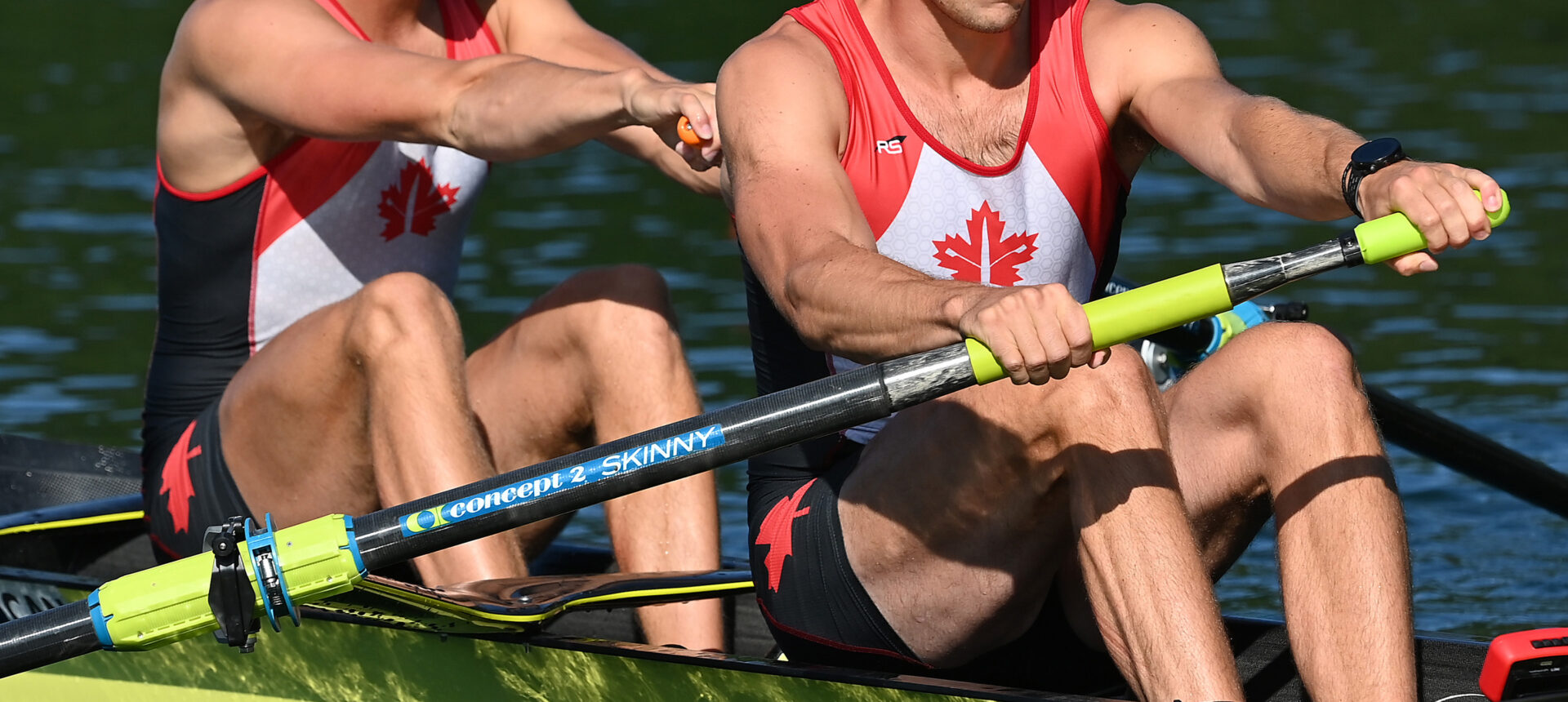 ---
As the rowing world eagerly anticipates the commencement of the 2023 World Rowing Championships in Belgrade, Serbia, all eyes are on Team Canada. Rowing Canada Aviron (RCA) has fielded 10 crews and 39 rowers in the regatta, including crews in five sweep boat classes, who are gearing up to showcase their skill, determination, and team spirit on the international stage.
From Sunday, September 3 through to Sunday, September 10, the picturesque Sava River will play host to this high-stakes event, where athletes from around the globe will converge to compete for glory and Paris qualifications. For Women's Eight powerhouse Alexis Cronk (University of Victoria), the opportunity to help qualify the boat while competing in the prestigious crew is a special honour.
"It is really special to represent Canada and I'm really honoured to be in the Women's Eight because it's the reward of all the hard work that I have put in over the winter, and to be a part of such an intense and world-renowned crew is really special to me," Cronk said. "We've definitely had some big moments of learnings and improvements during the season, but we're really excited to showcase all of what we've been through and learned at the World Championships. We've built a really great team culture throughout the entire squad and we can all build off of each other and support one another at the Championships."
The Women's Eight crew has continued to build momentum throughout the international season with a third place at World Cup II before winning the Remenham Cup at the 2023 Royal Henley Regatta, then going on to win silver in a hard-fought final at World Cup III, and now head into the World Championships with confidence.
While for the Men's Eight, the World Championships provide an opportunity for a newly established line-up to test themselves against the World's best rowers. Following a solid fifth-place finish at the two World Cup events, the Men's Eight crew members Liam Keane (Vic City Rowing Club) and Joel Cullen (University of British Columbia) will each be making their senior World Championships debut in Belgrade. For Cullen, the opportunity to compete in the Men's Eight on the international stage is a reward for his years of hard work and determination.
"I've been looking up to this team for a long time, so it's pretty cool to now be able to contribute as much as I can," Cullen said. "It's been a kind of crazy season because coming off the US college season, I had a pretty limited time frame to get prepped in the pair for World Cup III, but it's all worked out well and I'm excited to see what we can do at the World Championships."
A positive training block heading into camp has left Cullen and the rest of the crew, looking forward to what they can achieve at the regatta.
"The boat is feeling really good right now, and we are taking great strides towards where we need to be, so we are excited to see where we are," Cullen continues. "I think the reason why I do this and why everyone here does this is to compete against the best of the best. So everyone is dialing up their training, so it's exciting to see and we can't wait to race."
In a line-up shake-up ahead of the Championships, veterans Josh King (Ottawa Rowing Club) and Luke Gadsdon (Leander Boat Club / Brock University) join forces to make a formidable Men's Coxless Pair (M2-) targeting Paris qualification and more in Serbia.
"It's very exciting to represent Canada again, there's definitely a little bit more pressure this year with the Olympic qualifying events," King said. "Luke and I get along well, which helps with a short runway leading into World Champs, so now we're focusing on sharpening things up a bit more in camp so that we can be at our best in Serbia. But as an entire team, we're focusing on trying to get as many boats across the line in qualifying positions as possible."
Another new pair looking to make waves in Belgrade is the duo of Maya Meschkuleit (Don Rowing Club) and Caileigh Filmer (University of Victoria Rowing Club) in the Women's Coxless Pair (W2-). Filmer's selection in Canada's team highlights what has been a whirlwind return to the sport for the Tokyo 2020 Olympics bronze medallist, after retiring from rowing in 2021 to take up cycling at an elite level.
"It has been a lot of fun returning to the boat, over the last two years since Tokyo, I have grown a lot as an athlete through my new experiences in cycling, so it has been interesting to see how much of cycling crosses over into the boat," Filmer shares. "My body has responded well to my return, and I've managed to stay healthy, injuries have always been something I struggled with a lot in my previous rowing time. So, with all the hard work I have put in on the bike and thanks to the help of such a big support team, my body has become more robust."
The opportunity of representing her nation once again on the international stage isn't lost on Filmer while adding to the excitement this time is pairing with 22-year-old Meschkuleit, who is making her senior World Championships debut, which is bringing new enthusiasm to their boat.
"I feel very fortunate for the opportunity to be back here at the World Championships. My love for the sport is bigger than ever, and it's always so special to be able to wear the leaf and represent your country," Filmer said. "Maya is incredibly talented for her age, and it's a project that I have been enjoying getting to be part of every day. We both have similar work ethic but also like to have a lot of fun and laughter along the way, which will hopefully help us towards our goals of making it into the A final and qualifying the boat for Paris."
One athlete to watch in Serbia is rising NextGen star Kristen Siermachesky (Brockville Rowing Club / BC NextGen Performance Centre) who has earned a spot in the Women's Coxless Four (W4-) after impressing at the National Training Centre.
"It really means the world to me, this group of girls and everything that I've learned over the last year, and even this last month, has been incredible and the crew has been a great addition to my life and my career, so I'm super excited," Siermachesky said.
In what has been a rapid rise in the sport for the New Liskeard, Ontario native who only started rowing two years ago. Following an impressive four-year ice hockey career at Syracuse University in New York, Siermachesky pursued a graduate degree at North Carolina University, which didn't have a Women's ice hockey program, so she turned her attention to rowing.
"I am really looking forward to getting over to Serbia and just kind of putting all the pieces of the puzzle together," Siermachesky said. "We've been working really hard together in training and I think we all just really want to get over there and let it fly."
Siermachesky makes her senior Canadian Team debut in Women's Coxless Four (4-) with Tokyo Olympian Kristina Walker (University of British Columbia / Kingston Rowing Club) and Rebecca Zimmerman (University of Victoria Rowing Club / Brockville Rowing Club), and fellow senior team debutant Piper Battersby (Victoria City Rowing Club / University of Victoria Rowing Club). It's a special moment for Battersby, who makes her senior World Championships debut in the same boat class made famous in Canadian rowing by her mother, two-time Barcelona 1992 Olympic gold medallist and RCA Hall of Famer Brenda Taylor.
As the countdown to the 2023 World Rowing Championships draws near, Team Canada's rowers are ready to take on the challenges and opportunities that lie ahead.
We are now less than one year until the Paris 2024 Olympics as excitement mounts and anticipation grows among athletes and fans alike. The stage is set for an unforgettable celebration of sport, unity, and human achievement in the heart of France's iconic capital. As the world prepares to witness history in the making, the Paris Olympics promises to be a grand spectacle of sporting excellence and international camaraderie.
To support the national team, RCA has recently launched an initiative entitled Patrons for Paris to power the teams on their journey to the Paris 2024 Games.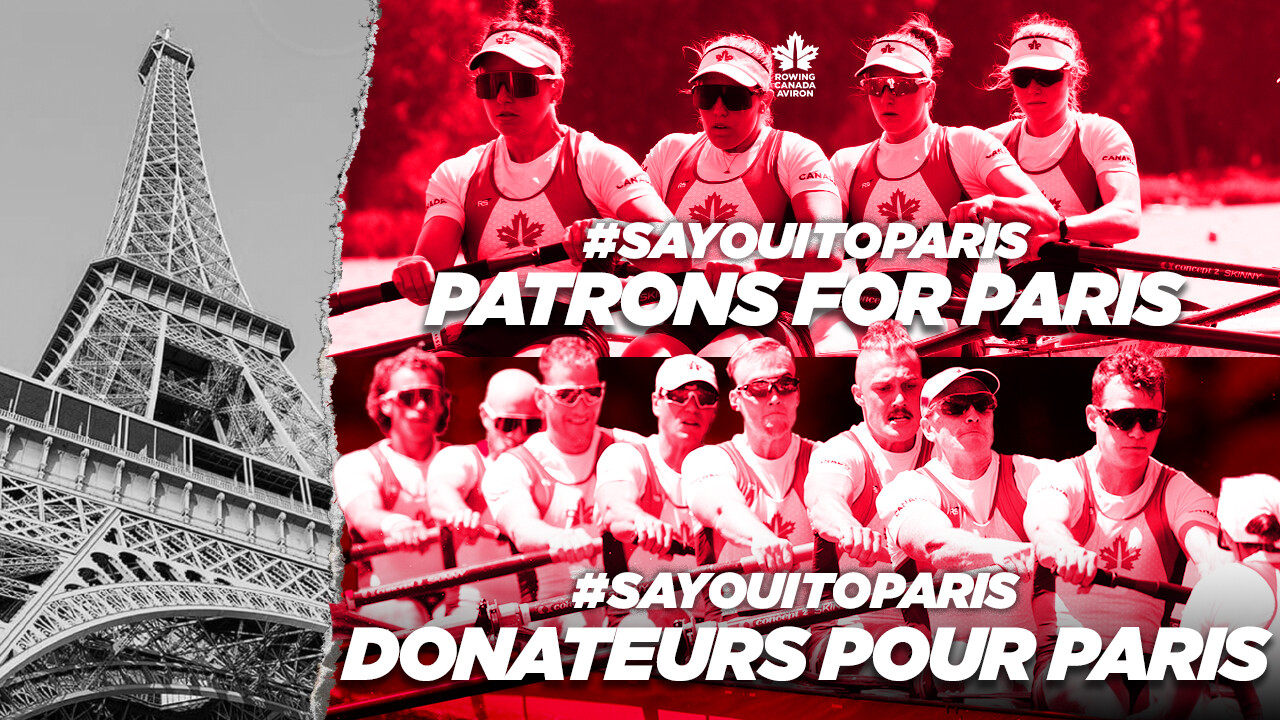 We invite you to join the movement and become a valuable member of a supportive community that will embrace the team and help them achieve success on the international stage. 

LEARN MORE ABOUT PATRONS FOR PARIS
2023 World Rowing Championships – Canadian Sweep Crews:
Women's Coxed Eight (W8+) –
Top five nations receive Olympic qualification
Morgan Rosts – Ridley Graduate Boat Club / Ontario
Cassidy Deane – Kingston Rowing Club / British Columbia
Avalon Wasteneys – University of Victoria Rowing Club / British Columbia
Sydney Payne – Brentwood College Rowing Club / Ontario
Kirsten Edwards – University of Victoria Rowing Club / British Columbia
Alexis Cronk – University of Victoria Rowing Club / British Columbia
Kasia Gruchalla-Wesierski – Club d'Aviron Knowlton / Alberta
Jessica Sevick – University of British Columbia / Calgary Rowing Club / Alberta
Kristen Kit (cox) – University of British Columbia / St. Catharines Rowing Club
Men's Coxed Eight (M8+) –
Top five nations receive Olympic qualification
Will Crothers – Kingston Rowing Club / Ontario
Jakub Buczek – St. Catharines Rowing Club / Ontario
Curtis Ames – Calgary Rowing Club / Alberta
Gavin Stone – Queen's University Rowing Club / Island Lake Rowing Club / Ontario
Cody Bailey – London Western Rowing Club / Ontario
Liam Keane – Victoria City Rowing Club / British Columbia
Joel Cullen – University of British Columbia / University of Washington / British Columbia
Ryan Clegg – Western University Rowing Club / Ontario
Laura Court (cox) – St. Catharines Rowing Club / Ontario
Men's Coxless Pair (M2-) –
Top 11 nations receive Olympic qualification
Josh King – Ottawa Rowing Club / Ontario
Luke Gadsdon – Leander Boat Club / Brock University / Ontario
Women's Coxless Pair (W2-) –
Top 11 nations receive Olympic qualification
Caileigh Filmer – University of Victoria Rowing Club / British Columbia
Maya Meschkuleit – Don Rowing Club / Ontario
Women's Coxless Four (W4-) –
Top seven nations receive Olympic qualification
Rebecca Zimmerman – University of Victoria Rowing Club / Brockville Rowing Club / Ontario
Kristen Siermachesky – Brockville Rowing Club / BC NextGen Performance Centre / Ontario
Kristina Walker – Kingston Rowing Club / University of British Columbia Rowing Club / Ontario
Piper Battersby – Victoria City Rowing Club / University of Victoria Rowing Club / British Columbia