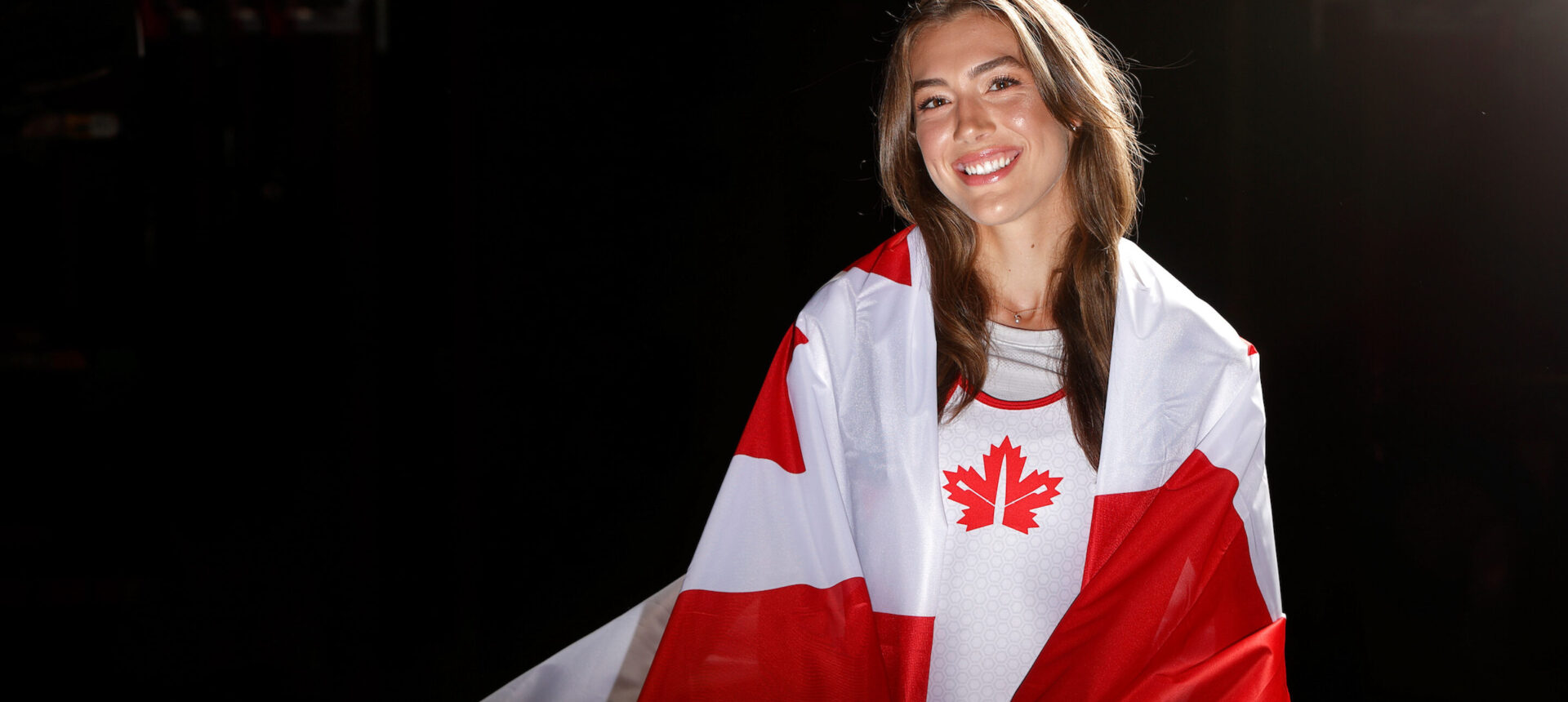 ---
From her room in the Olympic Village in Tokyo, Avalon Wasteneys wears a Team Canada t-shirt proudly at her first Olympics and has a big smile on her face. She can't help but think of the family members who have come before her – her mom and aunt who competed at the Olympics in rowing.
"I think something that's interesting for me to realize is that going into these Olympics, I'm almost not only competing for myself, but I do feel like I'm competing for my mother and my aunt, and people who didn't necessarily get the result or the recognition that they wanted."
Avalon has high hopes of being on the medal podium in Tokyo. The women's eight crew she is part of won a bronze medal on the World Cup circuit in 2019, the last full season before the pandemic.
It is not a stretch to say Avalon is propelled and has extra motivation now because she has rowing in her blood.
Her aunt Christine Clarke competed in the women's eight event at the Olympics in Los Angeles in 1984 and just missed out on winning a medal, finishing fourth.
Her mother, Heather Clarke, met Avalon's father when both were rowing at Queen's University. At the 1988 Olympics in Seoul, Heather participated in the women's coxed four. She made the final and finished seventh.
"It is true that we have, at times, felt overlooked," her mother Heather says, adding, "I am very touched that Avalon is motivated to represent not only herself and her generation but also those who came before her."
What is ironic is as a child Avalon never even wanted to dip her oar in the water.
The family was active and did lots of outdoor activities but didn't live close to a lake. She focused on other sports like cross country skiing and became one of the top skiers in the country for her age group. But when she was looking to go to university, her mother suggested rowing. At first, Avalon refused.
"It was more so that my mom really wanted me to do rowing. So, I just was a rebellious teenager and thought, I will never do that because you want me to do it."
Kai Langerfeld has a similar story of how he wasn't going to follow in his father's footsteps–at least early on.
Langerfeld's father York participated in the men's quad at the 1976 Olympics in Montreal.
Kai, who is competing in his second Olympics, will be teaming up with Conlin McCabe in the men's pair. He shared the story of his rowing journey recently in an interview hosted by McCabe, his rowing partner.
As a child Kai did every other sport but rowing.
He started playing ice hockey when he was three or four and continued into his teens. He played defence, emulating his NHL hero from Cranbrook, BC where he was living at the time, Scott Niedermayer.
When his father took Kai to a rowing alumni event when he was 13 or 14, father and son rowed together.
"I was at the point in my life where I wasn't interested in trying rowing. I can truthfully say, I really didn't like it at all, I thought it was a really stupid sport."
That changed when Kai finished high school, his hockey playing days were over, and he started working in Victoria. One of the coaches of the university rowing team saw him working out in the gym and invited him to come out.
Kai decided to give the sport a try at 22, which is later than most members of the Olympic team.
With his sporting background, he says that gave him a base to build off which helped him progress.  Being able to follow in his father's wake was also nothing but positive.
"I think for me, personally, there was literally zero pressure to live up to anything. I think it was because (my dad) never really put that pressure on me. He's very hard-working blue-collar guy who's also very humble. So, he never really talks about his successes in sport, in business, or life."
"I'll correct you. He's not really following in my footsteps," Kai's father York jokes. "He's way past my footsteps."
For Avalon, every time her mom would bring up the idea that because she was tall and athletic rowing would be the perfect sport for her, Avalon had no interest in talking about it.
Instead, Avalon remained focused on cross country skiing and was looking to get a scholarship to go to university in Alaska. But in 2014, her coach who she was very close to passed away and the shock left her looking for something new to do.
That's when she finally listened to her mother's words that with her body type and aerobic capacity, she was perfectly suited for rowing. She went out for novice rowing at the University of Victoria and has never looked back.
"I realized my mom was probably right. Eventually I succumbed and fell in love with rowing."
One of the people Avalon met in those early days at the University of Victoria was York Langerfeld, who was helping coach the novice team.
"One afternoon Avalon and another young lady went out in a pair. They were moving the boat really well. So, I dubbed them my 'Tokyo pair'."
Six years later, Langerfeld's predication has materialized. Avalon is in Tokyo even if York didn't quite have the right event.
Another catalyst for Avalon's rowing career came when she was a recipient of RBC Training Ground funding, a program that helps foster future Olympic talent.
As she developed in the sport, Avalon realized how little she knew about it.
"It is hilarious, because, obviously, so many people in my family have done it, but I still was like, Oh, it's so dumb. I have no interest in doing that. You're sitting in a boat, and you're just pulling hard. I didn't realize how much beauty and skill and finesse actually goes into rowing."
Avalon now has more of a keen interest in her unique family history.
"Embarrassingly enough, I don't think I'd ever even watched the races (of my mom or aunt). I've looked at their medals a few times from different international regattas over the years. I thought that was pretty cool. But I never really showed enough interest to look beyond what was right in front of me."
Her mom and aunt didn't really provide her with any special advice before Tokyo, telling her they'd prefer for her to carve her own path. "I'm so inspired by them all the time," Avalon says.
"That gives me shivers. That's so nice. She has made a big thing about Sunday, July 25 being my birthday," Her mother Heather says. "She keeps saying, Mom, I'm racing on your birthday."
In Tokyo, Avalon is finding it interesting to have her first games during these unprecedented times.  There are plexiglass barriers up where they eat in the village–just one of many strict measures in place to keep everyone safe during the pandemic. Their movements are limited and the only place they can really go is the rowing venue.
"I almost think it is kind of a gift in a way to have my first Olympics be one where there is absolutely nothing going on. There's nothing to focus on other than ourselves. Because there are no distractions right now."
Although rowing came late in life for her, Avalon thinks she wouldn't be in Tokyo if she hadn't done it this way.
"I think this was exactly the route that was meant for me. I have no regrets."
Avalon believes there is a message in her story for others.
Everybody has their own journey. For some, starting rowing early is the way to go. Trying out a diversity of sports including rowing is also really important.
"Sometimes your parents are right, and they might have some insight that you don't have yet. But at the same time, definitely be patient and don't feel pressured to go into something just because someone else thinks you should do it." 
---
More information on the Tokyo 2020 regatta and the 10 Canadian crews competing can be found here.
Story by Teddy Katz