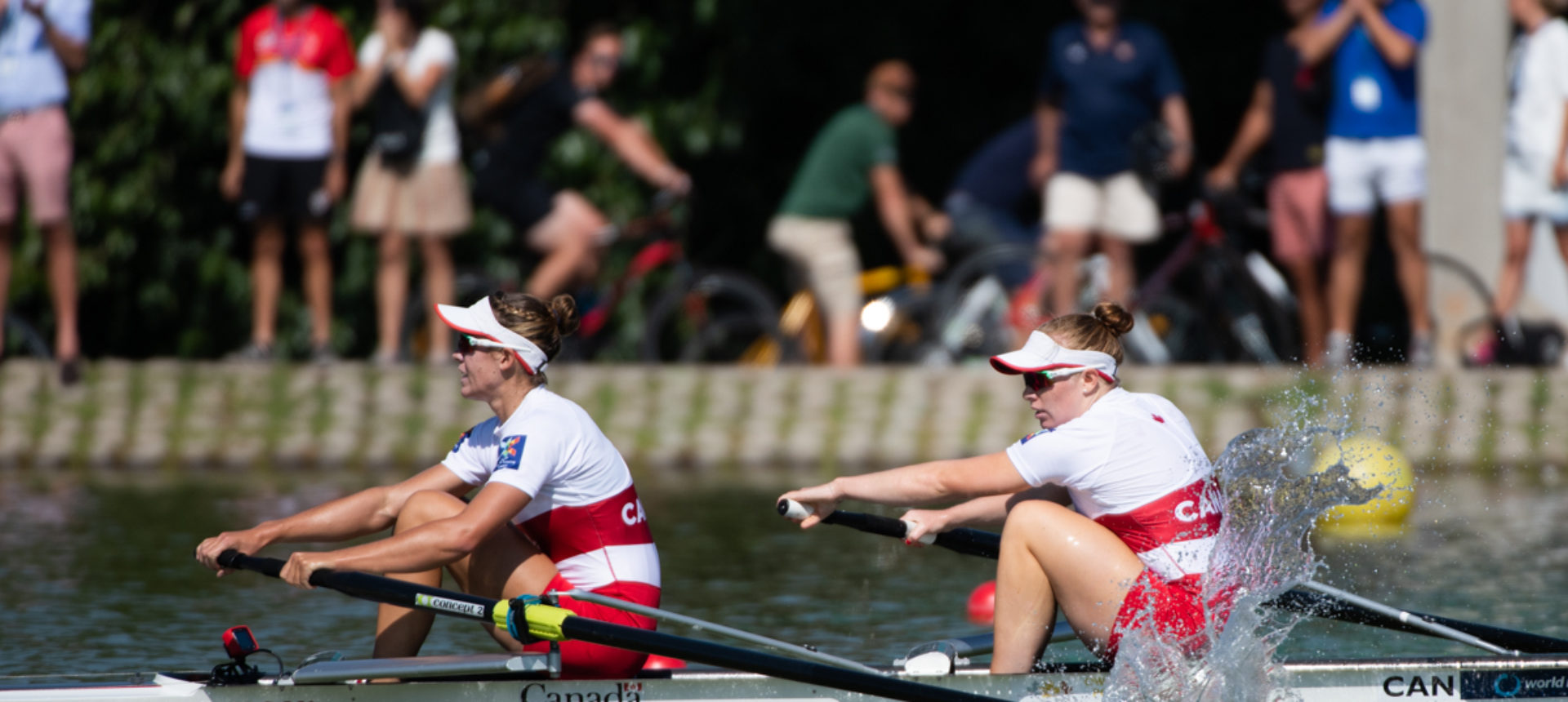 ---
Team Canada is set to compete at the pinnacle event with 16 Canadian crews donning the maple leaf at the World Rowing Championships from August 25 – September 1 in Linz-Ottensheim, Austria. A record 80 nations will take part in this main qualification event for the Tokyo 2020 Olympic and Paralympic Games.
Following Canada's success at World Rowing Cup 2 and World Rowing Cup 3 in Poland and Rotterdam, the Canadian women's, men's and para programs have solidified their crews with the primary objective of securing 2020 Olympic and Paralympic Games berths via the 2019 Worlds in Austria.
"I am very pleased to see the ongoing progress of the National Team crews and RCA's high-performance program more broadly, as we transition from a very positive World Cup series towards the team's first opportunity to qualify boats for the 2020 Paralympic and Olympic Games in Tokyo," said RCA High Performance Director, Iain Brambell. "As national team crews complete their final preparations for Worlds this week, we are confident they are well positioned to compete for A Finals (top 6), podium performances, and 2020 qualification positions."
The Canadian Women's squad, led by Head Coach Dave Thompson, Phil Marshall and Gavin McKay, will see some familiar crew combinations as well as a few crew changes for this event.
2018 World silver medallists Lisa Roman (Langley, BC), Nicole Hare (Calgary, AB), Christine Roper (Ottawa, ON), Susanne Grainger (London, ON), and coxswain Kristen Kit (St. Catharines, ON) will be joined by 2018 World Champion Pair, Hillary Janssens (Cloverdale, BC) and Caileigh Filmer (Victoria, BC) in the Women's Eight. World Under 23 Gold medallist Avalon Wasteneys (Campbell River, BC) and Kasia Gruchalla-Wesierski (Calgary, AB) will round out this powerful crew.
Janssens and Filmer will be doubling up to defend their 2018 World title and secure an Olympic berth in the Women's Pair.
The Women's Four will be raced for the first time since 1992 as an Olympic event. Canada will field a strong crew to seek qualification including 2018 World medallists, Madison Mailey (Burnaby, BC), Sydney Payne (Toronto, ON), Jennifer Martins (Toronto, ON), and Stephanie Grauer (Vancouver, BC).
Andrea Proske (Langley, BC) and Gabrielle Smith (Unionville, ON) will be looking to improve upon their bronze medal finish from World Cup 3 in the Women's Double.
World Cup 2 gold medallist Jill Moffatt (Bethany, ON) will remain in Lightweight Double with partner Jennifer Casson (Kingston, ON), finishing 7th at World Cup 3. Ellen Gleadow (Vancouver, BC) will compete in Lightweight Single event following her 4th place finish at World Cup 3.
Rio Olympian Carling Zeeman (Cambridge, ON) will make her sixth Senior World Championship appearance, racing in the Women's Single for the fourth consecutive season, currently under the leadership of Head Coach Dick Tonks.
Tonks and assistant coach Jeremy Ivey also lead the Canadian Men's Pair, Double, Lightweight Double and Lightweight Single.  
Two-time Olympian and Olympic silver medallist Conlin McCabe (Brockville, ON) is lining up with 2016 Olympian Kai Langerfeld (Vancouver, BC) in the Men's Pair following their bronze medal finish at World Cup 2.
2015 Pan Am Games Gold medallist Matt Buie (Duntroon, ON) teams up with two-time U23 World Champion Trevor Jones (Lakefield, ON) in the Men's Double sculls.
Maxwell Lattimer (Delta, BC) and Patrick Keane (Victoria, BC) will race the Lightweight Men's Double finishing just off the podium in 4th place at World Rowing Cup 2. Maxwell's brother Aaron Lattimer (Delta, BC) will race in the Lightweight Men's Single.
The Men's Eight crew, led by coach Terry Paul, remains unchanged with 2012 Olympic silver medallist Will Crothers (Kingston, ON), Mackenzie Copp (London, ON), Taylor Perry (Ancaster, ON), Gavin Stone (Brampton, ON), Benjamin De Wit (Port Alice, BC), Martin Barakso (Nanaimo, BC), Cody Bailey (St. Mary's, ON) Jakub Buczek (Burnaby, BC) and nine-time Olympic coxswain Lesley Thompson-Willie (London, ON).
Canada will be represented in four Paralympic boats with Tokyo 2020 qualification up for grabs in two of the events. Coach John Wetzstein will lead the Canadian Para team in Linz.
2018 World Silver medallist Jeremy Hall (St. Paul, AB) will race in the PR2 Men's Single and will look to qualify the PR2 Mixed Double with newcomer Jessye Brockway (Mill Bay, BC).  
2016 Paralympic bronze medallist Andrew Todd (Thunder Bay, ON) and Kyle Fredrickson (Duncan, BC) will team up again in the PR3 Men's Pair to defend their world championship title following their impressive win at the 2018 Rowing World Championships.
Loren Pearson (Kamloops, BC) will make his first World Championship appearance in the PR1 Men's Single, where he will look to qualify a place for Canada at the 2020 Paralympic Games.
Racing starts on August 25th until September 1, 2019 with live streaming available every day at CBC Sports.
The 2019 World Rowing Championships Qualification System for Tokyo 2020 can be found here.
When and Where
August 25-September 1, 2019
Linz-Ottensheim, Austria
Schedule to be released here
How to Follow Racing 
Live tracking and blogging every day at www.worldrowing.com.
Live streaming available in Canada at CBC Sports.
Media Guide
View World Rowing's World Rowing Championships media guide here. Bio information for Canadian team found here.
Join the conversation @rowingcanada: #WRChamps #rowtotokyo #rowingcanada #truenorthstrong
Canadian Crews – World Rowing Championships
| | |
| --- | --- |
| PR2 Men's Single | |
| Jeremy Hall | Edmonton Rowing Club |
|   | |
| PR2 Mixed Double | |
| Jeremy Hall | Edmonton Rowing Club |
| Jessye Brockway | Gorge Rowing Club |
|   | |
| PR3 Men's Pair | |
| Andrew Todd | North Star Rowing Club |
| Kyle Fredrickson | University of Victoria Rowing Club |
| | |
| PR1 Men's Single | |
| Loren Pearson | Victoria City Rowing Club |
|   | |
| Women's Eight | |
| Lisa Roman | Middlesex-Western Rowing Club |
| Susanne Grainger | London Rowing Club |
| Nicole Hare | Calgary Rowing Club |
| Avalon Wasteneys | University of Victoria Rowing Club |
| Kasia Gruchalla-Wesierski | Calgary Rowing Club |
| Hillary Janssens | University of British Columbia Rowing Club |
| Christine Roper | Ottawa Rowing Club |
| Caileigh Filmer | University of Victoria Rowing Club |
| Kristen Kit (coxswain) | University of British Columbia Rowing Club/St. Catharines Rowing Club |
| Women's Pair | |
| Hillary Janssens | University of British Columbia Rowing Club |
| Caileigh Filmer | University of Victoria Rowing Club |
|   | |
| Women's Four | |
| Madison Mailey | Burnaby Lake Rowing Club |
| Jennifer Martins | Western University Rowing Club |
| Stephanie Grauer | Burnaby Lake Rowing Club |
| Sydney Payne | Brentwood College Rowing Club  |
|   | |
| Women's Double | |
| Andrea Proske | Victoria City Rowing Club |
| Gabrielle Smith | Knowlton Rowing Club |
|   |   |
|   | |
| Lightweight Women's Double | |
| Jill Moffatt | Western University Rowing Club |
| Jennifer Casson | Kingston Rowing Club |
| Lightweight Women's Single | |
| Ellen Gleadow | Burnaby Lake Rowing Club |
|   | |
| Spares | |
| Kristin Bauder | Middlesex-Western Rowing Club |
| Morgan Rosts | Ridley Graduate Boat Club |
| Rebecca Zimmerman | University of Victoria Rowing Club |
| Laura Court | St. Catharines Rowing Club |
|   | |
| Women's Single | |
| Carling Zeeman | Sudbury Rowing Club |
|   | |
| Men's Pair | |
| Conlin McCabe | Brockville Rowing Club |
| Kai Langerfeld | University of Victoria Rowing Club |
|   | |
| Men's Eight | |
| Benjamin de Wit | University of British Columbia Rowing Club |
| Cody Bailey | MicMac Aquatic Center |
| Gavin Stone | Queen's University Rowing Club |
| Jakub Buczek | Burnaby Lake Rowing Club |
| Mackenzie Copp | Western University Rowing Club |
| Martin Barakso | Brentwood College Rowing Club |
| Taylor Perry | Leander Boat Club |
| Will Crothers | Kingston Rowing Club |
| Lesley Thompson-Willie (coxswain) | London Rowing Club |
|   | |
| Men's Double | |
| Matthew Buie | St. Catharines Rowing Club |
| Trevor Jones | Peterborough Rowing Club |
|   | |
| Lightweight Men's Double | |
| Maxwell Lattimer | University of British Columbia Rowing Club |
| Patrick Keane | Victoria City Rowing Club |
| | |
| Lightweight Men's Single | |
| Aaron Lattimer | University of British Columbia Rowing Club |
| | |
| Spares | |
| David De Groot | Brock University Rowing Club |
| Tim Schrijver | Brock University Rowing Club |