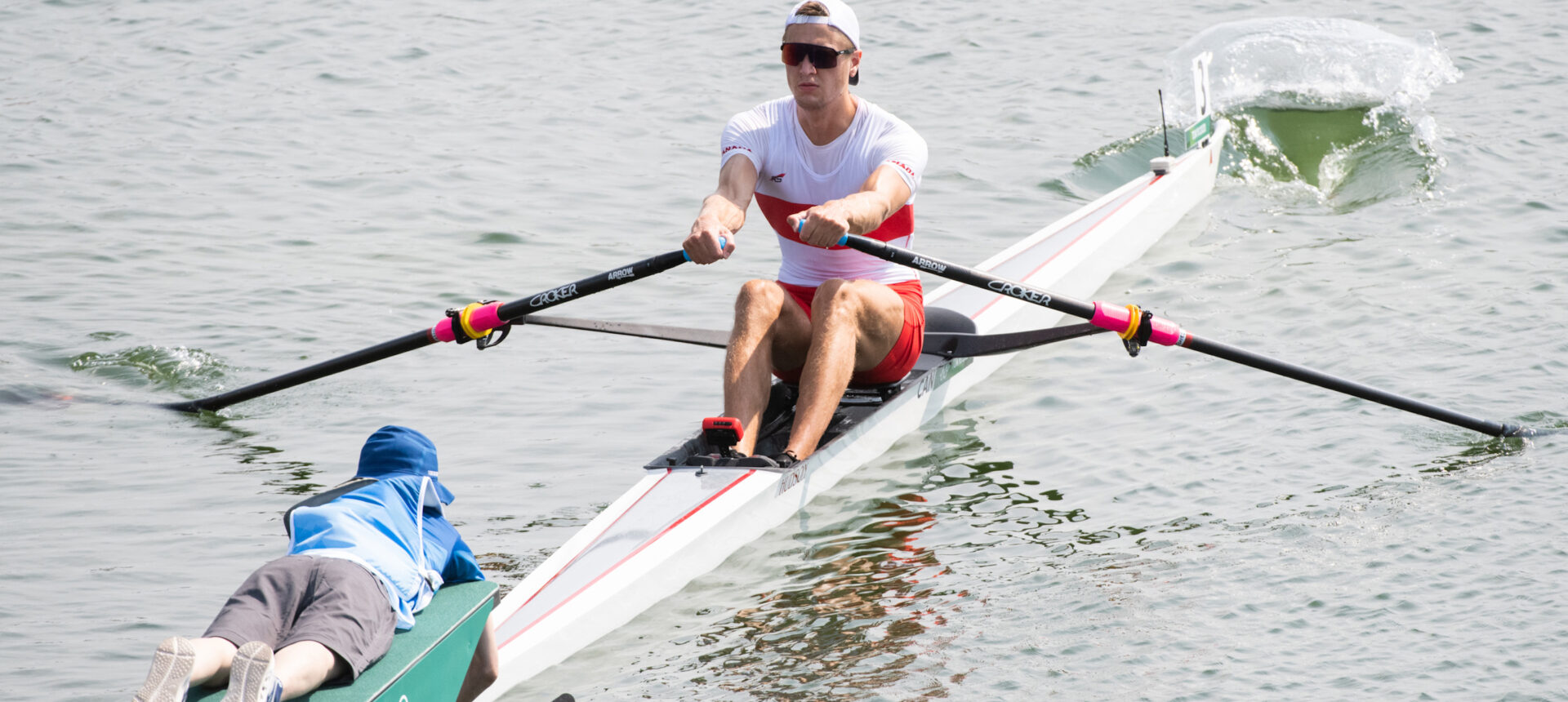 ---
Friday July 23, 2021 – Tokyo, Japan
IMMEDIATE RELEASE
The Tokyo 2020 Olympic rowing competition is officially underway, with Canada giving some strong performances to kick off the long-awaited regatta.
Canada's first race saw Trevor Jones (Peterborough Rowing Club) make his Olympic debut with a first place finish in heat four of the men's single sculls competition. Jones took the lead at the 1000 metre mark, surpassing 2016 Olympic men's double silver medallist Mindaugas Griškonis of Lithuania to finish with a time of 7:04.12. Jones will race in the quarterfinals on Monday July 26 Japan Standard Time (Sunday July 25 Pacific Time/Eastern Time).
"I'm just kind of having fun with it," said Jones. "[I'm] getting to race some of the best rowers in the world, it's some of the fastest people on the planet. I know I'm fast. I'm just going to have fun and enjoy the experience and just kind of take it day by day."
For Jones, having an additional year to train for the Olympics has paid off. "I'm a year older, I got a year extra of training and I definitely think I'm way faster than I would have been racing here a year ago."
Carling Zeeman (Sudbury Rowing Club) finished second in the fifth women's single sculls heat with a time of 7:40.72 to also progress to the quarterfinals. Sitting in third place for the first half of the race, Zeeman made a move with just over 500 metres remaining to surpass Namibia's Maike Diekmann and finish behind Austria's Magdalena Lobnig. Zeeman will next take to the start line on Monday July 26 Japan Standard Time (Sunday July 25 Pacific Time/Eastern Time).
"Each Games in their own right is special," said Zeeman, who is competing at her second Olympics. "To be in Tokyo after five years, it's a big deal. For me it's been a long journey getting here and I've had a pretty tough year just with a couple injuries here and there, a few setbacks, so now that I'm here, it's a pretty special feeling. For me, this is the fun part."
Canada's women's double of first-time Olympians Jessica Sevick (University of British Columbia/Calgary Rowing Club) and Gabrielle Smith (Club d'Aviron Knowlton) rebounded after a rocky start in their heat, working hard to move from fourth place up into second. With a final time of 6:57.69, Sevick and Smith crossed the finish line following Romania's first place crew, qualifying themselves for the A/B semifinal on Monday July 26 Japan Standard Time (Sunday July 25 Pacific Time/Eastern Time).
"It hasn't sunk in. It's honestly surreal," said Sevick. "Even with COVID, it's been an amazing experience so far."
"We were put together as partners, I don't know, maybe three days before COVID hit and everything was shut down," said Smith after the heat, which was her and Sevick's first international race together in the double. "It was obviously exciting that we got put together, but I felt like we never really got the chance to actually celebrate our partnership. Looking back at the past 16 months, there's a lot to be really proud of and a lot of fight and a lot of tenacity."
Heat racing continues for Canada tomorrow (Saturday July 24 Japan Standard Time, Friday July 23 Pacific Time/Eastern Time) in the women's pair, men's pair, lightweight women's double, lightweight men's double, women's four and men's four events.
Team Canada Results and Progressions
Men's Single – Trevor Jones
1st in Heat > Quarterfinal
Women's Single – Carling Zeeman
2nd in Heat > Quarterfinal
Women's Double – Jessica Sevick & Gabrielle Smith
2nd in Heat > A/B Semifinal
More information on the Tokyo 2020 regatta and the 10 Canadian crews competing can be found here.
Sign up for our exclusive Tokyo Olympic and Paralympic team newsletter!
Join the conversation @rowingcanada: #tokyo2020 #rowingcanada #truenorthstrong #teamcanada
For more information:
Colleen Coderre (Tokyo based)
RCA Communications Lead
comm@rowingcanada.org
Liz Montroy (Canada based)
RCA Communications and Events Coordinator
lmontroy@rowingcanada.org