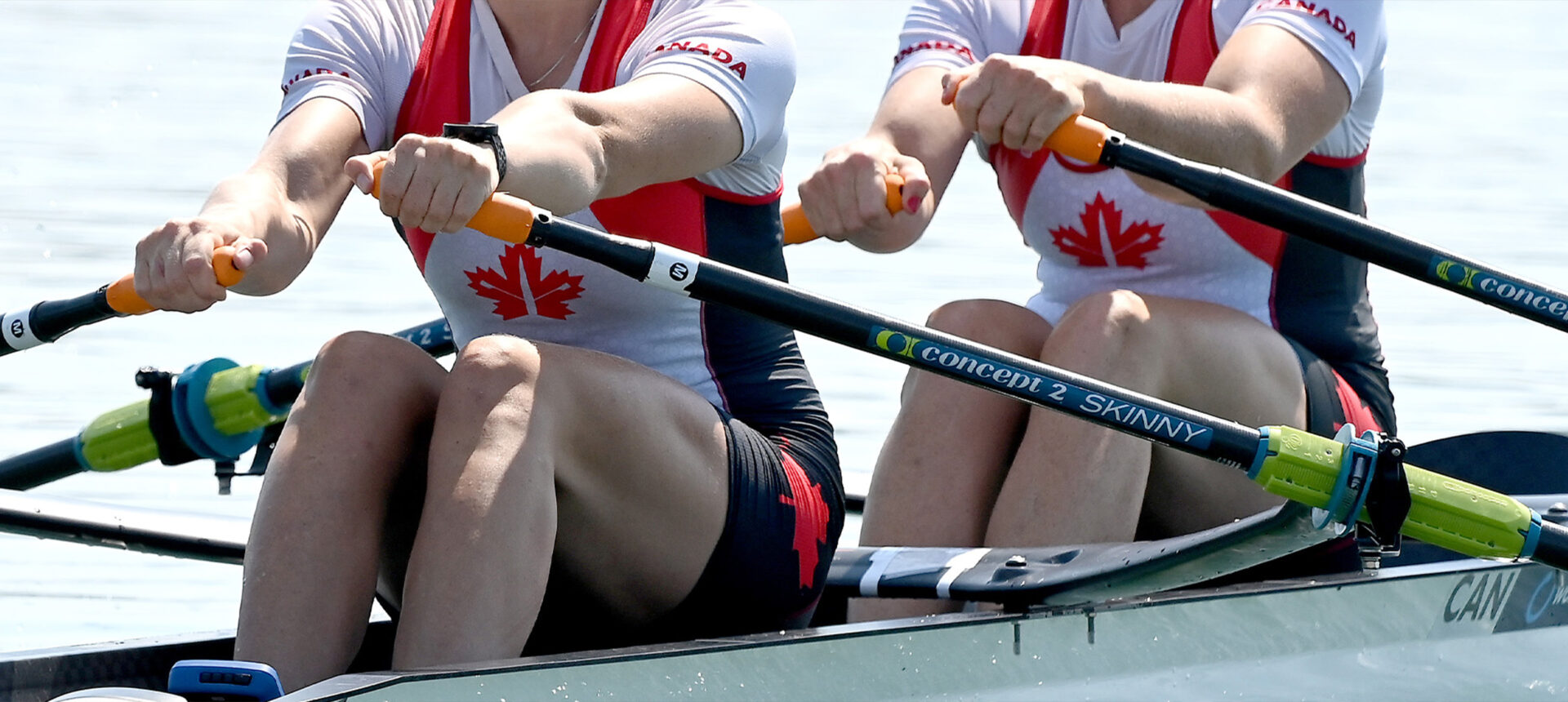 ---
As the rowing world eagerly anticipates the commencement of the 2023 World Rowing Championships in Belgrade, Serbia, all eyes are on Team Canada. Rowing Canada Aviron (RCA) has fielded 10 crews and 39 rowers in the regatta, including five sculling boat classes, who are gearing up to showcase their skill, determination, and team spirit on the international stage. From Sunday, September 3 through to Sunday, September 10, the picturesque Sava River will play host to this important regatta, where athletes from around the globe will converge to compete for glory and Paris qualifications on the line.
The regatta will also be an opportunity for the Lightweight Women's Double of Jennifer Casson (Kingston Rowing Club) and Jill Moffatt (University of Western Ontario Rowing Club) to showcase their ability in one of the most competitive boat classes of the international season. Despite the relentless competition and razor-thin margins that define the Lightweight Women's Double event, Casson is motivated to help qualify the Canadian boat for the Paris Games. With the impending conclusion of lightweight rowing in the Olympics after Paris, the stakes are particularly high.
"We are in an event with some of the world's top rowers and I am reminded just how good they are every time that Jill and I line up against them," Casson said. "We are aware of what's on the line in these World Championships, and we know our competitors are aware of this as well."
Acknowledging the calibre of their rivals and the world-class talent they'll line up against, Casson praises the supportive network they have cultivated at home and knows the hard work they have both in and the honour of representing Canada on the world stage will continue to motivate them towards their goals.
"Jill and I have been lucky in creating a tight team of support back home, and we feel the love from those who have believed in us and support us towards our second Olympics campaign," Casson said. "Through our hard work over winter, we have leaned on our support team to remind us why we do what we do. Representing Canada is a privilege to any athlete who gets to wear the leaf."
For Grace VandenBroek (Peterborough Rowing Club / Trent University), competing in Serbia marks a significant milestone in her burgeoning career. After securing silver in the Women's Double at the 2022 World Rowing Under 23 Championships alongside Elisa Bolinger (University of Western Ontario Rowing Club) last year, the duo now joins forces with two-time Olympian Carling Zeeman (Sudbury Rowing Club) and Shannon Kennedy (London Western Rowing Club) in the Women's Quad (W4x).
"This will be my first senior World Championships, so I am really excited to take the next step and see what we can do," VanderBroek said. "Our quad has been together for the World Cups, so it has been nice to keep working together, where we have learned a lot in the last few weeks. Qualifying the boat for Paris is definitely our main focus, and then from there, anything more is icing on the cake, so we are excited to see what we can do."
Acknowledging the crucial qualifying element of the regatta, Dan de Groot (St. Catharines Rowing Club) believes that it will only motivate him and the rest of the Men's Quad (M4x), including Liam Smit (University of British Columbia Rowing Club), Terek Been (Montreal Rowing Club) and Steven Rosts (Ridley Graduate Boat Club), towards their shared objectives.
"It's pretty special in a qualifying year to make the team, there's more at stake and I want to help qualify the boat for Canada," De Groot shares. "Competing with the crew is going to be lots of fun. We haven't raced this lineup yet but it's a pretty exciting one, and I think we have found something special in the training. So going to be exciting to put it to the line and see what we can do."
As they set their sights on the regatta, their focus is clear: attaining a spot in the semi-finals is paramount, a steppingstone that, if achieved, opens the door to contemplate their aspirations for World Championship medals, buoyed by the support of an entire squad.
"For us, we're really targeting that semi-final. You make the top three in that final, you qualify and then you can start thinking about World Championship medals," De Groot said. "We have a really good atmosphere in the entire squad. It's just a really fun group of people and we're all going to be supporting one another."
Building on the momentum from the World Cup season, the Women's Double duo of Katie Clark (University of British Columbia Rowing Club) and Marilou Duvernay-Tardif (Knowlton Rowing Club) bring a vibrant energy and unwavering passion to their boat. This dynamic advantage is poised to propel them towards their shared objectives.
"It's pretty exciting actually. It's the first time that I've been in the crew for a long time leading up to the World Championships, so it is exciting," Duvernay-Tardif said. "Katie and I have great communication and friendship, so it is exciting to be in a boat with her and see what we can do. We have talked about our goals for qualification, but we are process-orientated, so we are focused on our tasks. We are super excited to have this whole team going over and be able to support each other."
Representing the nation in the Men's Single (M1x), Trevor Jones (Peterborough Rowing Club) is leaving no stone unturned as he strives to secure the boat's Olympic qualification in Serbia. Following a season that saw interruptions, including his withdrawal from World Cup II, this regatta in Serbia becomes a platform for the Ontario native to compete against the world's elite single scullers. As the countdown to the 2023 World Rowing Championships draws near, Team Canada's rowers are ready to take on the challenges and opportunities that lie ahead.
We are now less than one year until the Paris 2024 Olympics as excitement mounts and anticipation grows among athletes and fans alike. The stage is set for an unforgettable celebration of sport, unity, and human achievement in the heart of France's iconic capital. As the world prepares to witness history in the making, the Paris Olympics promises to be a grand spectacle of sporting excellence and international camaraderie.
To support the national team, RCA has recently launched an initiative entitled Patrons for Paris to power the teams on their journey to the Paris 2024 Games.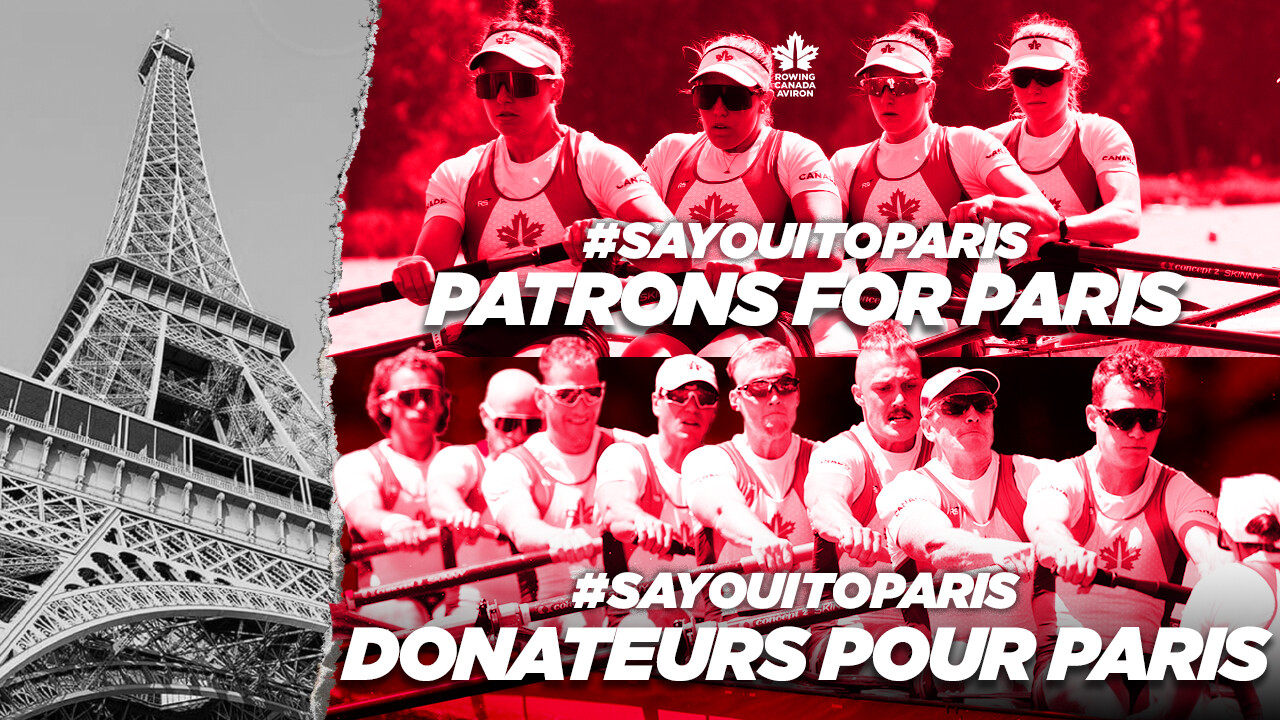 We invite you to join the movement and become a valuable member of a supportive community that will embrace the team and help them achieve success on the international stage. 

LEARN MORE ABOUT PATRONS FOR PARIS
2023 World Rowing Championships – Canadian Sculling Crews:
Women's Double Scull (W2x) –
Top 11 nations receive Olympic qualification
Katie Clark – University of British Columbia Rowing Club / British Columbia
Marilou Duvernay-Tardif – Knowlton Rowing Club / Quebec
Men's Quadruple Scull (M4x) –
Top seven nations receive Olympic qualification
Liam Smit – University of British Columbia Rowing Club / South Africa / British Columbia
Terek Been – Montreal Rowing Club / Quebec
Steven Rosts – Ridley Graduate Boat Club / Ontario
Daniel De Groot – St. Catharines Rowing Club / Ontario
Women's Quadruple Scull (W4x) –
Top seven nations receive Olympic qualification
Shannon Kennedy – London Western Rowing Club / Ontario
Grace VandenBroek – Peterborough Rowing Club / Trent University / Ontario
Carling Zeeman – Sudbury Rowing Club / Ontario
Elisa Bolinger – University of Western Ontario / Ontario
Women's Lightweight Double Scull (LW2x) –
Top seven nations receive Olympic qualification
Jill Moffatt – Western University Rowing Club / Ontario
Jennifer Casson – Kingston Rowing Club / Ontario
Men's Single Scull (M1x) –
Top nine nations receive Olympic qualification
Trevor Jones – Peterborough Rowing Club / Ontario