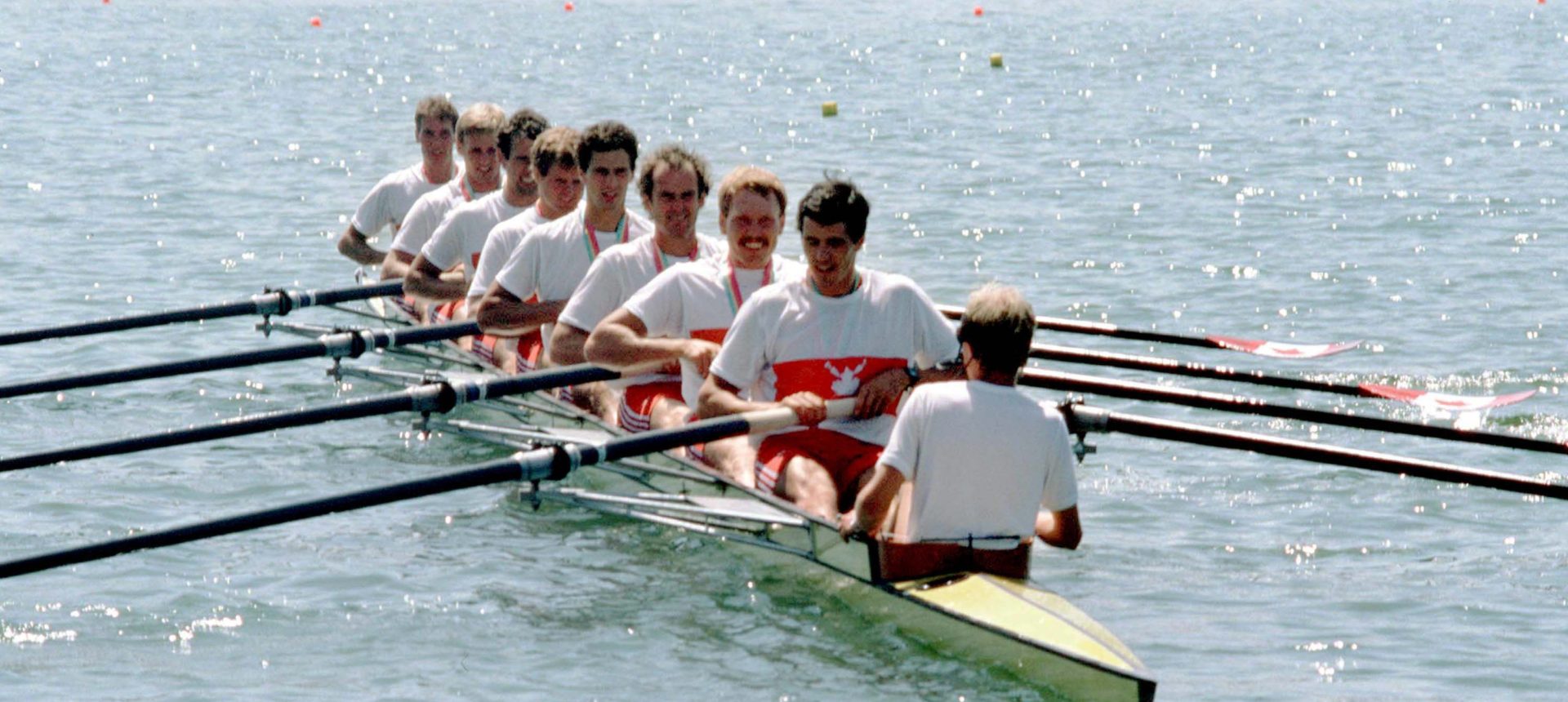 ---
Rowing Canada Aviron (RCA) is pleased to announce the Class of 2019 Rowing Hall of Fame inductees with outstanding Canadian rowing icons represented in the Athlete and Builder categories. The class of 2019 includes Olympic champions, the 1984 Olympic Men's Coxed Eight, the 1976 Women's Olympic Rowing Team, and builders Neil Campbell (posthumously) and Dick McClure.
The Canadian Rowing Hall of Fame (CRHF) was established to recognize those exceptional athletes, coaches and builders who are responsible for Canada's ongoing excellence in rowing, both nationally and world-wide.
RCA and the Canadian Rowing Hall of Fame Committee are pleased to invite members of the rowing community to celebrate the Class of 2019 on Friday, September 27th in conjunction with National Rowing Championships in Burnaby, BC.
Class of 2019 – Canadian Rowing Hall of Fame Inductees
Athlete Category
1984 Olympic Men's Coxed Eight
The Canadian Men's coxed eight won Gold at the 1984 Olympic Games in Los Angeles warding off the home crowd favourites, USA. This gold medal was the first ever gold medal won by a Canadian men's eight at an Olympic Games or World Championships.
Pat Turner   
Kevin Neufeld        
Mark Evans  
Grant Main   
Paul Steele  
Mike Evans  
Dean Crawford      
Blair Horn    
Brian McMahon (coxswain)
1976 Women's Olympic Rowing Team
Debut of women's rowing events (1000m) at an Olympic Games – 1976 Olympic Games in Montreal Quebec.
Beverley Cameron
Cheryl Howard
Elizabeth Craig-Eaton
Tricia Smith
Barbara Boettcher
Guylaine Bernier
Elaine Bourbeau
Sandra Kirby
Johanne Delisle
Monica Draeger
Joy Fera
Linda Schaumleffel
Dolores Young
Barbara Mutch
Gail Cort
Mazina Delure
Carol Eastmure
Nancy Higgins
Christine Neuland
Susan Antoft
Wendy Pullan
Rhonda Ross
Illoana Smith
Colette Pepin
Trice Cameron
Becky Stevenson Ostrom
Jane Pal
Builder Category
Neil Campbell (1931-2006)
St. Catharines Rowing Club
Dick McClure
Burnaby Lake Rowing Club
Rowing Canada Aviron invites members of the rowing community to join us in celebrating the class of 2019. Tickets are available for purchase here.
Friday September 27th, 2019
Canadian Rowing Hall of Fame Reception
Class of 2019 Inductions
Hilton Vancouver Metrotown- Burnaby, BC
6:30 pm
About the Canadian Rowing Hall of Fame
The Canadian Rowing Hall of Fame was established in 2015 to recognize and celebrate the accomplishments of Canadian rowers at the highest levels of the sport, and those whose efforts have contributed directly to those results. These individual stories will serve as inspirations to Canadians and others, and will help to promote the sport and its amazing history.
For event information, please contact lbrown@rowingcanada.org.
For media inquiries, please contact comm@rowingcanada.org