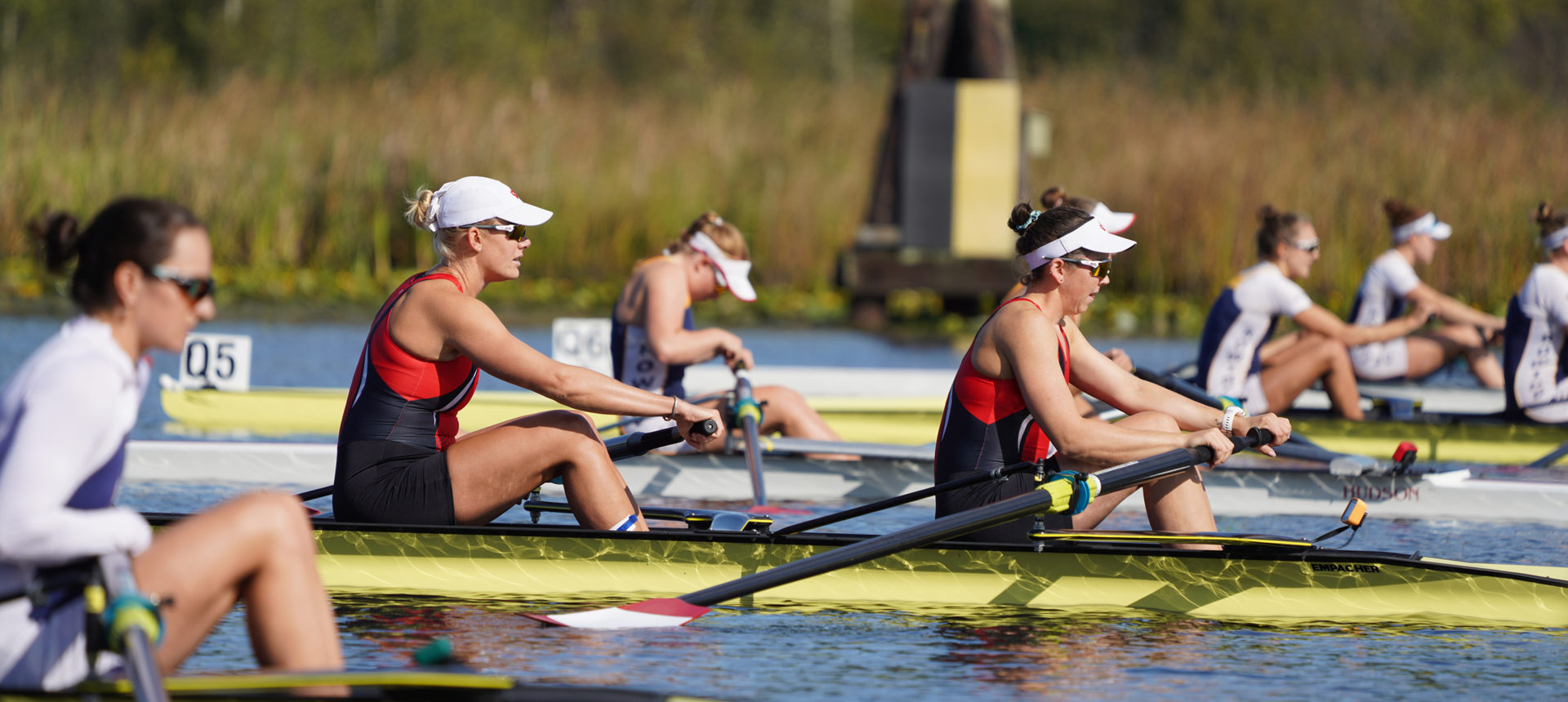 ---
Sunday September 29, 2019 – Burnaby, BC
IMMEDIATE RELEASE
Rowers from across the country converged on sunny Burnaby Lake this past week for the 2019 RCA National Rowing Championships and Canada Cup regattas, four days of competition hosted by Rowing BC and featuring National Team and NextGen athletes.
Singles and pairs were raced at the RCA National Rowing Championships from September 26 to 28, and quads and eights were raced at the Canada Cup on September 29.
Six new annual trophies were awarded for the first time over the weekend (winners listed in the results below). Four of the trophies are named after RCA alumni and are awarded to the National Champions in the men's and women's singles and pairs, while another trophy recognizes the top Para athlete performance.
The Canada Cup, the final new trophy, was awarded to British Columbia after a series of tight 500m races.
At the Athlete Awards Banquet on September 28, Claire Ellison (Halifax, NS) received the Bobby Pearce Award for Female Junior Athlete of the Year and William Simpson (Toronto, ON) received the Jack Guest Award for Male Junior Athlete of the Year. Saskatchewan received the Provincial Points Challenge Efficiency award and Ontario received the Provincial Points Challenge Grand Champion award.
In addition, the Canadian Rowing Hall of Fame Class of 2019 was inducted on September 27 at a ceremony celebrating their contributions to rowing.
Full Results
Watch the RCA National Rowing Championships A, B, C and D finals
National Rowing Championships Results
Women's Single Sculls
Carling Zeeman (ON) – Gold *Silken Laumann Plate winner
Jessica Sevick (AB) – Silver
Jill Moffatt (ON) – Bronze
U23 Women's Single Sculls
Marilou Duvernay Tardif (QC) – Gold
Katie Clark (BC) – Silver
Hayley Chase (ON) – Bronze 
Junior Women's Single Sculls
Claire Ellison (NS) – Gold
Hailey Mercuri (ON) – Silver
Lily Jedlic (SK) – Bronze 
Lightweight Women's Single Sculls
Trish Mara (BC) – Gold
Jaclyn Stelmaszyk (BC) – Silver
Kate Haber (ON) – Bronze
U23 Lightweight Women's Single Sculls
Renee Lafreniere (BC) – Gold
Hannah Meeson (NS) – Silver
Eden Hardcastle (BC) – Bronze 
PR2 Women's Single Sculls
Jessye Brockway (BC) – Gold
PR3 Women's Single Sculls
Bayleigh Hooper (ON) – Gold
Men's Single Sculls
Trevor Jones (ON) – Gold *Derek Porter Trophy winner
Kai Langerfeld (BC) – Silver
Graham Peeters (ON) – Bronze
U23 Men's Single Sculls
Trevor Jones (ON) – Gold
Charles Alexander (ON) – Silver
Patrick Keane (BC) – Bronze
Junior Men's Single Sculls
William Simpson (ON) – Gold
Andrew Hubbard (AB) – Silver
Kyle Nummi (ON) – Bronze
Lightweight Men's Single Sculls
Aaron Lattimer (BC) – Gold
Maxwell Lattimer (BC) – Silver
Joshua King (ON) – Bronze
U23 Lightweight Men's Single Sculls
Alex Bernst (ON) – Gold
Christopher Rusin (BC) – Silver
Ivan Rybkin (BC) – Bronze 
PR1 Men's Single Sculls
Loren Pearson (BC) – Gold
Jesse Heubner (ON) – Silver
Dave Innes (ON) – Bronze 
PR2 Men's Single Sculls
Jeremy Hall (AB) – Gold *Lagoa Rio Trophy winner
PR3 Men's Single Sculls
Andrew Todd (NS) – Gold
Kyle Fredrickson (BC) – Silver
Women's Pair
Hillary Janssens & Caileigh Filmer (BC) – Gold *Kathleen Heddle & Marnie McBean Plate winners
Sydney Payne & Avalon Wasteneys (BC) – Silver
Rebecca Zimmerman (ON) & Ivy Elling Quaintance (BC) – Bronze
U23 Women's Pair
Sydney Payne & Avalon Wasteneys (BC) – Gold
Piper Battersby & McKenna Simpson (BC) – Silver
Danae McCulloch & Kirsten Edwards (BC) – Bronze
Junior Women's Pair
Deanna Salmon & Gabrielle Yarema (AB) – Gold
Men's Pair
Jakub Buczek (BC) & Will Crothers (ON) – Gold *George Hungerford & Roger Jackson Trophy winners
Mackenzie Copp (ON) & Cody Bailey (NS) – Silver
Tim Schrijver & David DeGroot (ON) – Bronze
U23 Men's Pair
Nicholas Tavares & Luke Gadsdon (ON) – Gold
Brendan Wall (BC) & Matthew Schultz (ON) – Silver
Travis Gronsdahl (BC) & Joseph Peers (ON) – Bronze
Junior Men's Pair
Owen Marcovitz & Alexander Gonin (BC) – Gold
Jonathan McLeod & Matthew Johner (SK) – Silver
Aidan Della Siega & Axel Ewashko (BC) – Bronze
-30-
For more information:
Colleen Coderre
RCA Communications Lead
comm@rowingcanada.org
 
Liz Montroy
RCA Communications and Events Coordinator
lmontroy@rowingcanada.org  
Photo: Peter Gleadow