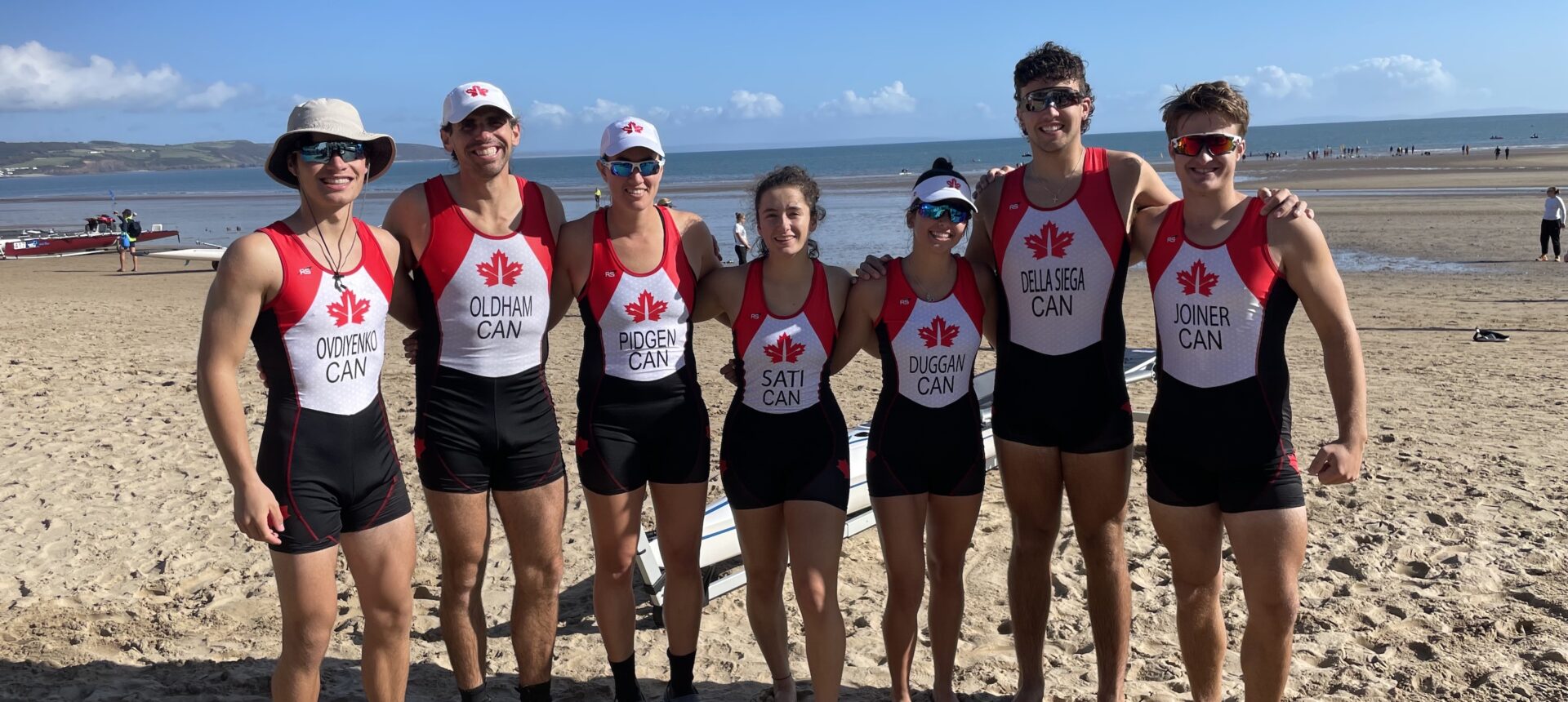 ---
Monday October 17 – Saundersfoot, Great Britain
IMMEDIATE RELEASE
Canada finished fourth in the world in the mixed double and women's solo events at the 2022 World Rowing Beach Sprint Finals this past weekend in Wales' Pembrokeshire National Park at the Saundersfoot beach and harbour.
Sarah Pidgen and Aubrey Oldham improved upon their 2021 finish in the mixed double (CMix2x), winning their quarterfinal against Italy to progress to the semifinals and secure a finish in the top four. They hit the buzzer 6.02 seconds behind France in the B final to take fourth in the world.
Pidgen collected a second fourth overall finish in the women's solo, the results of which were determined by the Round 2 race times after the finals were cancelled due to adverse weather conditions.
Three other Canadian crews—the men's solo, U19 men's double and U19 women's double—also qualified for the quarterfinals, but were unable to surpass their opponents and move on to the semifinals.
This was the first time Canada has sent U19 crews to the World Rowing Beach Sprint Finals, and served as an important development and learning opportunity in the growing discipline of coastal rowing and beach sprints.
Full results can be found at www.worldrowing.com
Join the conversation @rowingcanada: #WRBeachSprints #WRBSF #BringOnTheWaves #rowingcanada #aviron
Canada's Beach Sprint Finals Team
| | |
| --- | --- |
| Women's Solo (CW1x) | |
| Sarah Pidgen | Don Rowing Club |
| Men's Solo (CM1x) | |
| Aubrey Oldham | Leander Boat Club |
| Mixed Double (CMix2x) | |
| Sarah Pidgen | Don Rowing Club |
| Aubrey Oldham | Leander Boat Club |
| U19 Men's Double (CJM2x) | |
| Beckett Della Siega | Victoria City Rowing Club |
| Alexander Joiner | Victoria City Rowing Club |
| U19 Women's Double (CJW2x) | |
| Elena Sati | Cambridge Rowing Club/Don Rowing Club |
| Alex Duggan | Kingston Rowing Club |
| U19 Men's Solo (CJM1x) | |
| Dennis Ovdiyenko | Don Rowing Club |
| U19 Women's Solo (CJW1x) | |
| Alex Duggan | Kingston Rowing Club |
| U19 Mixed Double (CJMix2x) | |
| Elena Sati | Cambridge Rowing Club/Don Rowing Club |
| Dennis Ovdiyenko | Don Rowing Club |
Coaches
Katie Bahain-Steenman
Iain Wilson
Team Manager
John Armitage
For more information:
Colleen Coderre
RCA Communications Lead
comm@rowingcanada.org
Liz Montroy
RCA Communications and Events Coordinator
lmontroy@rowingcanada.org