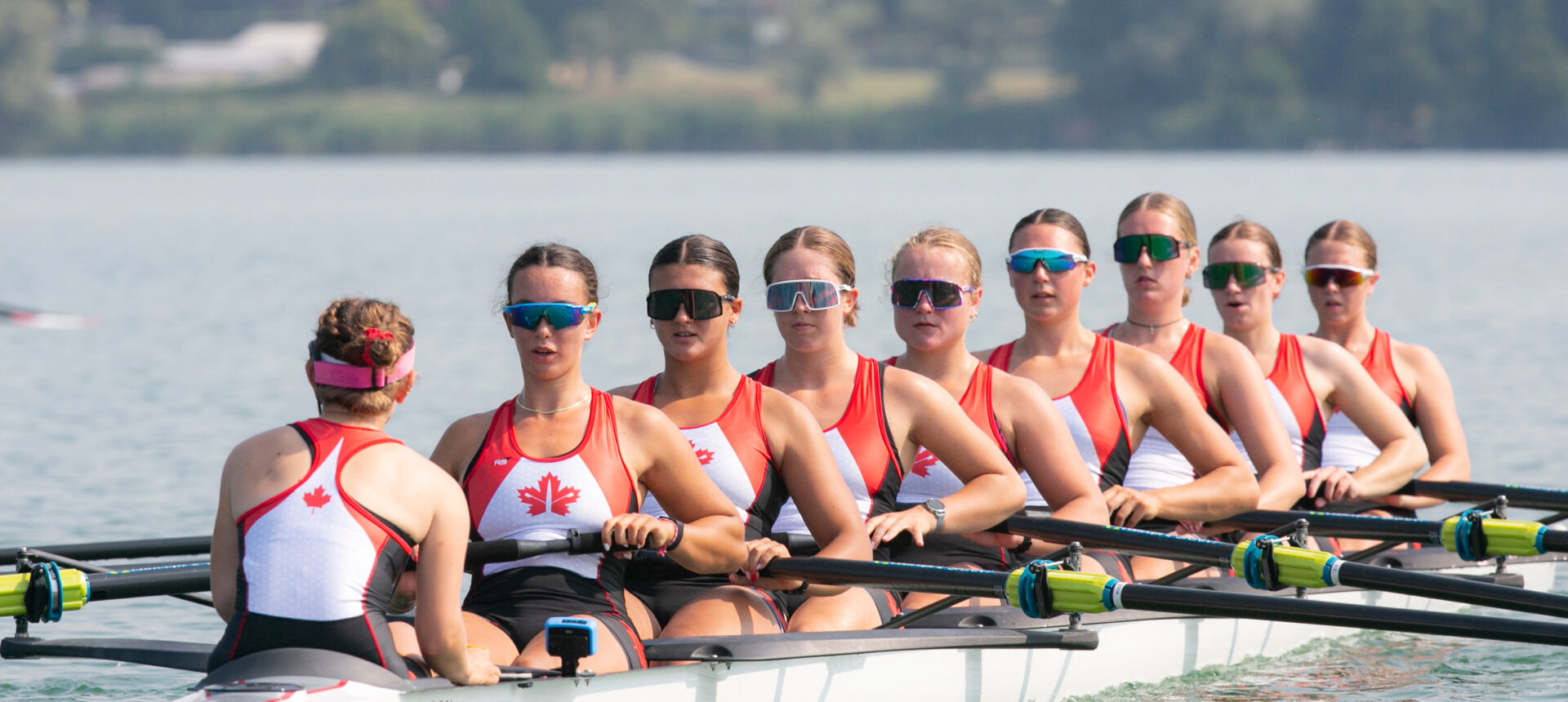 ---
Thirteen crews will race for Canada in Varese, Italy this week at the World Rowing Under 19 and Under 23 Championships.
The U23 events start on Monday July 25, with A finals taking place on Friday July 29 and Saturday July 30. The U19 events start on Wednesday July 27, with A finals taking place on Sunday July 31.
Schedule and results can be found here. A live race tracker and live audio will be available for all races on www.worldrowing.com. Live video streaming will also be available on www.worldrowing.com for all races from Friday July 29 to Sunday July 31.
Follow us on Facebook, Twitter, Instagram and TikTok for Team Canada updates.
Join the conversation @rowingcanada: #WRUCHVarese #WRU23CH #WRU19CH #rowingcanada #aviron
In support of the NextGen athletes, RCA has launched a fundraising campaign to reduce fees associated with international competition and ensure that athletes do not face financial barriers to representing Canada on the world stage. To make a contribution and help Canada's rowers focus on giving their all on the water, please visit fundrazr.com/2022RCANextGen
World U23 Championship Roster 
| | |
| --- | --- |
| Women's Pair (BW2-)  | Club/University  |
| Maya Meschkuleit  | Don Rowing Club/Yale University  |
| Leia Till  | Brockville Rowing Club/University of Virginia  |
| | |
| Women's Double (BW2x)  | Club/University  |
| Elisa Bolinger  | University of Western Ontario  |
| Grace VandenBroek  | Peterborough Rowing Club/Trent University  |
| | |
| Men's Pair (BM2-)  | Club/University  |
| Julian Black  | University of British Columbia  |
| Joel Cullen  | University of British Columbia  |
| | |
| Men's Double (BM2x)  | Club/University  |
| Michael Ciepiela  | St. Catharines Rowing Club/Brock University  |
| Andrew Hubbard  | Calgary Rowing Club/Queen's University  |
| | |
| Lightweight Men's Single (BLM1x)  | Club/University  |
| Stephen Harris  | Guelph Rowing Club/Brock University  |
| | |
| Women's Eight (BW8+)  | Club/University  |
| Lucy Black  | Four Bridges Rowing Club/Stanford University  |
| Eliza Dawson  | University of Calgary Rowing Club |
| Abigail Dent  | Kenora Rowing Club/University of Michigan  |
| Shaye de Paiva  | Calgary Rowing Club/Queen's University  |
| Claire Ellison  | Kingston Rowing Club/Queen's University  |
| Hailey Mercuri  | Ridley Graduate Boat Club/University of Iowa  |
| Jana Peachey  | North Star Rowing Club/University of Michigan  |
| Emma Seawright  | Don Rowing Club/University of Tennessee  |
| Eden Cooper-Squires (coxswain)  | Argonaut Rowing Club/University of Southern California  |
| | |
| Men's Eight (BM8+)  | Club/University  |
| Connor Attridge  | University of Victoria  |
| Matteo Banducci  | Vancouver College/Cornell University  |
| Payton Gauthier  | Niagara Falls Rowing Club  |
| Alexander Gonin  | Victoria City Rowing Club/University of Washington  |
| Aidan Hembruff  | Ottawa Rowing Club/University of Western Ontario  |
| Oliver Page Kuhr  | Victoria City Rowing Club/Brown University  |
| Mitchell Rodgers  | St. Catharines Rowing Club/University of Victoria  |
| William Simpson  | Argonaut Rowing Club/University of Victoria  |
| Nicholas Murray-Coplen (coxswain)  | St. Catharines Rowing Club/University of Victoria  |

Non-Travelling Spares 
Ceilidh MacDonald (Kingston Rowing Club/Queen's University) 
Michael Caryk (Winnipeg Rowing Club/Trent University)
Coaches 
Mike Pearce (University of British Columbia) 
Greg Szybka (RCA/Ontario NextGen Performance Centre) 
Jane LaRiviere (Washington State University Rowing) 
Katie Bahain-Steenman (Victoria City Rowing Club) 
Scott Anderson (St. Catharines Rowing Club/Brock University) 
World U19 Championship Roster
| | |
| --- | --- |
| Men's Four (JM4-) | Club |
| Connor Bohlmann | Vancouver College |
| Shane Keagan | Ridley College |
| Owen Marcovitz | Victoria City Rowing Club |
| Ellington Peacock | Victoria City Rowing Club |
| | |
| Women's Four (JW4-) | Club |
| Teagan Blue | Victoria City Rowing Club |
| Malarie Jones | Notre Dame Rowing Club |
| Riley Richardson | Ottawa Rowing Club |
| Arden Ross | Victoria City Rowing Club |
| | |
| Women's Pair (JW2-) | Club |
| Mira Calder | Victoria City Rowing Club |
| Sophia Regosa | Victoria City Rowing Club |
| | |
| Men's Double (JM2x) | Club |
| Owen Bartel | St. Catharines Rowing Club |
| Lucas Maroney | Notre Dame Rowing Club |
| | |
| Women's Double (JW2x) | Club |
| Anna Pamenter | Don Rowing Club |
| Cait Whittard | St. Catharines Rowing Club |
| | |
| Women's Quad (JW4x) | |
| Stella Bittman | Notre Dame Rowing Club |
| Autumn Crowe | Ridley College |
| Leah Miller | Winnipeg Rowing Club |
| Madeson Scott | Notre Dame Rowing Club |
Coaches
Scott Anderson (St. Catharines Rowing Club/Brock University)
Mike Petrychanko (St. Catharines Rowing Club)
Mary Rao (Brock University)
Greg Szybka (RCA/Ontario NextGen Performance Centre)
Photo: Katie Steenman Images