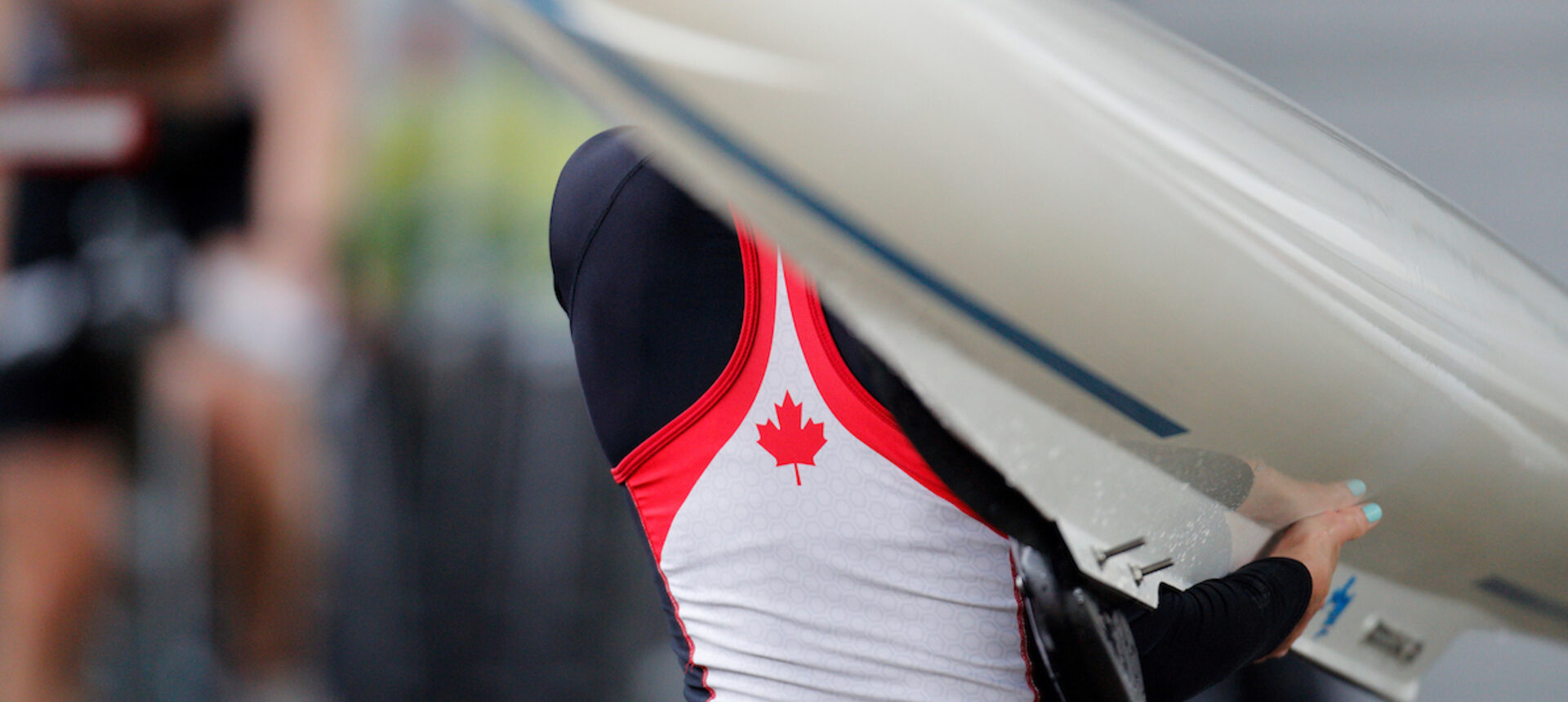 ---
Wednesday July 6, 2022 – Victoria, BC
IMMEDIATE RELEASE
Canada will be represented by six U19 crews and seven U23 crews in Varese, Italy later this month at the 2022 World Rowing U23 and U19 Championships.
Canada's 2021 World U19 men's pair bronze medallists, Matteo Banducci and Alexander Gonin, will race in the U23 men's eight, while another U19 bronze medallist, Grace VandenBroek (2017, women's double), joins Elisa Bolinger in the U23 women's double.
The U23 women's double and the U23 women's pair of Maya Meschkuleit and Leia Till will also race in World Cup III this weekend in Lucerne, Switzerland, before joining the rest of the NextGen team in Italy.
This July will mark the first time since 2016 in Rotterdam that the U23 and U19 World Championships are held concurrently in the same location. This will also be the second time that Varese has hosted the World U23 Championships.
"We are looking forward to seeing our U23 and U19 teams on the water in Italy," said Chuck McDiarmid, RCA NextGen Program Lead. "The 45 NextGen athletes that will be representing Canada this summer in Varese have worked hard to earn this opportunity. Having both the U23 and U19 groups competing at the same event is a unique opportunity for the athletes and coaches to learn and grow together, and strengthens the bonds within our program. We are proud of what our athletes have already accomplished in the lead up to the World Championships, and are excited to cheer them on as they race on the international stage."
Underway this weekend in London, Ontario, is the annual CanAmMex regatta, a high performance racing opportunity for up-and-coming rowers. Twenty-six athletes will represent Canada, racing with teams from the United States, Mexico and, for the first time ever, the Bahamas.
Join the conversation @rowingcanada: #WRUCHVarese #WRU23CH #WRU19CH #CanAmMex #rowingcanada #aviron
When and Where
World Rowing U23 Championships 
Varese, Italy 
July 25-30, 2022
World Rowing U19 Championships
Varese, Italy
July 27-31, 2022
CanAmMex
London, Ontario
July 8-9, 2022
How to Follow Racing
World Rowing U23 and U19 Championships
Schedule and results available at www.worldrowing.com
CanAmMex
Schedule and results available at regattacentral.com
World U23 Championship Roster 
| | |
| --- | --- |
| Women's Pair (BW2-)  | Club/University  |
| Maya Meschkuleit  | Don Rowing Club/Yale University  |
| Leia Till  | Brockville Rowing Club/University of Virginia  |
| | |
| Women's Double (BW2x)  | Club/University  |
| Elisa Bolinger  | University of Western Ontario  |
| Grace VandenBroek  | Peterborough Rowing Club/Trent University  |
| | |
| Men's Pair (BM2-)  | Club/University  |
| Julian Black  | University of British Columbia  |
| Joel Cullen  | University of British Columbia  |
| | |
| Men's Double (BM2x)  | Club/University  |
| Michael Ciepiela  | St. Catharines Rowing Club/Brock University  |
| Andrew Hubbard  | Calgary Rowing Club/Queen's University  |
| | |
| Lightweight Men's Single (BLM1x)  | Club/University  |
| Stephen Harris  | Guelph Rowing Club/Brock University  |
| | |
| Women's Eight (BW8+)  | Club/University  |
| Lucy Black  | Four Bridges Rowing Club/Stanford University  |
| Eliza Dawson  | University of Calgary Rowing Club |
| Abigail Dent  | Kenora Rowing Club/University of Michigan  |
| Shaye de Paiva  | Calgary Rowing Club/Queen's University  |
| Claire Ellison  | Kingston Rowing Club/Queen's University  |
| Hailey Mercuri  | Ridley Graduate Boat Club/University of Iowa  |
| Jana Peachey  | North Star Rowing Club/University of Michigan  |
| Emma Seawright  | Don Rowing Club/University of Tennessee  |
| Eden Cooper-Squires (coxswain)  | Argonaut Rowing Club/University of Southern California  |
| | |
| Men's Eight (BM8+)  | Club/University  |
| Connor Attridge  | University of Victoria  |
| Matteo Banducci  | Vancouver College/Cornell University  |
| Payton Gauthier  | Niagara Falls Rowing Club  |
| Alexander Gonin  | Victoria City Rowing Club/University of Washington  |
| Aidan Hembruff  | Ottawa Rowing Club/University of Western Ontario  |
| Oliver Page Kuhr  | Victoria City Rowing Club/Brown University  |
| Mitchell Rodgers  | St. Catharines Rowing Club/University of Victoria  |
| William Simpson  | Argonaut Rowing Club/University of Victoria  |
| Nicholas Murray-Coplen (coxswain)  | St. Catharines Rowing Club/University of Victoria  |

Non-Travelling Spares 
Ceilidh MacDonald (Kingston Rowing Club/Queen's University) 
Michael Caryk (Winnipeg Rowing Club/Trent University)
Coaches 
Mike Pearce (University of British Columbia) 
Greg Szybka (RCA/Ontario NextGen Performance Centre) 
Jane LaRiviere (Washington State University Rowing) 
Katie Bahain-Steenman (Victoria City Rowing Club) 
Scott Anderson (St. Catharines Rowing Club/Brock University) 
World U19 Championship Roster
| | |
| --- | --- |
| Men's Four (JM4-) | Club |
| Connor Bohlmann | Vancouver College |
| Shane Keagan | Ridley College |
| Owen Marcovitz | Victoria City Rowing Club |
| Ellington Peacock | Victoria City Rowing Club |
| | |
| Women's Four (JW4-) | Club |
| Teagan Blue | Victoria City Rowing Club |
| Malarie Jones | Notre Dame Rowing Club |
| Riley Richardson | Ottawa Rowing Club |
| Arden Ross | Victoria City Rowing Club |
| | |
| Women's Pair (JW2-) | Club |
| Mira Calder | Victoria City Rowing Club |
| Sophia Regosa | Victoria City Rowing Club |
| | |
| Men's Double (JM2x) | Club |
| Owen Bartel | St. Catharines Rowing Club |
| Lucas Maroney | Notre Dame Rowing Club |
| | |
| Women's Double (JW2x) | Club |
| Anna Pamenter | Don Rowing Club |
| Cait Whittard | St. Catharines Rowing Club |
| | |
| Women's Quad (JW4x) | |
| Stella Bittman | Notre Dame Rowing Club |
| Autumn Crowe | Ridley College |
| Leah Miller | Winnipeg Rowing Club |
| Madeson Scott | Notre Dame Rowing Club |
Coaches
Scott Anderson (St. Catharines Rowing Club/Brock University)
Mike Petrychanko (St. Catharines Rowing Club)
Mary Rao (Brock University)
Greg Szybka (RCA/Ontario NextGen Performance Centre)
CanAmMex Roster
| | |
| --- | --- |
| Men's Team | Club |
| Adrian Breen | Don Rowing Club |
| Cole Carter | Kingston Rowing Club |
| Mathias Essig | Ridley Graduate Boat Club |
| Adam Griesbach | Ottawa Rowing Club |
| Matthew Johnston | E.L. Crossley |
| Edward Lalonde | Brentwood College |
| Edison Luke | Vancouver College |
| Owen Nicholls | E. L. Crossley |
| Max Pally | Saskatoon Rowing Club |
| Alessio Perco | E. L. Crossley |
| Gunnar Platt | Shawnigan Lake School |
| Lucas Turner | Claremont Sports Institute |
| Riley Watson | Peterborough Rowing Club |
| | |
| Women's Team | Club |
| Sasha Anderson | Halifax Rowing Club |
| Jahada Bezeau | Victoria City Rowing Club |
| Marijn Butterfield | Victoria City Rowing Club |
| Sophie Gower | Thunder Rowing |
| Makeda Harrison | St. Catharines Rowing Club |
| Maia Hembruff | Ottawa Rowing Club |
| Madeleine Lauriault | Ottawa Rowing Club |
| Bethany Nordstrom | Victoria City Rowing Club |
| Sydney Swick | Ridley Graduate Boat Club |
| Julia Teixeira | Argonaut Rowing Club |
| Ally Tuttle | Shawnigan Lake School |
| Clara Van Dyk | Notre Dame Rowing Club |
| Eryn Wale | Victoria City Rowing Club |
Coaches
Katie Bruggeling (Queen's University/Kingston Rowing Club)
Patrick Cody (Row Nova Scotia)
Jordan Randall (University of Western Ontario)
Lisa Samual (Fort Langley Rowing Club)
For more information:
Colleen Coderre
RCA Communications Lead
comm@rowingcanada.org
Liz Montroy
RCA Communications and Events Coordinator
lmontroy@rowingcanada.org