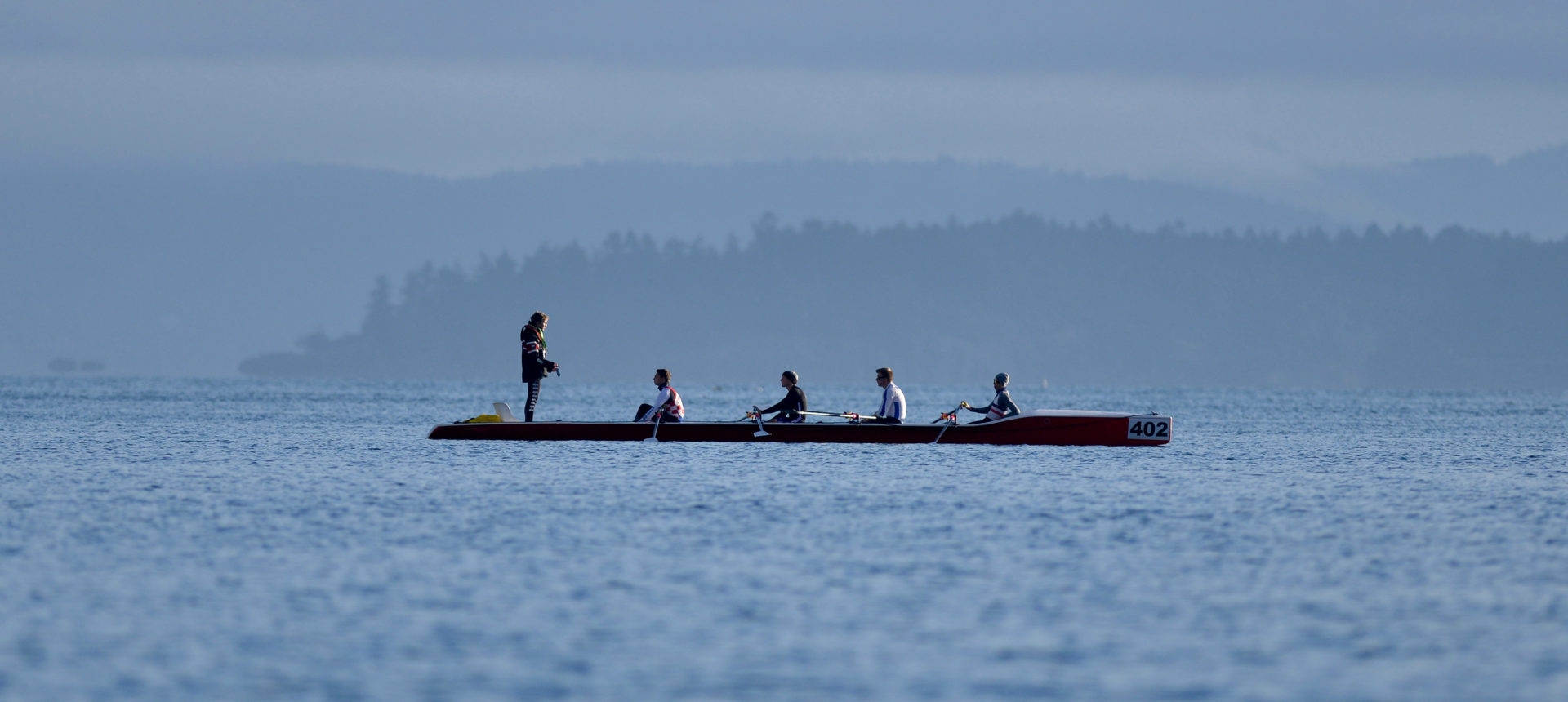 ---
June 8 is World Oceans Day, a day set aside to remind us that we are united by water and that the ocean is our future and is something worth celebrating.
For rowers, World Oceans Day is also a reminder of the opportunities the ocean has to offer us. With 97 percent of Earth's water being in oceans, and Canada having the world's longest coastline, there are ample opportunities for rowers to go coastal.
Coastal rowing is rowing on rough water, which includes oceans, lakes and rivers that are not suitable for flatwater rowing. Coastal rowing is characterized by both its extreme, adrenaline-pumping qualities, and its ability to connect rowers with nature and exciting new waterways.
"I believe that coastal rowing is the new 'adventure' version of rowing for competitive rowers, some of them may even say 'extreme sport'. It is basically the same movement of the stroke, but all the rest is different, offering challenges—different race format, various water conditions, various weather conditions—so full of surprise, and all of that with fun."
Guylaine Bernier
(Coastal Rowing Ambassador)
"Waves, wind, current, navigation and side-by-side racing against lots of boats makes it unpredictable and exciting. Coastal rowing is the perfect way to explore beautiful coastlines and interesting places. Rugged coastlines, rugged rowing. Wild coastlines, wild rowing."
Brenda Taylor
(2018 World Rowing Coastal Championships Race Director – Operations)
5 THINGS TO KNOW ABOUT COASTAL ROWING
Coastal boats are wider than flatwater boats.
This means that they often feel more stable than flatwater boats and are capable of navigating choppy waters.
Race courses are not set up in a straight line.
Instead, rowers maneuver around a series of buoyed turns. Race distances vary, but are typically 4000m for heats and 6000m for finals.
There can be boat-to-boat contact!
Since boats do not race in lanes and have to make turns around buoys, there can be contact between them.
Winds, tides, currents and waves are all part of the experience.
Weather does not impede coastal rowing boats that often, but rowers do need to be adept at reading weather patterns and waves.
Races can start from the shore.
Sometimes coastal rowers start and finish on the water, but races can also begin with boats being pushed off from the shoreline. Some even start and/or end with foot sprints on the beach. At the 2018 World Rowing Coastal Championships held in Victoria, races had a beach start and on-water finish.
UPCOMING COASTAL ROWING EVENTS
More coastal rowing events will be added to our website as information is made available. Please refer to our Events page for more.
Gulf Islands Tours
Various dates from June to September, 2019 – Sidney, BC
Try-It Day 
June 9, 2019 – Kingston, ON
Try-It Day
June 15, 2019 – Kingston, ON
Gaudaur Brothers Heritage Tour
June 15, 2019 – Orillia, ON
Muskoka Tour 
June 22-23, 2019 – Port Carling, ON
Intro to Coastal Rowing
June 22-23, 2019 – Lunenburg, NS
Coastal Camp 
July 5-7, 2019 – Vancouver, BC
Toronto Island Tour 
July 7, 2019 – Toronto, ON
Prince Edward Island and Nova Scotia Tour 
July 24-August 1, 2019 – Nova Scotia & PEI
Coastal Camp 
July 26-28, 2019 – Victoria, BC
Nottawasaga River – Wasage Beach Tour 
August 17, 2019 – Barrie, ON 
Beach Sprints 
August 17, 2019 – Port Dalhousie (St. Catharines), ON
Muskoka Poker Run 
August 17, 2019 – Port Carling, ON
Coastal Beach Sprints 
August 17-18, 2019 – Victoria, BC
Lachine Coastal Rowing Regatta 
August 24, 2019 – Lachine, QC
Red Island Regatta 
August 24, 2019 – Brudenell, PEI
Canadian Sculling Marathon 
August 25, 2019 – Ottawa, ON
Lighthouse to Lighthouse 
September 13-15, 2019 – Norwalk, Connecticut, USA
Huntsville Lakes Tour 
September 21-22, 2019 – Huntsville, ON
San Francisco Bay Coastal Classic 
October 5-6, 2019 – San Francisco, California, USA
2019 World Rowing Coastal Championships 
November 1-3, 2019 – Hong Kong
Sarasota International Coastal Regatta 
November 20-24, 2019 – Sarasota, Florida, USA
BOAT CLASSES
There are solo (CW1x, CM1x), double (CW2x, CM2x, CMix2x), and coxed quad (CW4x, CM4x) scull boats for coastal rowing.
EQUIPMENT
Looking to add coastal boats to your fleet? The following companies manufacture coastal equipment:
EuroDiffusions 
LiteBoat 
Maas Rowing Shells
MORE INFORMATION
World Rowing – Coastal Rowing 
What it's like to be a coastal rower 
Coastal Rowing on Lake Ontario 
World Oceans Day