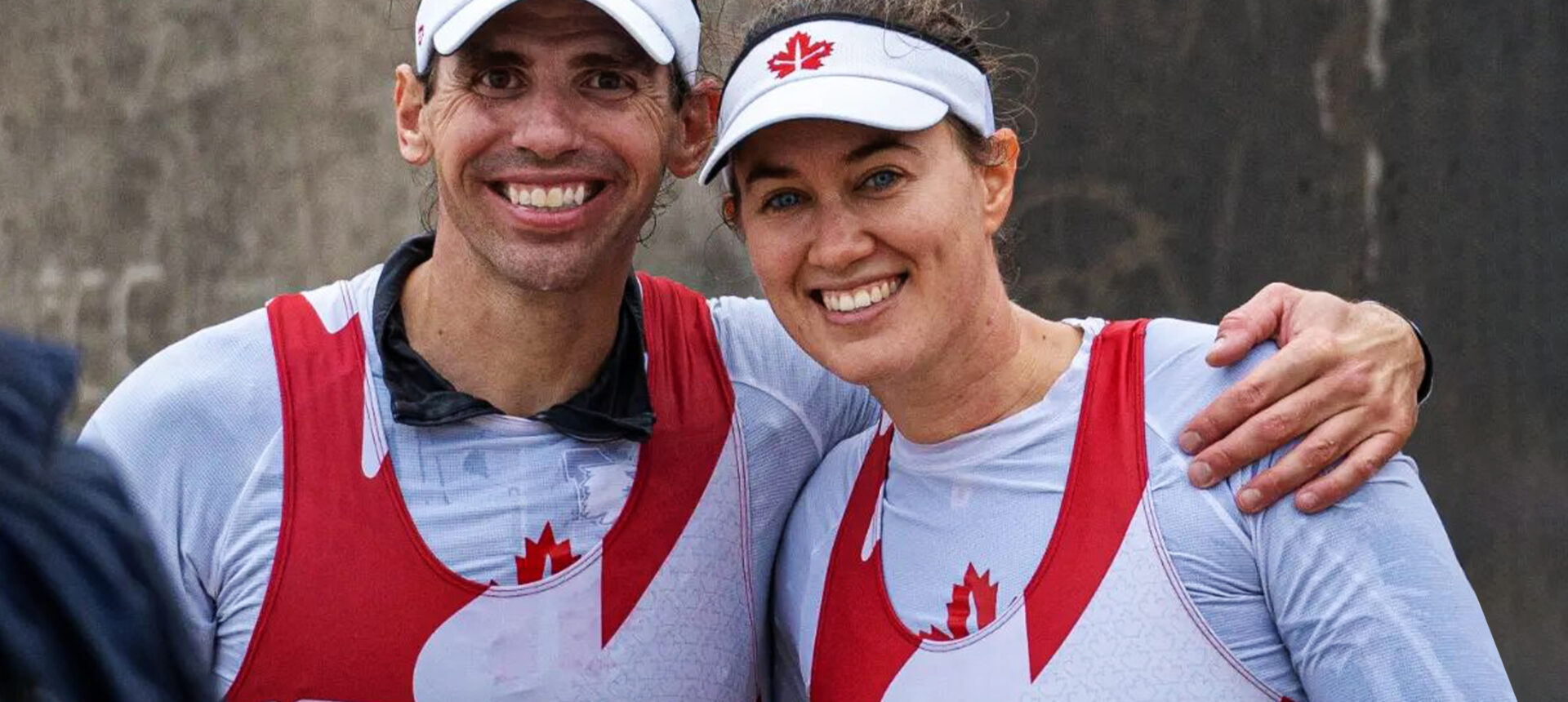 ---
In the world of rowing, the coastal discipline continues to make waves as more venture into the exhilarating realm, which for many is into the unknown. That was once the situation for coastal rowing specialists Sarah Pidgen and Aubrey Oldham. Since representing Canada on the world stage, the duo have been at the forefront of the discipline and instigated a drive to push the boundaries of coastal rowing across the nation.
Sarah, a member of the Don Rowing Club, first discovered coastal rowing through a video she watched, which intrigued her to try something new in a sport she had been competing in for most of her life. "I've been a flatwater rower since I was 12 years old, but in 2019, an opportunity arose to try beach sprints," Sarah explained. "I had never raced in beach sprints before, but I had seen videos of it and thought it looked pretty fun, so I decided to sign up."
Reflecting on his initial foray into coastal rowing, Aubrey shares, "Well, it's like Sarah, I had been rowing for a long time now. So, we're talking 20 years, and it was all flatwater, I really didn't know much about coastal rowing at all."
Aubrey's introduction to the discipline came through hearing about Canada hosting the World Rowing Coastal Championships in 2018. Intrigued, the Leander Boat Club member reached out to friends who had participated in the regatta, which served as a catalyst for his interest in coastal rowing. He remarks, "It just seemed like a perfect fit for what I wanted to do with rowing, having sort of done what I felt I was able to and wanted to achieve in flatwater."
Their newfound interest in the discipline found them both competing at the first ever Canadian Rowing Beach Sprints regatta held in August 2019 in St. Catharines, Ontario, welcoming rowers to the debuting discipline of the sport. The beach sprint event involves two competing rowers sprinting from the top of the beach to their shored boat (and partner, in the case of doubles) before slaloming a buoy about 250 metres off the coast, returning to the shore, launching from the boat and sprinting back to the starting line.
"I went to the Canadian Beach Sprint qualifier having no experience, but also knowing that because it was new, everyone else competing had also never tried it before," Sarah recalls. "So we all turned up, knowing we'd have one practice session before racing started, and tried our best to figure out how to maneuver around the course."
Coastal rowing, with its dynamic nature, often challenges the traditional mindset ingrained in flatwater rowing. The duo reflects on the new skills they immediately had to face in a coastal boat but also relished one of the most intriguing aspects of the discipline, the fusion of physicality and strategy.
"I actually really enjoy the steering and the tactical aspect of coastal rowing. It has been a lot of trial and error. Sometimes we don't get it right," Sarah says with a laugh. "But we learn for next time."
Many flatwater rowers believe they must perfect their skills before participating in a regatta, whereas coastal rowing encourages a different approach. Coastal rowing allows athletes to leverage their existing rowing skills and fitness while embracing the excitement and fun of a new experience. Something Aubrey emphasises through his own learned knowledge.
 

 

View this post on Instagram

 
"It's a different feel; it's more dynamic. You're bobbing up and down, looking around as you crest a wave or descend into a trough," Aubrey regales. "It's just really, really fun that way."
"You have to approach it like, 'I'm going to try this. It's going to be fun'," Sarah continues. "Every venue is so different that you have to really adapt to the course and the conditions. You just have to roll with it and try to adapt as best you can."
Their performances at the St. Catharines regatta earned Aubrey and Sarah their first coastal rowing selections for Canada at the inaugural World Rowing Beach Sprint Finals in 2019 in Shenzhen, China.
"After my first exposure in St. Catharines, which was pretty calm water that day, we qualified to go to the World Rowing Beach Sprint Finals which were in China and we had to learn fast," Sarah recalls. "We had to learn how to cope with the waves and riding big ocean swells, the Chinese venue had a really heavy swell. So it has been really fun to learn on the go."
"We had a wonderful time in China, it was such a different feel, everyone was just sort of new to the sport," Aubrey recounts. "Everyone was picking it up and really friendly and helping each other. It was a really different vibe and at the end of the day, after all the racing is done, you're on a beach so you're just having fun."
Aubrey and Sarah were there when the nation won its first World Rowing Beach Sprint Finals medal in 2021. North Star Rowing Club star Brienne Miller won gold in the women's solo (CW1x) at the event in Oeiras, Portugal. In a dominant performance throughout the regatta, Brienne won all of her races, taking first in a pivotal moment for Canada's coastal rowing program.
Representing one's country is an honour cherished by athletes worldwide, and Aubrey and Sarah are no exception. They reflect on the privilege of representing Canada in both flatwater regattas but now also coastal rowing. The unique experiences and challenges encountered in coastal rowing have added a distinct flavour to their journey as rowers.
"It is so great to represent Canada," Sarah said. "It is always a special moment and you just can't take it for granted."
 

 

View this post on Instagram

 
"It was an incredible honour to wear the maple leaf and represent Canada in coastal rowing. To be among the best athletes from around the world, competing for our country, was truly a remarkable experience," Aubrey said. "It was a chance to showcase the talent and potential that Canadian coastal rowing has to offer."
Last October, the duo competed at the 2022 World Rowing Beach Sprint Finals at the Wales' Pembrokeshire National Park at the Saundersfoot beach and harbour, finishing fourth in the mixed double event, while Sarah finished fourth in the women's solo after racing was suspended due to inclement weather. Their performances showcased their skill and dedication, with Aubrey expressing pride in their accomplishments. Reflecting on their experience, he shares, "We had some really great races and left everything on the water. Although we narrowly missed out on medals, we raced exceptionally well and we will continue with our aim to stand on the top of the podium in 2023."
The next target of the duo's focus is the upcoming Western Canadian Beach Sprint Regatta hosted by Open Aviron Rowing Coastal Association (OARCA) on Saturday, June 3 and Sunday, June 4 at the Colwood Waterfront, Victoria, BC.
Through pair's efforts at the World Rowing Beach Sprints in 2022 earned Canada qualification for the 2023 ANOC World Beach Games in Bali, Indonesia, where their nation is eligible to compete in the men's and women's solo events and the mixed doubles event. The Western Canadian regatta will serve as the selection event for the Canadian team.
"Both Aubrey and I are training together this year with the aim to qualify for both the World Beach Games in Bali and the World Rowing Beach Sprint Finals in Italy," Sarah said.
With qualification on the line, Sarah and Aubrey believe the action will be fast and exciting for both competitors and spectators at the upcoming regatta.
"I think Coastal Rowing is exciting for both the rowers and the spectators," Sarah said. "There is never a dull moment because the races are really short. It is very fast-paced."
For many rowers, the transition from flat water rowing to coastal rowing can be both exciting and daunting. But Sarah believes a newcomer to coastal may instantly be captivated by its thrill and excitement.
"My advice for those who want to try Coastal Rowing is to just sign up and try it! Don't be afraid to take on a new challenge or try something new," Sarah shares. "Coastal rowing is a bit different than flatwater, it's not as controlled and it's not as predictable, but it's an exciting new challenge for sure."
The RCA selection guidelines document for the 2023 ANOC World Beach Games establishes the process and criteria to be used to select and nominate the RCA Team for the World Beach Games held in Bali, Indonesia, August 5-12, 2023.
You can find the RCA Coastal Rowing Beach Sprints selection guidelines document here.
You can find more information about the 2023 ANOC World Beach Games here.
Come Try Coastal Rowing Day
Event Dates: Sunday, May 28, 2023 at 9:00am PT
Host: Open Aviron Rowing Coastal Association (OARCA)
Location: Sidney, BC
Description: A free and safe event to welcome anyone to come and try the sport of Coastal Rowing.
Registration: Register for the upcoming event.
Western Canadian Beach Sprint Regatta
Event Dates: June 3-4, 2023
Host: Open Aviron Rowing Coastal Association (OARCA)
Location: Colwood Waterfront, BC
Description: This event will provide a dedicated racing opportunity within BC for coastal rowers. In some years, it may also serve as a selection event for National coastal rowing representation.
Registration: Registration and more information available on Regatta Central (search Western Canadian Beach Sprint Regatta under Canadian Regattas).
Questions can be directed to Local Organizing Committee Chair, Michelle Boss.