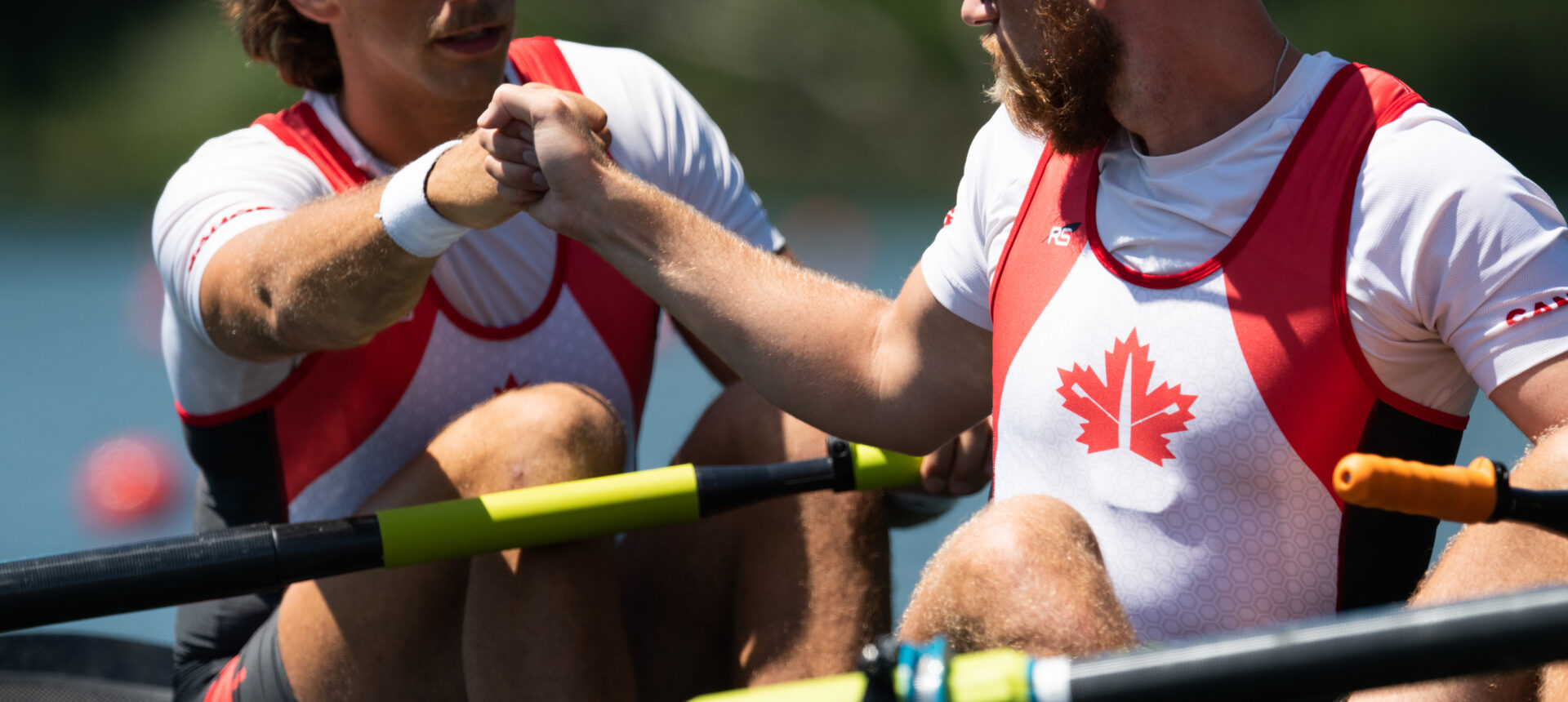 ---
Canada building momentum towards 2024
Team Canada is ready to row to the podium at the 2022 World Rowing Championships from September 18-25 in Racice, Czech Republic. 
Rowing Canada Aviron (RCA) selected 9 crews and 35 athletes to take on the world's best rowers in Racice next month. The women's eight returns following a silver medal finish at World Cup 3 in Lucerne while the men's eight continues building momentum finishing 6th at that event despite illness within the crew.
"Our crew has been developing strongly under the leadership of our coach Maksym Kepskyy," said Tokyo 2020 Olympian Jakub Buczek. "One of our biggest strengths is our positive culture which has steered us through the inevitable challenges."
Olympic teammate Luke Gadsdon also added that "the men's eight crew have been making huge strides in strength and cohesion and we are looking forward to throwing down on the world stage after a disappointing bout of covid during the World Cup events."
Olympic champion, Kasia Gruchalla-Wesierski returns to the women's eight, adding even more fuel to the powerhouse Canadian boat. 
"I'm really excited to be back with all my teammates from all the crews and excited to race the eight again," said Gruchalla-Wesierski. "I'm hoping to add my strength to what the crew has already built this past year. The break, since Tokyo, has been exactly what I needed to be 110% on this journey." 
Jenny Casson, also making her return to international competition, joins Tokyo 2020 Olympic partner, Jill Moffatt in the lightweight women's double, following a long road to recovery from double hip surgery.
"In October 2021, I simply wanted to get fixed and walk pain-free," said Casson. "The motto of 'baby steps' got me from a 10-minute walk in April to racing in the double today. All I could do was put my head down and listen to the experts and appreciate every step forward. This event really means the world to me."
Elisa Bolinger teams up with Marilou Duvernay-Tardif in the women's double following her silver medal finish in the double at the U23 World Championships in Italy this summer.
"It has been a great transition to the senior level with ample support from teammates and coaches. I'm really excited to be working with Marilou and I cannot wait to see how much we can learn within the next month leading into World Championships."
Athlete selections were conducted at the National Training Centre on Quamichan Lake in August with selections reviewed and approved by an independent selection panel.  The team travels to Munich, Germany on September 3, training at the Olympic Regatta Centre in Dachau, moving to the World Championship venue on September 15.
When and Where 
World Rowing Championships
Racice, Czech Republic
Sept 18-25, 2022
https://www.rowingracice.com/cz/
World Championship Team Roster 
| | |
| --- | --- |
| Women's Eight (W8+ )  | Home Club  |
| Alexis Cronk  | University of Victoria Rowing Club  |
| Kirsten Edwards  | University of Victoria Rowing Club  |
| Kasia Gruchalla-Wesierski | Club d'Aviron Knowlton |
| Sydney Payne  | Brentwood College Rowing Club  |
| Morgan Rosts  | Ridley Graduate Boat Club  |
| Jessica Sevick  | University of British Columbia/Calgary Rowing Club  |
| Gabrielle Smith  | Aviron Knowlton Rowing  |
| Avalon Wasteneys  | University of Victoria Rowing Club  |
| Kristen Kit (Coxswain) | University of British Columbia/St. Catharines Rowing Club  |
|   |   |
| Women's Four (W4-) |   |
| Rebecca Zimmerman | University of Victoria Rowing Club/Brockville Rowing Club |
| Claire Brillon | University of British Columbia |
| Cassidy Deane  | Kingston Rowing Club  |
| Karen Lefsrud  | Calgary Rowing Club  |
|   |   |
| Women's Pair (W2-) |   |
| Rianne Boekhorst | Winnipeg Rowing Club |
| Kristina Walker | Kingston Rowing Club/ University of British Columbia |
| Women's Double (W2x)  | |
| Elisa Bolinger | Western University Rowing Club |
| Marilou Duvernay Tardif  | Aviron Knowlton Rowing  |
| |   |
| | |
| Lightweight Women's Double (LW2x) | |
| Jennifer Casson | Kingston Rowing Club |
| Jill Moffatt  | Western University Rowing Club  |
| | |
| Lightweight Women's Single (LW1x) | |
| Karissa Riley (alternate) | Calgary Rowing Club/Western University Rowing Club  |
| Women's Single (W1x) | |
| Shannon Kennedy (alternate) | London Western Rowing Club |
| | |
| Men's Single (M1x)  | |
| Trevor Jones  | Peterborough Rowing Club  |
| | |
| Men's Eight (M8+)  | |
| Curtis Ames  | Calgary Rowing Club/Western University Rowing Club  |
| Terek Been  | Montreal Rowing Club  |
| Jakub Buczek  | St. Catharines Rowing Club  |
| Will Crothers  | Kingston Rowing Club  |
| Ryan Clegg  | Western University Rowing Club  |
| Luke Gadsdon  | Leander Boat Club/Brock University  |
| Josh King  | Ottawa Rowing Club  |
| Peter Lancashire | Brentwood College |
| Coxswain: Laura Court  | St. Catharines Rowing Club  |
|   |   |
| Men's Double (M2x) | |
| Dan de Groot | St. Catharines Rowing Club |
| Gavin Stone | Queen's University Rowing Club/Island Lake Rowing Club |
| | |
| Alternates | |
| Cody Bailey | London Western Rowing Club |
| Katie Clark | University of British Columbia |
Canadian Coaches:  
Jeremy Ivey 
Maksym Kepskyy 
Dane Lawson 
Carol Love 
Janine Stephens
John Wetzstein
For more information:
Colleen Coderre
Communications Lead
coderre@rowingcanada.org