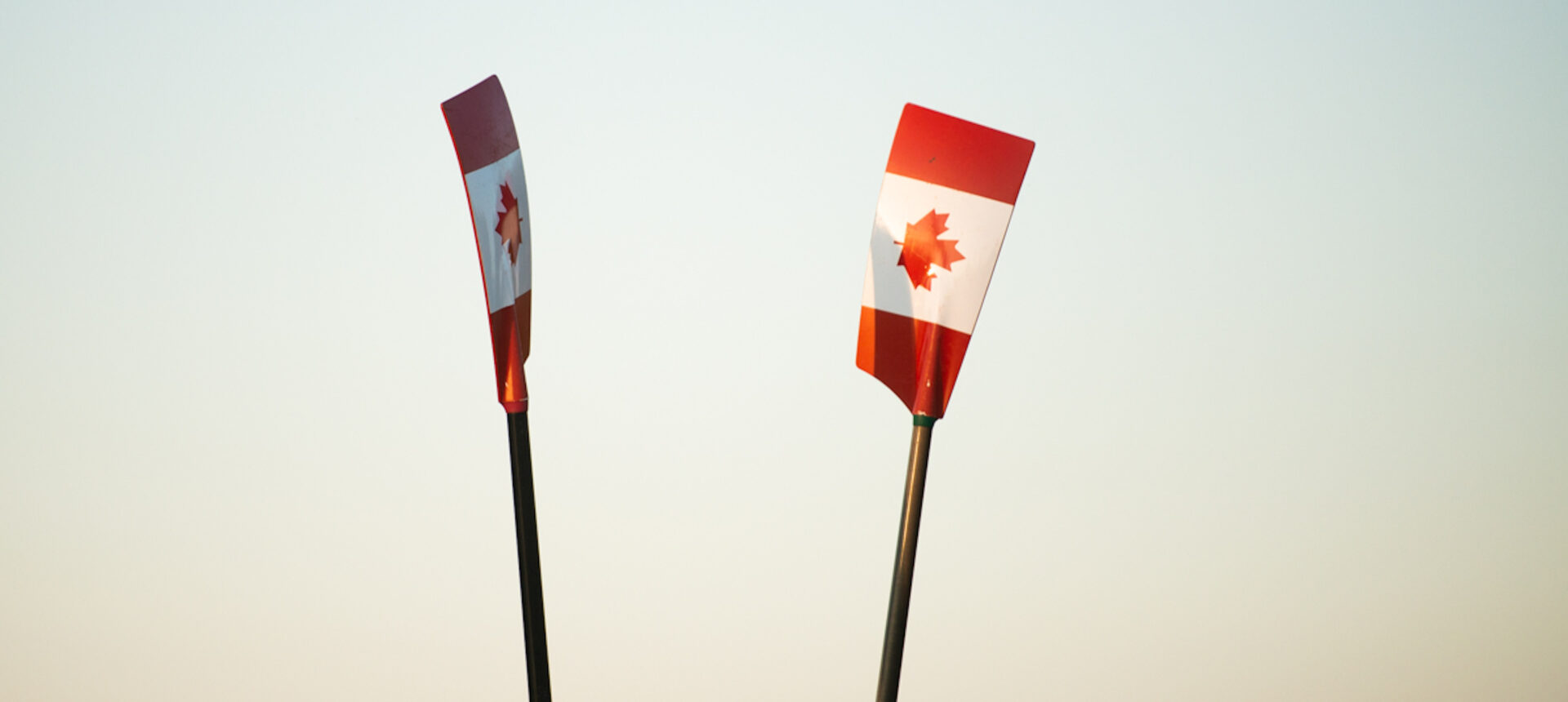 ---
May 16, 2021– Lucerne, Switzerland
IMMEDIATE RELEASE
The Canadian team had a spectacular performance during the Semifinals and Finals at the Final Olympic Qualification Regatta, qualifying all three crews for the Tokyo Olympic Games. This brings Rowing Canada Aviron's total delegation up to ten qualified boats – the largest since the 1996 Atlanta Games.
Due to inclement weather both the Semifinal and Final races were contested on Sunday morning. After successfully passing through the Semifinal races, all three crews lined up just two hours later for the Finals.
The men's four kicked things off against their top competitors from South Africa and France. With South Africa off to a fast start, the crew, led by Will Crothers (Kingston Rowing Club) had to power down throughout the middle of the race. Supported by Jakub Buczek (St. Catharines Rowing Club), Gavin Stone (Argonaut Rowing Club/Queen's University) and Luke Gadsdon (Leander Boat Club/Brock University), they successfully opened up water ahead of France to finish in second.
"When the race was unfolding in the third 500m, we all just had trust in each other and our race plan. We knew we had to stick to our plan and go for it. We had the speed and we knew going into the sprint that we could turn it on, and that anything they were doing, we could do more," said Stone.
Stone said they were accustomed to compressed racing schedules following experiences at the Canadian University Championships. "We knew we had the fitness to bang two out back-to-back and we could go for it. Canadian grit, you know."
The fast and furious racing continued with Trevor Jones (Peterborough Rowing Club) in the men's single sculls. Trevor faced a challenging battle with scullers from Russia and Poland. 
"I knew the Russian was going to go out hard and maybe get out of contact. I knew if I stuck with the Polish guy, I could work through him in the middle and then just sprint at the end, and it was good enough. The sprint was a mad dash, just throwing everything at it and hanging on for dear life at the end," Jones said.
Trevor secured his Olympic qualification spot in a time of 7:01.48. It will be the first Olympic experience for Trevor, who is just 23 years of age. 
"It feels great, it's been a long time coming and is just nice after over 18 months of working toward this to have finally done it and to know that I get to race in Tokyo."
With two crews already through, all eyes were on the lightweight men's double sculls to round out the regatta. Maxwell Lattimer (UBC Rowing Club) and Patrick Keane (Victoria City Rowing Club/UVic Rowing Club) did not disappoint. As the sky broke open and rain poured down on the Rotsee, they came storming through the finish line ahead of the Czech Republic to secure the top spot in a time of 6:28.53.
"In the heat we were kind of getting the cobwebs off," said Keane. "Getting to race against our category, it was a very big thrill, so much excitement. To be racing people in our boat class, we got that immediately after the first race and just carried on in the Semifinal and Final."
Keane acknowledged the unusual circumstances for everyone competing at this event and the Olympic Games later on this summer. "This is a pretty abnormal experience and I am just so blessed to get it," he said.
"We are incredibly proud of our Canadian crews' achievements today on the Rotsee," said Iain Brambell, RCA High Performance Director. "The Final Olympic Qualification Regatta is a difficult event at the best of times and our crews came through with flying colours. These accomplishments will be celebrated across the entire team and will further affirm the strong performance across all qualified boats, as our crews have been conducting inter squad assessments and simulated World Cups on Quamichan Lake. The team is excited to be heading to Tokyo with all ten targeted boats secured. We now look forward to the Final Paralympic Qualification Regatta in early June."
For more details on Tokyo 2020, including the other seven boats that already qualified (men's pair, women's pair, women's single, women's double, women's four, women's lightweight double, and women's eight), click here.
*Prior to being named to Team Canada, all nominations are subject to approval by the COC's Team Selection Committee following its receipt of nominations by all National Sport Organizations.