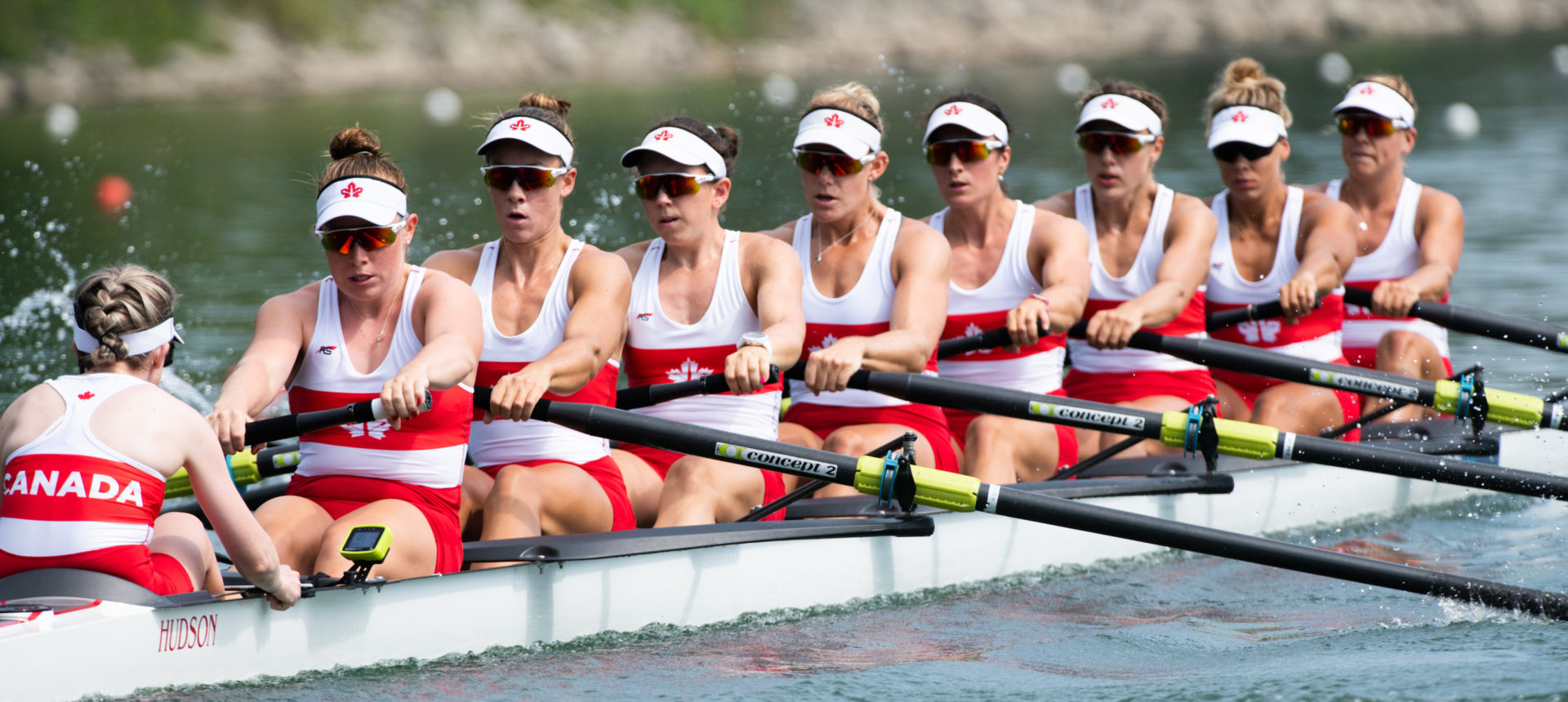 ---
September 1, 2019 – Linz-Ottensheim, Austria
IMMEDIATE RELEASE
Canada wrapped up the World Rowing Championships today with a big boat qualified for Tokyo 2020 and top 6 in three Olympic events. 
The women's eight secured a berth for Tokyo 2020 with a 4th place finish (6:03.04) in the hotly contested battle against New Zealand, Australia and the United States. Top five boats secured their spot for Tokyo with Great Britain earning the fifth spot.
The Canadian women's eight crew includes Lisa Roman (Langley, BC), Nicole Hare (Calgary, AB), Christine Roper (Ottawa, ON), Susanne Grainger (London, ON), Hillary Janssens (Cloverdale, BC) and Caileigh Filmer (Victoria, BC), Avalon Wasteneys (Campbell River, BC), Kasia Gruchalla-Wesierski (Calgary, AB), and coxswain Kristen Kit (St. Catharines, ON).
The women's double A Final featured Canada's Andrea Proske (Langley, BC) and Gabrielle Smith (Unionville, ON) finishing 0.63 seconds behind the Netherlands in 4th place. New Zealand and Romania finished 1st and 2nd respectively, with all crews previously qualifying their boats for Tokyo.
"The result was really tight. We executed our plan well so you can't be disappointed in that," said Smith. It is obviously frustrating to be that close but Olympic qualification was definitely a highlight this week. It's going to fuel a pretty good winter of training."
Rio Olympian Carling Zeeman (Cambridge, ON) raced against the world's top, finishing 6th place (7:29.70), and proudly securing a berth for Canada in the A/B semi-finals in the women's single.
"It's a stepping stone," explains Zeeman. "The Olympics are obviously the goal. I'm sixth in the world – not exactly where I want to be, but it gets me to the next step. I feel pride in that accomplishment."
The men's eight raced their B Final this morning, crossing the line in 2nd (5:42.09) ahead of Italy and Russia. The crew of Will Crothers (Kingston, ON), Mackenzie Copp (London, ON), Taylor Perry (Ancaster, ON), Gavin Stone (Brampton, ON), Benjamin De Wit (Port Alice, BC), Martin Barakso (Nanaimo, BC), Cody Bailey (St. Mary's, ON) Jakub Buczek (Burnaby, BC) and coxswain Lesley Thompson-Willie (London, ON) finished 8th overall at this event.
Matt Buie (Duntroon, ON) and Trevor Jones (Lakefield, ON) contested the C Final in the Men's Double finishing 2nd (6:23.64) in the C Final and 14th overall.
Loren Pearson (Kamloops, BC) finished 6th in the PR1 Men's Single finishing 18th overall in his first international regatta.
Canada takes home a total of three 2019 World Rowing Championship medals and six boats confirmed for Tokyo 2020. Subject to 2020 Olympic and Paralympic Selection Camp invitations, Canada may consider seeking additional qualification spots, in May 2020, during the final Olympic Qualification Regatta in Lucerne, Switzerland and the Final Paralympic Qualification Regatta in Gavirate, Italy.
Photos of Team Canada (copyright Rowing Canada Aviron) can be viewed here.
The 2019 World Rowing Championships Qualification System for Tokyo 2020 can be found here.
Canadian Crews – World Rowing Championships
| | |
| --- | --- |
| PR2 Men's Single | |
| Jeremy Hall | Edmonton Rowing Club |
|   | |
| PR2 Mixed Double | |
| Jeremy Hall | Edmonton Rowing Club |
| Jessye Brockway | Gorge Rowing Club |
|   | |
| PR3 Men's Pair | |
| Andrew Todd | North Star Rowing Club |
| Kyle Fredrickson | University of Victoria Rowing Club |
| | |
| PR1 Men's Single | |
| Loren Pearson | Victoria City Rowing Club |
|   | |
| Women's Eight | |
| Lisa Roman | Middlesex-Western Rowing Club |
| Susanne Grainger | London Rowing Club |
| Nicole Hare | Calgary Rowing Club |
| Avalon Wasteneys | University of Victoria Rowing Club |
| Kasia Gruchalla-Wesierski | Calgary Rowing Club |
| Hillary Janssens | University of British Columbia Rowing Club |
| Christine Roper | Ottawa Rowing Club |
| Caileigh Filmer | University of Victoria Rowing Club |
| Kristen Kit (coxswain) | University of British Columbia Rowing Club/St. Catharines Rowing Club |
| Women's Pair | |
| Hillary Janssens | University of British Columbia Rowing Club |
| Caileigh Filmer | University of Victoria Rowing Club |
|   | |
| Women's Four | |
| Madison Mailey | Burnaby Lake Rowing Club |
| Jennifer Martins | Western University Rowing Club |
| Stephanie Grauer | Burnaby Lake Rowing Club |
| Sydney Payne | Brentwood College Rowing Club  |
|   | |
| Women's Double | |
| Andrea Proske | Victoria City Rowing Club |
| Gabrielle Smith | Knowlton Rowing Club |
|   |   |
|   | |
| Lightweight Women's Double | |
| Jill Moffatt | Western University Rowing Club |
| Jennifer Casson | Kingston Rowing Club |
| Lightweight Women's Single | |
| Ellen Gleadow | Burnaby Lake Rowing Club |
|   | |
| Women's Single | |
| Carling Zeeman | Sudbury Rowing Club |
|   | |
| Spares | |
| Kristin Bauder | Middlesex-Western Rowing Club |
| Morgan Rosts | Ridley Graduate Boat Club |
| Rebecca Zimmerman | University of Victoria Rowing Club |
| Laura Court | St. Catharines Rowing Club |
|   | |
| Men's Pair | |
| Conlin McCabe | Brockville Rowing Club |
| Kai Langerfeld | University of Victoria Rowing Club |
|   | |
| Men's Eight | |
| Benjamin de Wit | University of British Columbia Rowing Club |
| Cody Bailey | MicMac Aquatic Center |
| Gavin Stone | Queen's University Rowing Club |
| Jakub Buczek | Burnaby Lake Rowing Club |
| Mackenzie Copp | Western University Rowing Club |
| Martin Barakso | Brentwood College Rowing Club |
| Taylor Perry | Leander Boat Club |
| Will Crothers | Kingston Rowing Club |
| Lesley Thompson-Willie (coxswain) | London Rowing Club |
|   | |
| Men's Double | |
| Matthew Buie | St. Catharines Rowing Club |
| Trevor Jones | Peterborough Rowing Club |
|   | |
| Lightweight Men's Double | |
| Maxwell Lattimer | University of British Columbia Rowing Club |
| Patrick Keane | Victoria City Rowing Club |
| | |
| Lightweight Men's Single | |
| Aaron Lattimer | University of British Columbia Rowing Club |
| | |
| Spares | |
| David De Groot | Brock University Rowing Club |
| Tim Schrijver | Brock University Rowing Club |
-30-
For more information:
Colleen Coderre
RCA Communications
comm@rowingcanada.org