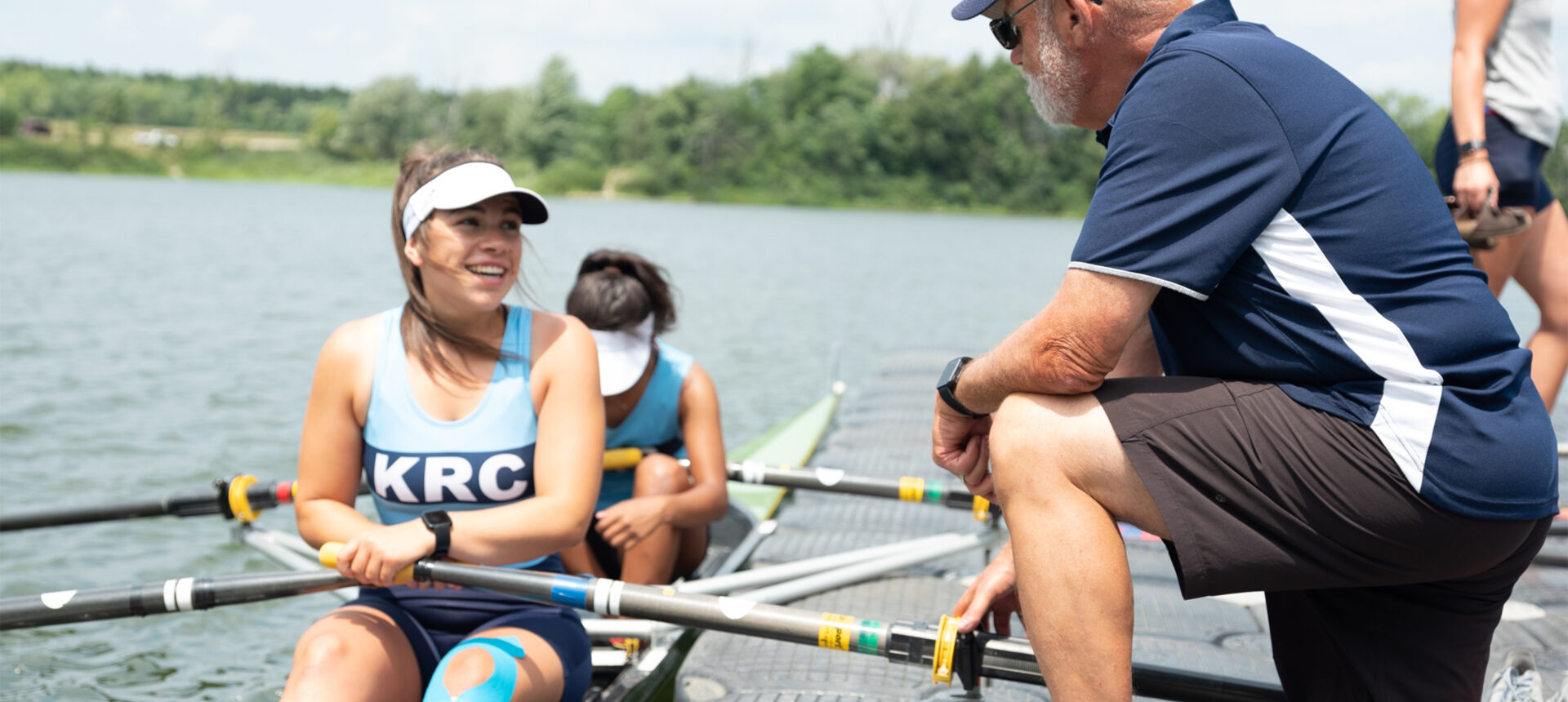 ---
Coach training is a vital part of maintaining a high standard of excellence in sports clubs. This is especially true for rowing clubs, where coaches play a significant role in the development of athletes and inspiring a passion for the sport. Kate Savage, Manager, Domestic Rowing at Row Ontario, explains how Row Ontario have been able to promote coach training and encourage coaches to participate in their workshops.
"We put out a survey in early December to understand what the need and demand was for coach education across the province, obviously it's a big province, and we have rowing clubs spread out all over the place," Kate said. "So it really has been about understanding where the demand is for what coaches at clubs were looking for with coach education."
With the information collected, Kate and her team have been able to design and schedule coach workshops both in person and virtual that have resulted in over 100 coaches completing Learn to Row Coach or Rowing Canada Aviron coach workshop courses from the start of 2023. Through completing these courses by coaches, it benefitted their athletes and their clubs with new skills and learnings but also helped with their own professional development.
"We've had that first season post pandemic shutdown under our belts and everybody's really keen to move forward and there's so much potential within our sport going forward, with expanding new disciplines of the sport and a lot of opportunity," Kate said. "So, it's been important to make opportunities for professional development available. There's always new information coming through these workshops that can help them our coaches and ensuring that we are delivering a high-quality standard of excellence within our club programs."
For Kate, one of the most rewarding parts of seeing so many coaches complete these courses is the growth of younger coaches within the ranks of Ontario clubs. Many new coaches include younger rowers who are signing up for these workshops as a way of giving back to their clubs but also to provide more opportunities for other athletes to develop their skills and to help grow participation in rowing.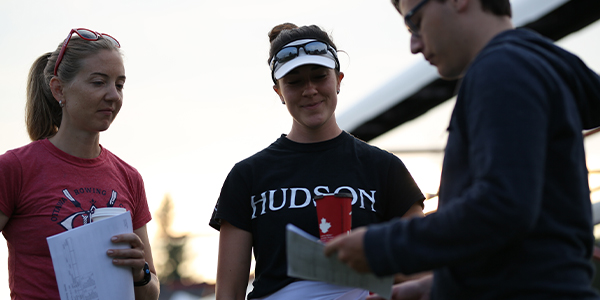 Kate Savage (left) joins with Row Ontario coaches during a rowing event. (Row Ontario)
"Many of the younger coaches fall in love with the sport and they see coaching as an opportunity to get involved in new ways and have a way of giving back, I experienced that myself, I was a rower, then got involved in coaching and administration," Kate said. "We want rowing to be a lifetime passion, even if you use to row and don't so much anymore, there are so many opportunities to stay connected to the sport, and it hasn't only been young coaches but also former rowers and past coaches who have been returning to the sport after a break. They're saying, 'My kids are grown up and I have time to get back involved, how can I get certified as a coach?', which has been great to see."
Promoting coach training is crucial for maintaining a high standard of excellence for rowing clubs. Kate shares some of the learnings and experiences that have benefitted Ontario clubs.
"We found it has been important to understand where the interest and demand exists, the brief survey just to understand has been beneficial because we can schedule resources appropriately and make workshops available often virtually," Kate said. "Sometimes the 'Make Ethical Decisions' module fills up quickly, which is required to do other courses, so we've started to hold that module virtually and more frequently. The COVID pandemic opened up the world of virtual everything, and there's so much value in the in-person workshop, but we are also seeing the value in holding virtual sessions because we can reach so many more coaches and clubs with programming at the same time and still share best practices to them all. So it's exciting to see coaches registering and they're taking these workshops to get themselves ready for the upcoming on water season."
Click here for more information about the Rowing Canada Aviron coaching programs.