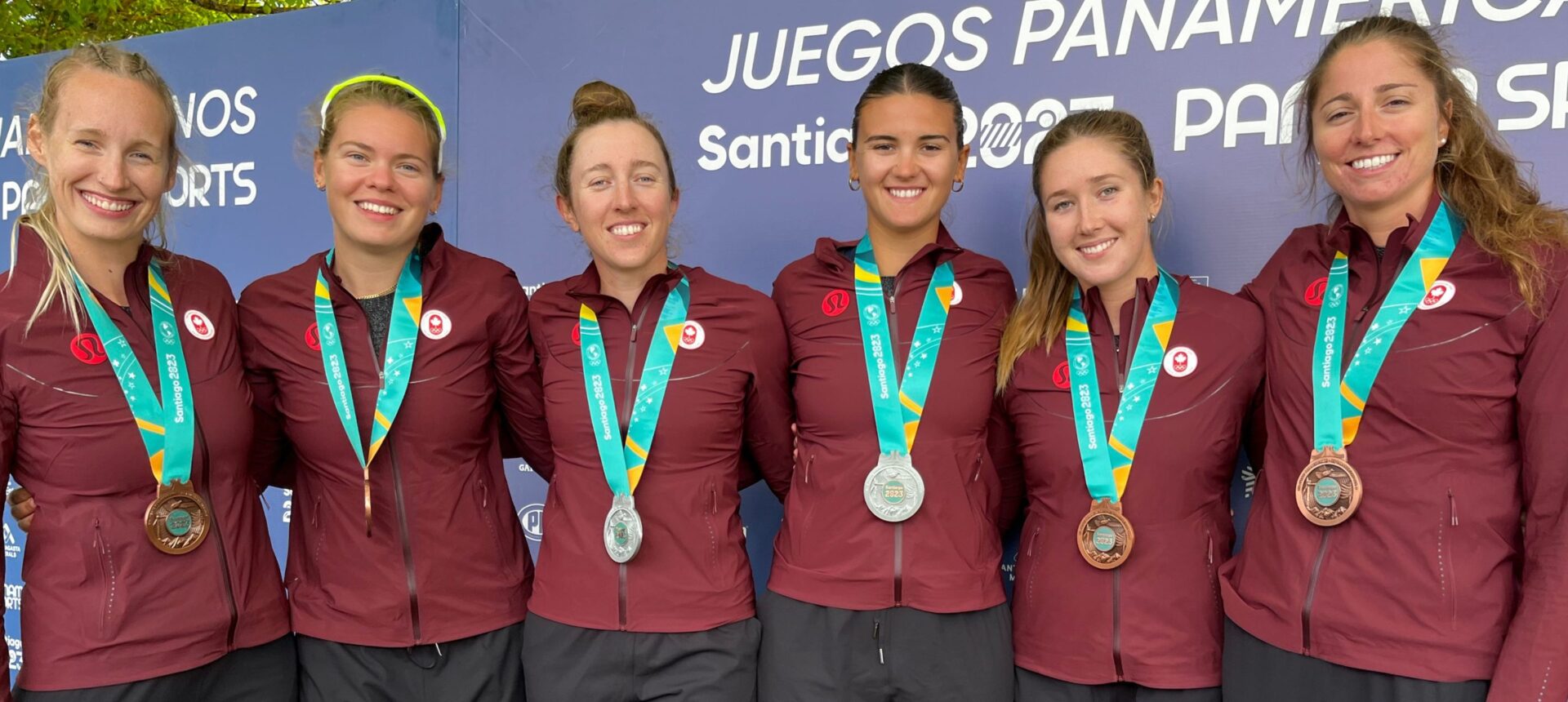 ---
Team Canada capitalized on their first finals of the Pan American Games regatta, winning silver and bronze in the women's pair and women's quadruple sculls events.  
Olivia McMurray (Calgary Rowing Club) and Abby Dent (University of Michigan/Kenora Rowing Club) sprinted to a silver medal finish in the women's pair today. The Canadian crew won their heat, advancing them directly to the A finals, knowing that they were up against some fierce country competitors today, including gold medalists Darvin/Paynter from the United States.
"I thought it was a fantastic race, Abby (bow seat) called every move exactly when we needed it," said McMurray. "It was super exciting at the end as we had our best sprint ever to come from bronze medal position to silver in the last 500 metres sprinting our hearts out and crossing the line in second place was such an awesome feeling."
The women's quadruple sculls crew from Canada drew inspiration from the pair and focused on their strengths in the boat to execute a seamless race.
The Canadian quad crew included Shaye De Paiva (Queen's University/Calgary Rowing Club), Alizée Brien (Montreal Rowing Club), Parker Illingworth (University of Texas), and Kendra Hartley (Calgary Rowing Club).
"It feels pretty crazy right now," shared Hartley. "This is the first international medal for Alizée and I and we just had the most magical start ever. We were right with them and we just got into a rhythm and that is the strength of our boat. We are just getting started and hope this is one of many medals this week!"
 

 

View this post on Instagram

 
The men's pair, Connor Attridge (University of Victoria) and Quinn Storey (University of BC) won their B final to finish 7th overall at Laguna Grande de San Pedro de la Paz today.
The Canadian Rowing Team includes 16 elite athletes aiming to win more medals for Team Canada this week. Action continues tomorrow morning through until October 25.
Quick Links:
Want to get in on the action? Tune in to the following live-streaming options:
Pan Am Sports Channel
The official broadcaster of the 2023 Santiago Pan American Games, Pan Am Sports Channel, will also be available for free in Canada throughout the event, offering additional live feeds of sports coverage and ensuring that Canadians will have even more opportunities to follow the action at the multisport event.
Create your free account here.
CBC Sports and CBC Gem

Throughout the entire competition, CBC Gem and CBC Sports digital platforms will be offering multiple streaming feeds of sporting events at Santiago 2023 with a focus on Canadian athletes. Live streaming coverage of the Pan Am Games officially begins Friday, Oct. 20 with a full day of competition starting at 8:20 a.m. ET and the opening ceremony at 7:30 p.m. ET.
Starting Saturday, Oct. 21 at 2 p.m ET, CBC Sports Presents will provide additional weekend broadcast coverage on CBC TV with a breakdown of the day's event, featuring a reporter on the ground with the latest updates.
Beginning, Monday, Oct. 23, audiences can join host Anastasia Bucsis on CBC Gem and CBC Sports digital platforms weeknights at 6 p.m. ET for live daily coverage of all major events. She'll be joined by Paralympian Stefanie Reid and other guest experts, including Rob Pizzo, with live updates from Santiago.
Create an account on the free CBC Gem streaming service, visit cbcsports.ca or download the CBC Sports App for iOS and Android devices. For full broadcast and streaming schedules, visit cbcsports.ca.
Follow Rowing Canada on social media @rowingcanada