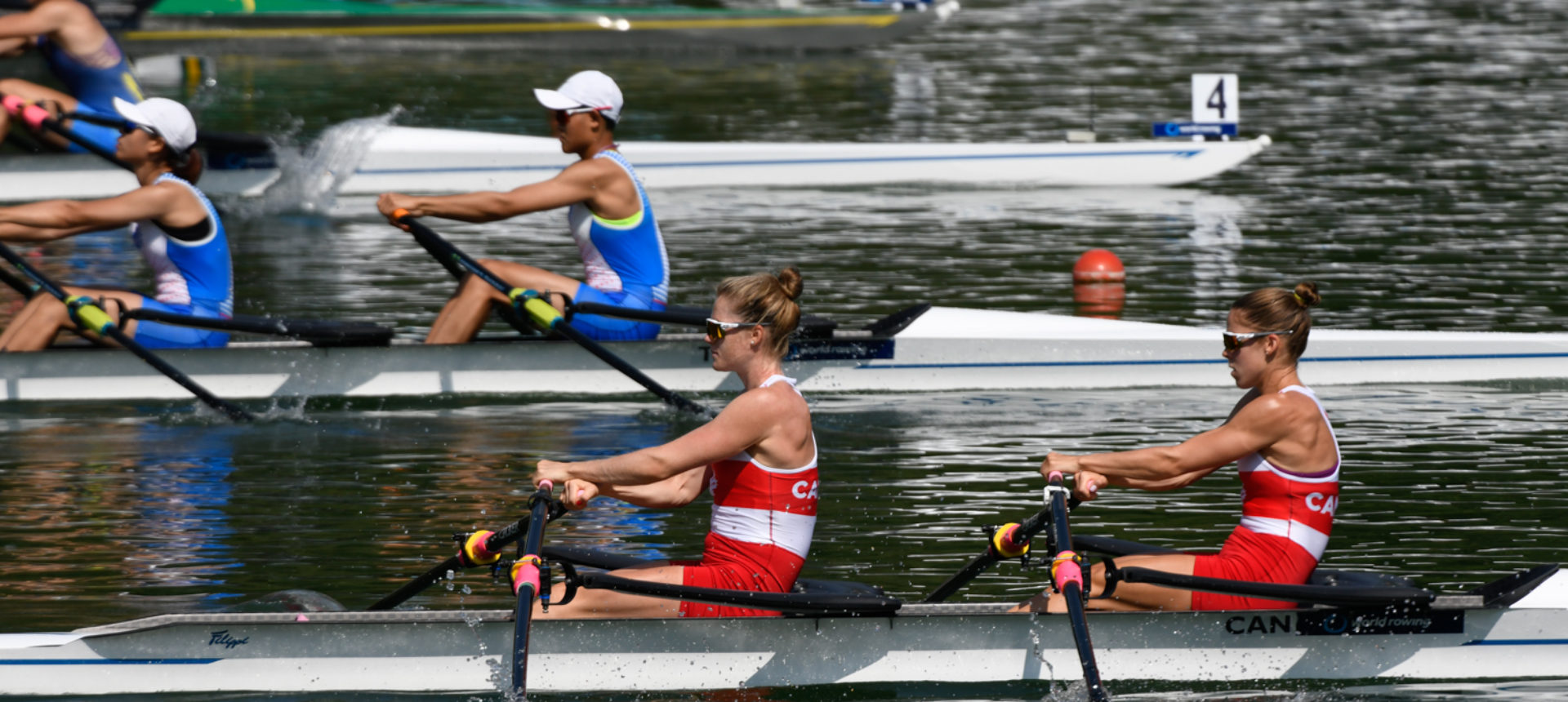 ---
August 25, 2019 – Linz-Ottensheim, Austria
IMMEDIATE RELEASE
Team Canada had a strong start at the 2019 World Rowing Championships in Linz-Ottensheim, Austria with seven crews advancing directly to quarterfinals and four crews headed to repechages over the next few days.
The Canadian lightweight crews are showcasing the strength of their program in Linz, with three of four boats advancing to quarterfinals today including Aaron Lattimer (Delta, BC) with a race win in the lightweight single.
Maxwell Lattimer (Delta, BC) and Patrick Keane (Victoria, BC) flew through their heat with less than a second separating them from the 1st place finishers from Belarus.
Jill Moffatt (Bethany, ON) and Jennifer Casson (Kingston, ON) raced a strong heat against Italy, finishing 2nd and successfully progressing to quarterfinals on Wednesday along with the men's lightweight double.
Ellen Gleadow (Vancouver, BC) put together another strong heat for the lightweights crossing the line in 3rd with less than a second separating her and Madeleine Arlett of Great Britain. With only 2 advancing to the semi-finals from each heat, Gleadow will progress to the repechage on Tuesday.
Hillary Janssens (Cloverdale, BC) and Caileigh Filmer (Victoria, BC) were the first race of five heats in the women's pair even. Janssens and Filmer held the lead from the start to finish ahead of Italy, Norway, Poland and Czech Republic. The 2018 World Champions posted the fastest time across all heats (7:09.45) advancing to the quarterfinals on Wednesday.
Conlin McCabe (Brockville, ON) and Kai Langerfeld (Vancouver, BC) made their World Championship debut as a new Pair combination this year finishing 0.79 of a second behind the heat winner's Spain (6:31.26) with a time of 6:31.75, advancing to the quarterfinals on Wednesday.
Matt Buie (Duntroon, ON) and Trevor Jones (Lakefield, ON) crossed the line in 3rd in the Men's Double heat to qualify for quarterfinals on Wednesday.
Rio Olympian Carling Zeeman (Cambridge, ON) won her heat today beating France across the line in 7:47.03 to take on the quarterfinals on Wednesday.
The Women's Four kicked off their World Championship journey with a 4th place finish in a competitive field of crews looking to qualify their boats for Tokyo.  Madison Mailey (Burnaby, BC), Sydney Payne (Toronto, ON), Jennifer Martins (Toronto, ON), and Stephanie Grauer (Vancouver, BC) will head to repechage on Tuesday.
Two Canadian Para boats made their international debuts in Linz including the new combination of Jeremy Hall (St. Paul, AB) and Jessye Brockway (Mill Bay, BC) in the PR2 Mixed Double. Despite the strong push in the final 1000m, Jeremy and Jessye finished 4th to Russia and will progress to the repechage on Tuesday.
Loren Pearson (Kamloops, BC) made his World Championship debut in the PR1 Men's Single, finishing 4th in his heat. With only one boat progressing through to the semi-finals, Loren will race the repechage tomorrow.
More Canadian crews will kick off racing in Linz tomorrow including 2018 World Silver medalist Jeremy Hall in the PR2 Men's Single, the 2018 World Champion PR3 Men's Pair, and the World Cup3 Silver medalist winning Women's double. The Men's and Women's eights will race their heats on starting on Tuesday.
Racing continues until September 1, 2019 with live streaming available every day at CBC Sports and World Rowing.
-30-
Photos of Team Canada (copyright Rowing Canada Aviron) can be found here. 
The 2019 World Rowing Championships Qualification System for Tokyo 2020 can be found here.
When and Where
August 25-September 1, 2019
Linz-Ottensheim, Austria
Schedule to be released here
How to Follow Racing 
Live tracking and blogging every day at www.worldrowing.com.
Live streaming available in Canada at CBC Sports.
Media Guide
View World Rowing's World Rowing Championships media guide here. Bio information for Canadian team found here.
Join the conversation @rowingcanada: #WRChamps #rowtotokyo #rowingcanada #truenorthstrong
Canadian Crews – World Rowing Championships
| | |
| --- | --- |
| PR2 Men's Single | |
| Jeremy Hall | Edmonton Rowing Club |
|   | |
| PR2 Mixed Double | |
| Jeremy Hall | Edmonton Rowing Club |
| Jessye Brockway | Gorge Rowing Club |
|   | |
| PR3 Men's Pair | |
| Andrew Todd | North Star Rowing Club |
| Kyle Fredrickson | University of Victoria Rowing Club |
| | |
| PR1 Men's Single | |
| Loren Pearson | Victoria City Rowing Club |
|   | |
| Women's Eight | |
| Lisa Roman | Middlesex-Western Rowing Club |
| Susanne Grainger | London Rowing Club |
| Nicole Hare | Calgary Rowing Club |
| Avalon Wasteneys | University of Victoria Rowing Club |
| Kasia Gruchalla-Wesierski | Calgary Rowing Club |
| Hillary Janssens | University of British Columbia Rowing Club |
| Christine Roper | Ottawa Rowing Club |
| Caileigh Filmer | University of Victoria Rowing Club |
| Kristen Kit (coxswain) | University of British Columbia Rowing Club/St. Catharines Rowing Club |
| Women's Pair | |
| Hillary Janssens | University of British Columbia Rowing Club |
| Caileigh Filmer | University of Victoria Rowing Club |
|   | |
| Women's Four | |
| Madison Mailey | Burnaby Lake Rowing Club |
| Jennifer Martins | Western University Rowing Club |
| Stephanie Grauer | Burnaby Lake Rowing Club |
| Sydney Payne | Brentwood College Rowing Club  |
|   | |
| Women's Double | |
| Andrea Proske | Victoria City Rowing Club |
| Gabrielle Smith | Knowlton Rowing Club |
|   |   |
|   | |
| Lightweight Women's Double | |
| Jill Moffatt | Western University Rowing Club |
| Jennifer Casson | Kingston Rowing Club |
| Lightweight Women's Single | |
| Ellen Gleadow | Burnaby Lake Rowing Club |
|   | |
| Spares | |
| Kristin Bauder | Middlesex-Western Rowing Club |
| Morgan Rosts | Ridley Graduate Boat Club |
| Rebecca Zimmerman | University of Victoria Rowing Club |
| Laura Court | St. Catharines Rowing Club |
|   | |
| Women's Single | |
| Carling Zeeman | Sudbury Rowing Club |
|   | |
| Men's Pair | |
| Conlin McCabe | Brockville Rowing Club |
| Kai Langerfeld | University of Victoria Rowing Club |
|   | |
| Men's Eight | |
| Benjamin de Wit | University of British Columbia Rowing Club |
| Cody Bailey | MicMac Aquatic Center |
| Gavin Stone | Queen's University Rowing Club |
| Jakub Buczek | Burnaby Lake Rowing Club |
| Mackenzie Copp | Western University Rowing Club |
| Martin Barakso | Brentwood College Rowing Club |
| Taylor Perry | Leander Boat Club |
| Will Crothers | Kingston Rowing Club |
| Lesley Thompson-Willie (coxswain) | London Rowing Club |
|   | |
| Men's Double | |
| Matthew Buie | St. Catharines Rowing Club |
| Trevor Jones | Peterborough Rowing Club |
|   | |
| Lightweight Men's Double | |
| Maxwell Lattimer | University of British Columbia Rowing Club |
| Patrick Keane | Victoria City Rowing Club |
| | |
| Lightweight Men's Single | |
| Aaron Lattimer | University of British Columbia Rowing Club |
| | |
| Spares | |
| David De Groot | Brock University Rowing Club |
| Tim Schrijver | Brock University Rowing Club |