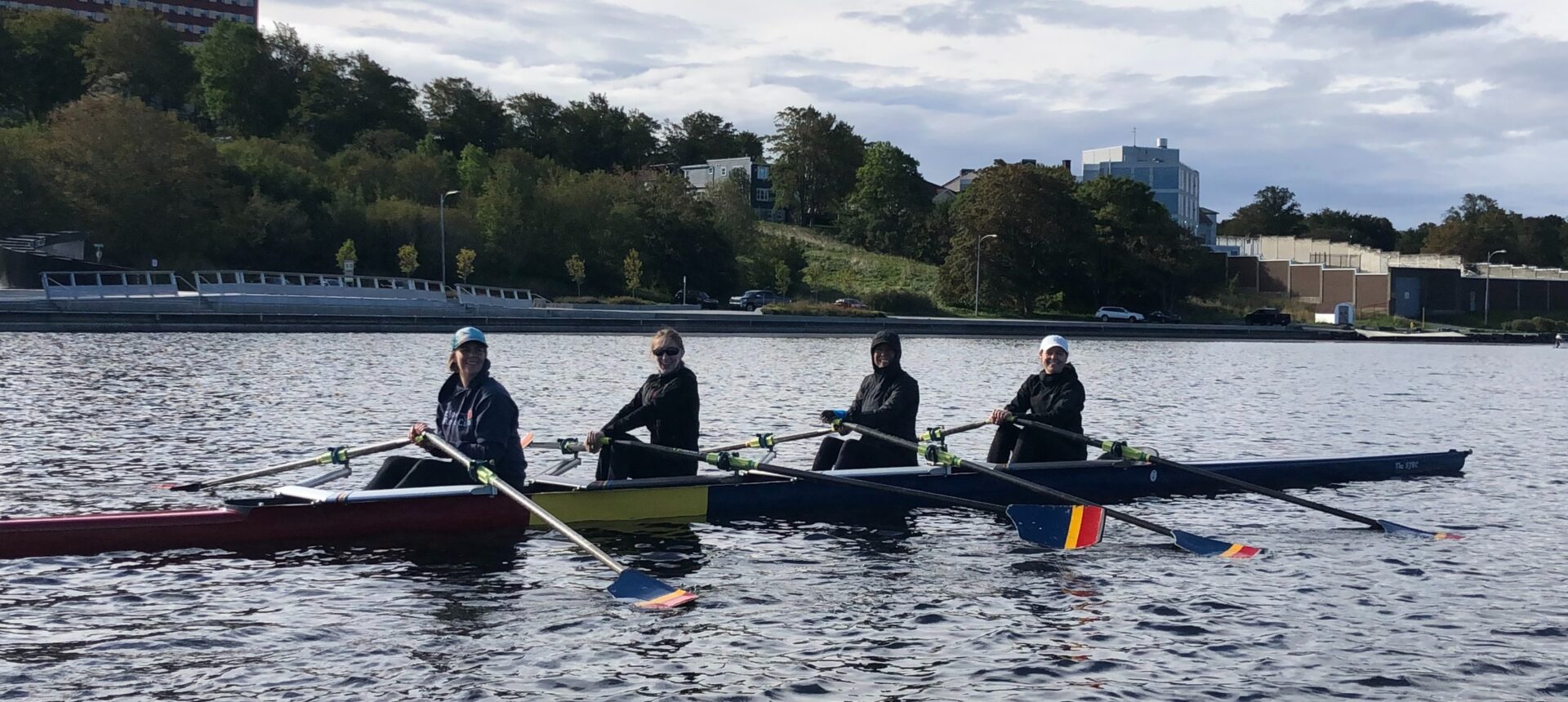 ---
The St. Johns Rowing Club of Newfoundland and Labrador has embarked on a transformative partnership with the First Light Friendship Centre, aimed at providing unique opportunities for local Indigenous community members. This collaboration seeks to introduce them to the sport of rowing, facilitate on-water experiences, and promote ongoing participation and fitness leadership. Through shared vision and cooperation, this program has achieved remarkable success, benefiting both organizations and the wider community.
Ann Dorward, President of St. John's Rowing Club, remembers it was the announcement of the Sport Canada and Rowing Canada Aviron funding for the Community Sport for All initiative, that sparked the club's ambitions to engage the community.
"Our club applied to both the phase one and the phase two funding opportunities," Ann recalls. "In phase one we targeted a community of rowers who row a more traditional fixed seat boat, which is a six-person boat with a coxswain. This style of rowing has been a tradition for 200 plus years in St. John's, so we invited them to come and try a slide seat boat in a workshop format. The workshop was very popular and went well. But for phase two it seemed like a perfect opportunity for our club to do something new."
Phase 2 funding meant a new opportunity for the non-profit rowing club to open its doors to exploring possible partnerships with local community programs to invite them to try the sport. One such community partner was with the First Light, which is a registered non-profit organization that serves the urban Indigenous and non-Indigenous community alike by providing programs and services rooted in the revitalization, strengthening and celebration of Indigenous cultures and languages in the spirit of trust, respect, and friendship. Participants come from all over Newfoundland and Labrador to attend First Light programs and services.
First Light's recreational programming is highly sought after, as external recreational programs are often inaccessible due to factors like high gym fees, transportation challenges, and unfamiliarity with external programs. Therefore when St. John's Rowing Club contacted the centre about a possible partnership, Salome Barker, the events and festival specialist at the First Light Friendship Centre and a Mi'Kmaw person, recounts how the opportunity was "perfectly aligned".
"During the early stages of the pandemic, we had had a pretty good enough running rec department here at First Light. And then just due to funding we had to scale back, but recreational programming has been an area that our community is very interested in," Salome shares. "We were really thrilled at the opportunity when it came to us to partner with St. John's Rowing Club. Because our location is also very close to where the lake is, we're on 40 Quidi Vidi Road, and the lake is maybe a five-minute walk from our building. It really was perfectly aligned, and looking back, it feels like this partnership was always supposed to happen."
The recreational program created by the two partners provided opportunities to local Indigenous communities to take part in both on-land and on-water experiences to try the sport of rowing, while also having the assistance of a facilitator from First Light Friendship Centre to encourage on-going participation and fitness leadership.
Emma Ramsay, the Director of Program Development at St. John's Rowing Club, emphasizes the importance of understanding the community they are teaching before implementing the program. Acknowledging that expertise in rowing does not automatically equate to effective instruction for newcomers, Emma highlights the significance of humility and openness to input from the community.
"It started with a conversation with First Light. It was to better understand the current activities that they offer and how rowing might fit into their programs. When you're working with the community group, you must do the groundwork before you can start any kind of program. As club representatives and coaches with years of experience, we think that we might have been the experts in teaching rowing," Ramsay shares. "But delivering a successful introductory program for an underrepresented group takes a much more careful approach and more groundwork. You really have to take a back seat and let the community that you're working with be the driver. Patience that way is important."
First Light youth program facilitator Cody Saunders witnessed firsthand the success of this approach from Emma and the St. John's Rowing Club to the program and celebrated how it has been embraced by the First Light Community.
"The rowing program has been extremely successful, all of our participants love it, personally I love it as well," Cody shares laughingly. "This partnership with St. John's Rowing Club through Sport Canada and Rowing Canada Aviron, came at the right time as we were restarting our recreation department, and this program has had phenomenal attendance. We operate out of the nearby Max Fitness studio leased by the St. John's Rowing Club, and we have 15 ergs available, so we opened up to 15 participants and we are consistently filling all 15 slots for the program."
"And there's a waitlist too," Salome adds.
The importance of humility and recognizing that expertise in rowing doesn't automatically translate to delivering an effective introductory program for newcomers has worked wonders. As Cody highlights, the learn to row program has been a resounding success and positively impacted other parts of the participants lives.
"It's been very, very popular. The enthusiasm is just outstanding, after a rowing session, they're so excited. I was getting emails daily from participants saying how much the program means to them and how they would never work out in that type of group setting before," Cody continues. "Working out in a group setting really inspires them and helps them grow and accomplish their goals with health and wellness. They're not only accomplishing goals of health and wellness, but they're also creating friendships and building relationships from this program. They were very excited about rowing and asked questions about the trajectory of the program moving forward. It really is helping people on a deeper level. They had something to look forward to and engage with others, which they don't always get in their day-to-day life."
Beyond health and fitness, the program has also highlighted the cultural connection between Indigenous communities and water. The discussions surrounding on-water rowing led to a guest talk by Noel Joe, a member of the Miawpukek First Nation, who shared his community's story of constructing a birch bark canoe and sailing it down Conne River to St. Pierre and Miquelon.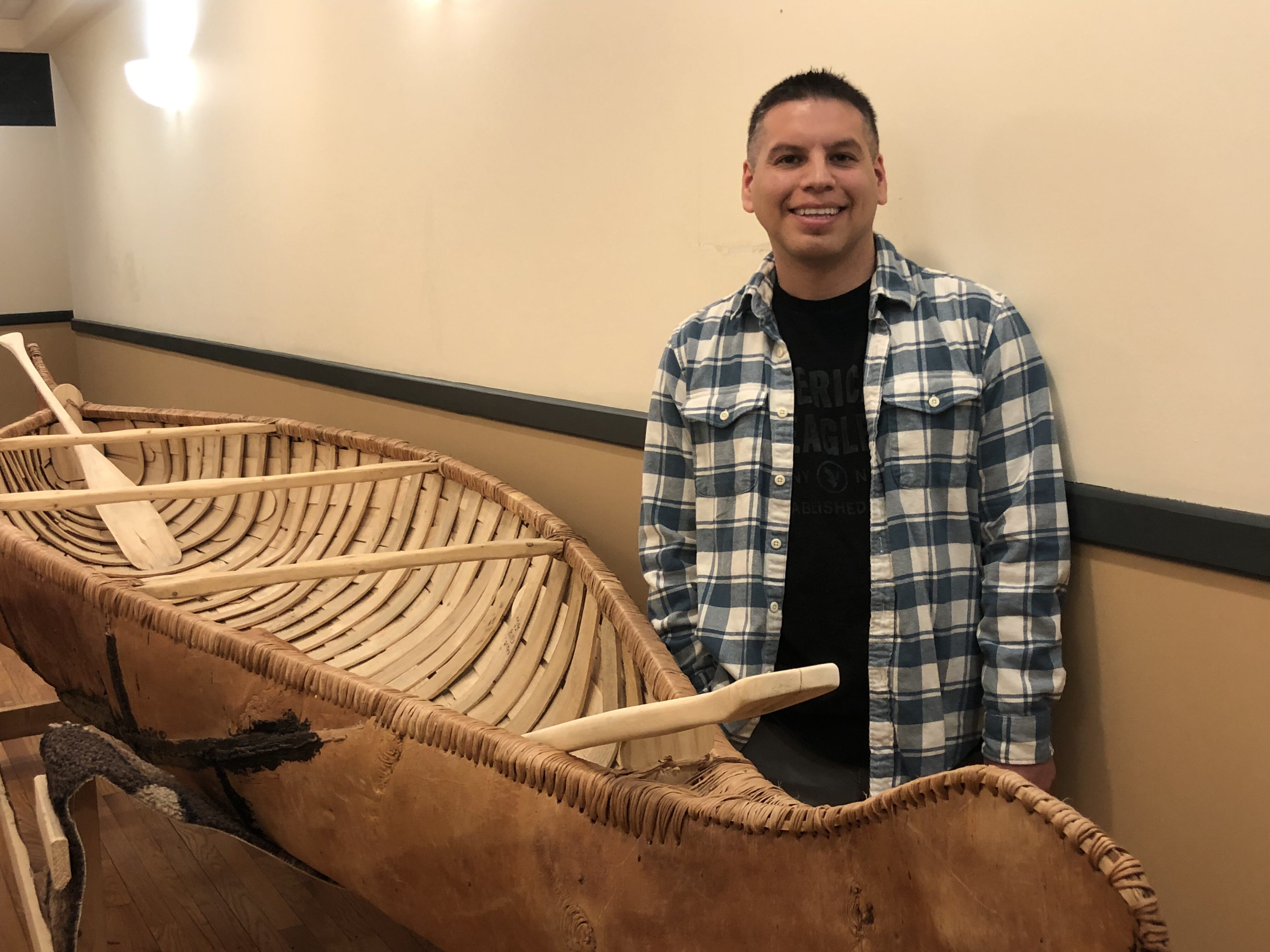 Noel Joe with the birch bark canoe. (St. John's Rowing Club)
"The guest talk from Noel Joe came about because when the partnership with St. John's Rowing Club started, we wanted to talk about how watersports related to rowing have existed within Indigenous cultures," Salome shares. "Noel's community constructed a birch bark canoe that they canoed down Conne River to St. Pierre and Miquelon. Noel was able to come in and talk about the cultural relevance of the canoe and of his community traveling on the water down to this new land and having relationships with French there and talking about the history of Indigenous people. And it was just a really beautiful event. People felt really proud, which was also really lovely to see that this rowing program has been able to uplift our local community members who maybe otherwise don't have this platform to share these stories. So it's been really wonderful to see through the partnership with St. John's Rowing Club through Sport Canada gives the platform to Indigenous peoples here in Newfoundland."
After a successful first season, Ann expresses her excitement for the future of the partnership with First Light Friendship Centre but also the growth of the club's community programs.
"The First Light partnership has been wonderful. And the next step of the evolution is now Cody and Sal giving us some ideas of what they want next, and we're like, 'Yeah, that's great.' The outreach is absolutely two-way at this stage," Ann says. "And for our club, I think that what we have learned is that programming can take a lot of forms. And that it's not always going to be the traditional, this format of camp or that format of competition. I believe that flexibility in thinking about the programming we can offer is probably one of the big takeaways for me and our club. And that means, wow, we actually have a lot more scope than I originally thought for community engagement."
The partnership between the St. John's Rowing Club and First Light Friendship Centre represents a shining example of how collaboration, shared goals, and inclusivity can empower Indigenous communities through the sport of rowing. By breaking down barriers and offering opportunities for engagement, this partnership has made a significant difference in the lives of participants, fostering a sense of pride, friendship, and personal growth within the community.
Ann said the first step was to engage with a local community partner, especially those partners that are in close proximity, and talk about common interests and goals that can be met through the sport of rowing and encourages other rowing clubs across the country to do the same.
Click here for more information about the St. John's Rowing Club and the club's rowing programs.
Click here for more information about the First Light Friendship Centre.