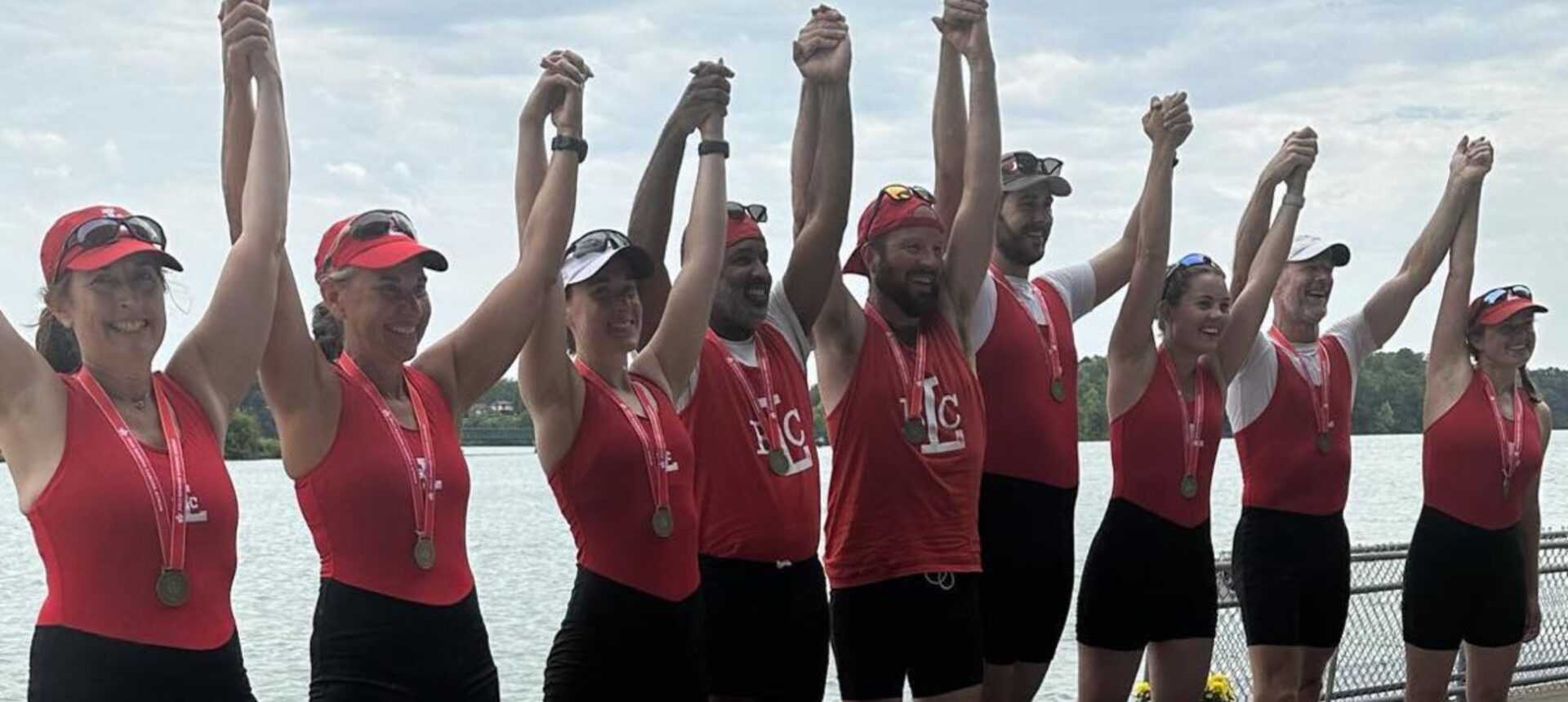 ---
In a spirited display of skill, camaraderie, and determination, the 2023 Rowing Canada Aviron (RCA) Canadian Masters Championships unfolded at the picturesque setting of Martindale Pond in St. Catharines, Ontario. The Championships were made all the more significant after the Royal Canadian Henley Regatta Committee's inclusion of the Masters Championships as part of the Henley Masters, that kicked off the 139th edition of the historic regatta. Rowers from across the nation, North America and beyond converged to vie for glory in a day filled with exhilarating races and remarkable sportsmanship.
The Masters Championships witnessed seasoned athletes and rowing enthusiasts alike, gather with an air of excitement that was palpable. Teams from as far as Victoria, British Columbia, to San Diego, California, through to international participants from South America and beyond, represented their clubs' crests and colours proudly as they competed with vigour, prepared to leave it all on the water. With synchronized blades slicing through the water and boats skimming the surface, the spectacle of grace and power was evident in every stroke, they certainly did not disappoint.
One of the most striking aspects of the Championships was the sense of unity and camaraderie among the rowers. While the races were fierce, the genuine sportsmanship and mutual respect among competitors created an atmosphere that was both competitive and congenial. It was a testament to the rowing community's shared love for the sport and the bonds that are forged through the shared experience of pushing one's boundaries.
The day's events were a testament to the mastery of the rowers, showcasing their technical prowess and mental fortitude. Each race had its own narrative, with teams executing their plans while being cheered on by spectators in the grandstand who were treated to thrilling sprints and close finishes, all unfolding against the stunning backdrop of St. Catharines' natural beauty and showcased why it was chosen as the site for the 2024 World Rowing Championships.
The 2023 RCA Canadian Masters Rowing Championships in St. Catharines were a resounding success, a testament to the passion, dedication, and skill of all involved. As the sun set on a day of triumph and camaraderie, it was clear that the event had not only showcased remarkable athleticism but had also fostered a sense of unity among the rowing community. With memories of thrilling races and shared moments, participants and spectators alike departed with a renewed appreciation for the art of rowing and the joy it brings to all those involved. The perfect way to begin what is sure to be an exciting race week at the 139th edition of the Royal Canadian Henley Regatta.
2023 Rowing Canada Aviron Canadian Masters Championships Results
Women's Masters D-I Pair
Laurie Michaud & Vilma Faccani-Von Buren – Don Rowing Club
Men's Masters H-L Single
Jacques Aarts – Edmonton Rowing Club
Women's Masters F-L Single
MaryAnn Repa – Leander Boat Club
Men's Masters AA-D 72.5kg Double
Dean Sela & Sunny Lad – Argonaut Rowing Club
Men's Masters E Single
Rob Marland – Ottawa Rowing Club
Women's Masters E Single 
Sunja Edmunds – Hanlan Boat Club
Men's Masters F-I Double
Brian Love & John Nelson – Peterborough Rowing Club
Women's AA-B Coxed Four
Rebecca Rosloski, Karen Costantini, Kelly Shewfelt, Meghan Marchand & Marlo Stoutenburg – St. Catharines Rowing Club
Men's AA-D Quad
Daniel Bullock, Dylan Wing, Owen Kane & Matthew Seaby – Peterborough Rowing Club
Women's D-I Quad
Jennifer Walinga, Julie Platt, Tanya Ross & Cheri Ross – Victoria City Rowing Club
Men's E-I Coxed Four
Grant Akitt, Greg Kott, Mark Jansen, Craig Pollock & Kaitlyn Akitt – Leander Boat Club
Men's E-I 72.5kg Single
Jim Dwyer – London Western Rowing Club
Women's C Single
Laura Corbett-Brown – Ridley Graduate Rowing Club
Men's C Single
Andrew Mactaggart – Burnstown Rowing Club
Women's AA-C Eight
Rebecca Rosloski, Karen Costantini, Kelly Shewfelt, Meghan Marchand, Krista Whittard, Lindsay Sferrazza, Rae Ceccato, Ronna Lockyear & Marlo Stoutenburg – St. Catharines Rowing Club
Men's Masters AA-C Pair
Aubrey Oldham & Logan Madill – Don Rowing Club
Men's Masters F Single
Richard Klajnscek – Leander Boat Club
Men's Masters AA-D 72.5kg Single
Steve Dmytrasz – Don Rowing Club
Women's Masters AA-D 59kg Single
Lesley Smith – Don Rowing Club
Women's Masters D-I Coxed Four
Georgia Greenwood, Laurie Michaud, Vilma Faccani-Von Buren, Carrie Strachan & Louise Soucy-Fraser – Don Rowing Club
Men's E Double
Kevin Fuller & Shane McReynolds – South Niagara Rowing Club
Men's G Single
Kevin Mark – Burnstown Rowing Club
Women's E-I 59kg Double
Diane Barr & Chris Huet – Georgian Bay Rowing Club
Women's AA-B Quad
Nyssa Pohl, Audrey Ferec, Salome Prive & Lea Couture Fernandez – Montreal Rowing Club
Men's C Double
David Ukrainetz & Matthew Bradshaw – Saskatoon Rowing Club
Men's D Single
Andriy Stogomyuk – Montreal Rowing Club
Women's C Double
Jacqueline Thompson & Lesley Smith – Don Rowing Club
Women's E-I 59kg Single
Heather MacDonald – Don Rowing Club
Men's AA-B Single
Aubrey Oldham – Don Rowing Club
Men's E-I 72.5kg Double
Jacques Aarts & Ken Attwood – Edmonton Rowing Club
Women's C Coxed Four
Charlotte Hastings, Kendell Donoho, Nadine Pozzobon, Kristin Donovan & Shannon Pearson – Argonaut Rowing Club
Men's C Coxed Four
Johnathon Butler, Brandan Andrews, Mark Jansen, Craig Pollock & Kaitlyn Akitt – Leander Boat Club
Men's D Double
Eric Aubin & Steve Higgins – Ottawa Rowing Club
Women's AA-A Single
Sarah Pidgen – Don Rowing Club
Women's AA-C Pair
Caroline Kowalewicz & Julie Winterburn – Leander Boat Club
Women's B Single
Caitlin Pauls – Ridley Graduate Boat Club
Men's E-I Quad
Volker Nolte, Andrew Smith, Peter Stiles & Jim Dwyer – London Western Rowing Club
Women's C Quad
Sarah Pidgen, Jacqueline Thompson, Lesley Smith & Vilma Faccani-Von Buren – Don Rowing Club
Men's AA-B Double
Brandon Batey & Scott Glover – Brock Rowing Club
Women's E-I Double
Diane Barr & Chris Huet – Georgian Bay Rowing Club
Women's AA-B Double
Caitlin Pauls & Laura Corbett-Brown – Ridley Graduate Rowing Club
Women's D Double
Rachel Inch & Julia Fournier – Ottawa Rowing Club
Men's AA-C Eight
Victoria Muir, Thomas Wicks, John Scannell, Johnathon Holmes, Graham Bolton, Paul Johnson, Sean Lawler, Achiya Klein & Erkam Aytac – Argonaut Rowing Club
Mixed E-I Double
Sandy Smith & MaryAnn Repa – Leander Boat Club
Mixed D Double
Andriy Stogornyuk & Audrey Ferec – Montreal Rowing Club
Mixed A-E Quad
Volker Nolte, Andrew Smith, Carolyn Jaeger & Andrea Mutsaers – London Western Rowing Club
Mixed C Double
Richard Klajnscek & Caroline Kowalewicz – Leander Boat Club
Mixed AA-B Double
Aubrey Oldham & Sarah Pidgen – Don Rowing Club
Mixed AA-C Eight
Craig Pollock, Greg Kott, Anthony Thelfa, Crystal Sitzer, Matthew Lauzon, Andrea Jansen, Taylor Iseppon, Barb Pollock & Kaitlyn Akitt – Leander Boat Club