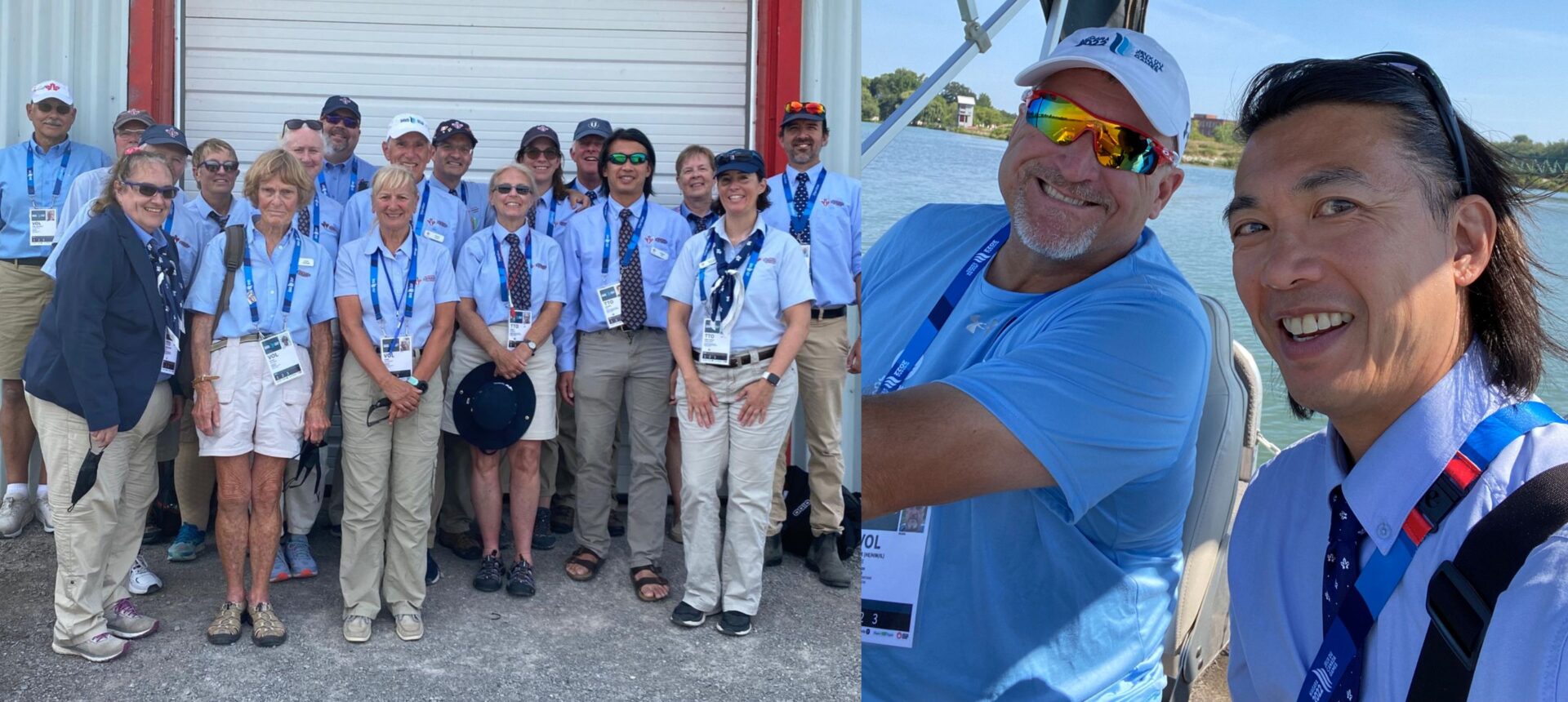 ---
When it comes to the world of rowing, the crews in the boats are not the only ones that are playing a pivotal role in the sport's success. Behind the scenes, there are crews of dedicated umpires, umpires like Richard Koo, who ensure that every race is fair, safe, and unforgettable. Richard's journey from a novice rower to a seasoned rowing umpire is a story of passion, perseverance, and an unyielding commitment to the sport.
Richard, a level two umpire, has his sights set on achieving the coveted chief umpire's certificate, a testament to his dedication to the craft. Having umpired at the Royal Canadian Henley Regatta, the Head of the Charles regatta, Richard has recently been invited to participate in the World Rowing Umpire Certification program, an honour that speaks volumes about his competence in the role. As he modestly puts it, "I guess that's kind of who I am on the umpiring front."
But Richard's rowing adventure didn't start from the umpire's seat. In fact, it all began in the world of Dragon Boat racing. While not exactly rowing in the traditional flatwater sense, it was his entry point into the world of water sports. After a return to Canada from abroad, he returned with a desire to explore rowing more extensively.
"I came back and decided that I wanted to start rowing, as it was something that I had always been interested in," Richard shares. "But I didn't know how to get involved in the sport initially. I was in Toronto at the time, and the Argonaut Rowing Club was running learn to row programs for adults, so that's how I began in the sport."
Richard's first year saw him diving headfirst into the Argos competitive developmental program where he competed in challenging head races in the fall. However, early mornings weren't Richard's forte, "I am not a morning person," Richard jokes, so he transitioned to evening recreational rowing and found his place in a crew.
Life has a way of redirecting our paths, and Richard's rowing journey took an unexpected turn when his crew disbanded due to life's demands. It was a pivotal moment that led him to the world of umpiring, a change that allowed him to stay involved and keep up with the sport.
"I did recreational rowing for a number of years before my crew fell apart, because that's what happened in life. Right? We people have different responsibilities," Richard states. "And that's kind of how I ended up getting into umpiring because someone suggested if I wanted to stay on the water or stay in the sport, why don't I take up umpiring, so I kind of just on a bit of a whim, I showed up at the initial umpire training course. And then that's how it all started."
Once he embarked on this journey, there was no turning back. His determination shone through as he tackled the necessary exams, albeit with a bit of motivation from his mentor, Judy Sutcliffe. Richard reflects, "I'm a bit stubborn. So once I start something,  I will see it through as far as I can. I will say that Judy had to encourage me a lot to get me to write my exam because I was still very, I guess, insecure about my abilities."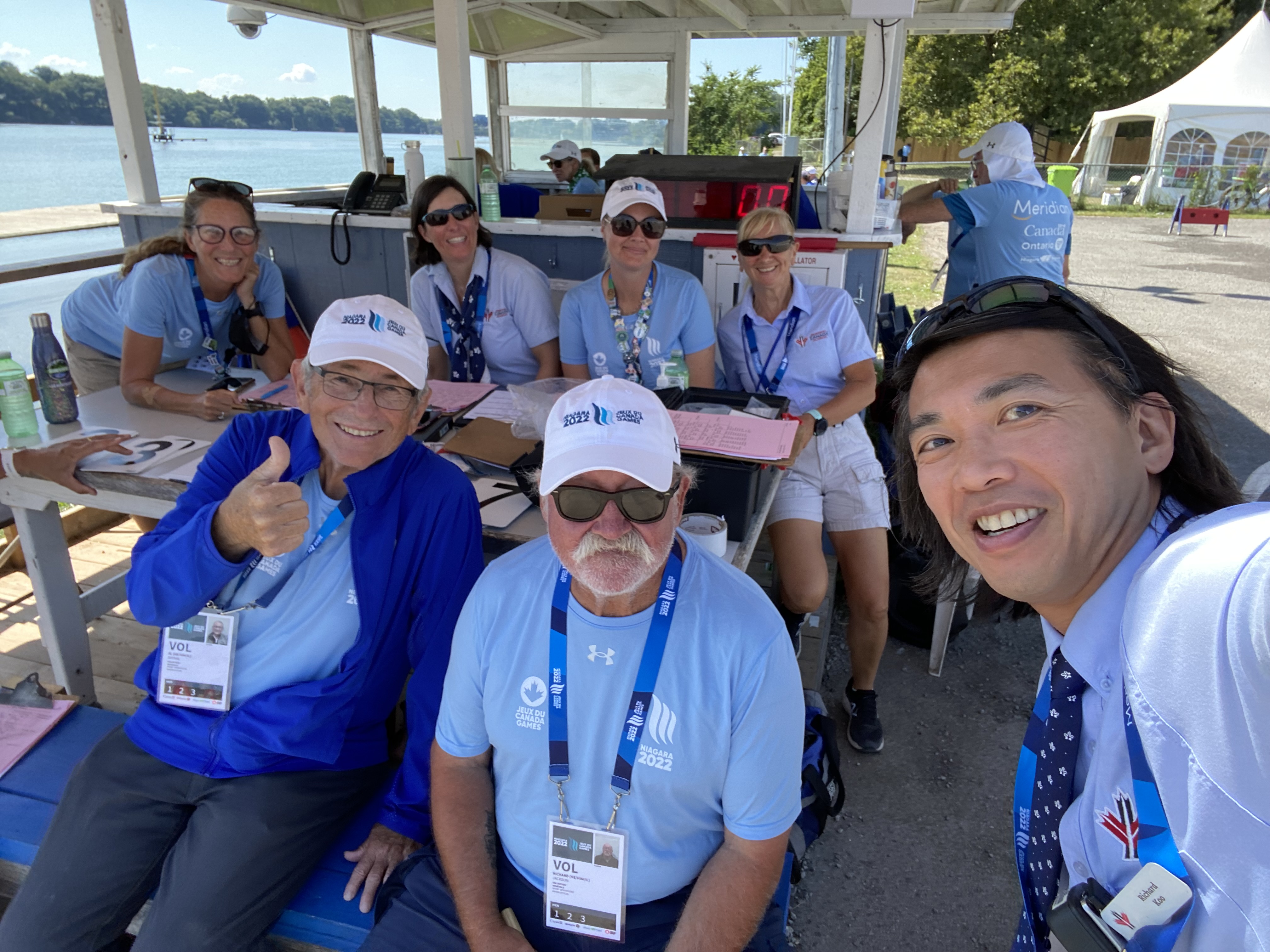 Richard Koo with fellow umpires at the 2022 Canada Games
at the famed St. Catharines Canadian Henley course. (Supplied)
Richard passed his exam, passed by staying true to his umpiring philosophy that is crystal clear: safety first, and then fairness. Many may assume that umpires exist solely to enforce the rules, but for Richard, as with all umpires, ensuring the safety of rowers always takes precedence.
"The first bit is to make sure that everyone is safe," he emphasizes. "Afterward, you want to make sure that everyone has a fair race, and everyone has a good experience in their racing."
To maintain safety on the water, umpires must anticipate potential incidents and swiftly act to prevent any problems during races. Richard points out that empathy plays a crucial role in managing disputes. In the heat of the moment, rowers may have different perceptions of events, but umpires must calmly and rationally communicate decisions, fostering open lines of communication.
Richard's transition from rower to umpire brought him face to face with the challenge of making split-second decisions. As someone deeply analytical by nature, this was a shift he had to embrace. In his day job, Richard works extensively with data and analysis, but in umpiring, decisions must be made rapidly. This shift from analytical to instinctual was an exciting challenge that ultimately enriched his life in both realms.
Throughout his umpiring career, Richard has had the privilege of working with colleagues like Judy and Franc Tomsic, who Richard credits with having a profound impact on his approach to be an umpire.
"I remember an incident when I was with Franc on the water, where boats capsized and we went immediately to the boats and made sure everyone was safe and got people out of the water, but there were also the protests following the race," Richard recalls. "Frank was very, very clear in his communications, and did it in such a calm way, in a space that was very frenetic for me at the time, and it was a real source of admiration of how he was able to keep the discussions calm and not get panicked in a situation. It really benefitted me having that experience and to learn from him."
It was through mentors, that Richard learned the importance of keeping a cool head in frenetic situations, a skill that serves him well as an umpire when he has been the one to make a judgement through remaining calm and clear in his communications while sticking to the principles of safety and fairness in his decision-making, even in the face of disagreement.
Richard Koo's journey as an umpire is not confined to the water. He finds immense joy in the camaraderie among fellow umpires, describing regattas as "adult camp." Meeting familiar faces season after season, working with colleagues from around the world, and fostering strong bonds adds an element of fun to his umpiring adventures.
His role as an umpire has not only enriched his life but also provided a unique perspective on rowing. It allows him to witness the passion and dedication of athletes firsthand. Richard believes that umpires play a pivotal role in ensuring athletes have a positive experience, even when conflicts arise. He understands that a negative experience can deter athletes from returning to the sport, making his role as an umpire all the more significant.
Richard Koo's journey as a rowing umpire is a testament to the diverse and interconnected world of sports. His professional career in media and television analytics has, in surprising ways, complemented his role as an umpire. It's a balancing act that he cherishes, and it underscores how different aspects of life can intersect and benefit each other.
As Richard looks ahead to the future, he is excited about the growth of rowing, including emerging segments like coastal rowing, beach sprints and indoor rowing. His passion for the sport and commitment to ensuring safety and fair play are sure to leave a lasting impact on rowing, both locally and internationally.
In a world where athletes chase glory on the water, Richard Koo ensures that their journey is marked by safety, fairness, and an unwavering love for rowing. His dedication as an umpire keeps the spirit of the sport alive, fostering an environment where every rower can give their all and leave with a positive experience, regardless of the challenges they face.
Rowing Canada Aviron is Recruiting Umpires!
We all know that there can't be any racing without umpires. What some of you may not know is that umpiring is a great way to stay involved in racing, without having to pull any 2k tests.
If you miss the regatta atmosphere and being able to watch great racing, umpiring may be for you!
We're looking for people who love rowing, who want to support athletes in their development, and who are interested in giving back to rowing in a different way.
If that sounds like you, check out the assistant umpire clinic (in the Training and Education section of the RCA umpires page), which you can take for free!
You can also contact your provincial rowing association, who will put you in touch with someone from your region who would be happy to guide you through the development pathway.
We hope you'll join us – the umpire launch is the best seat from which to watch races!