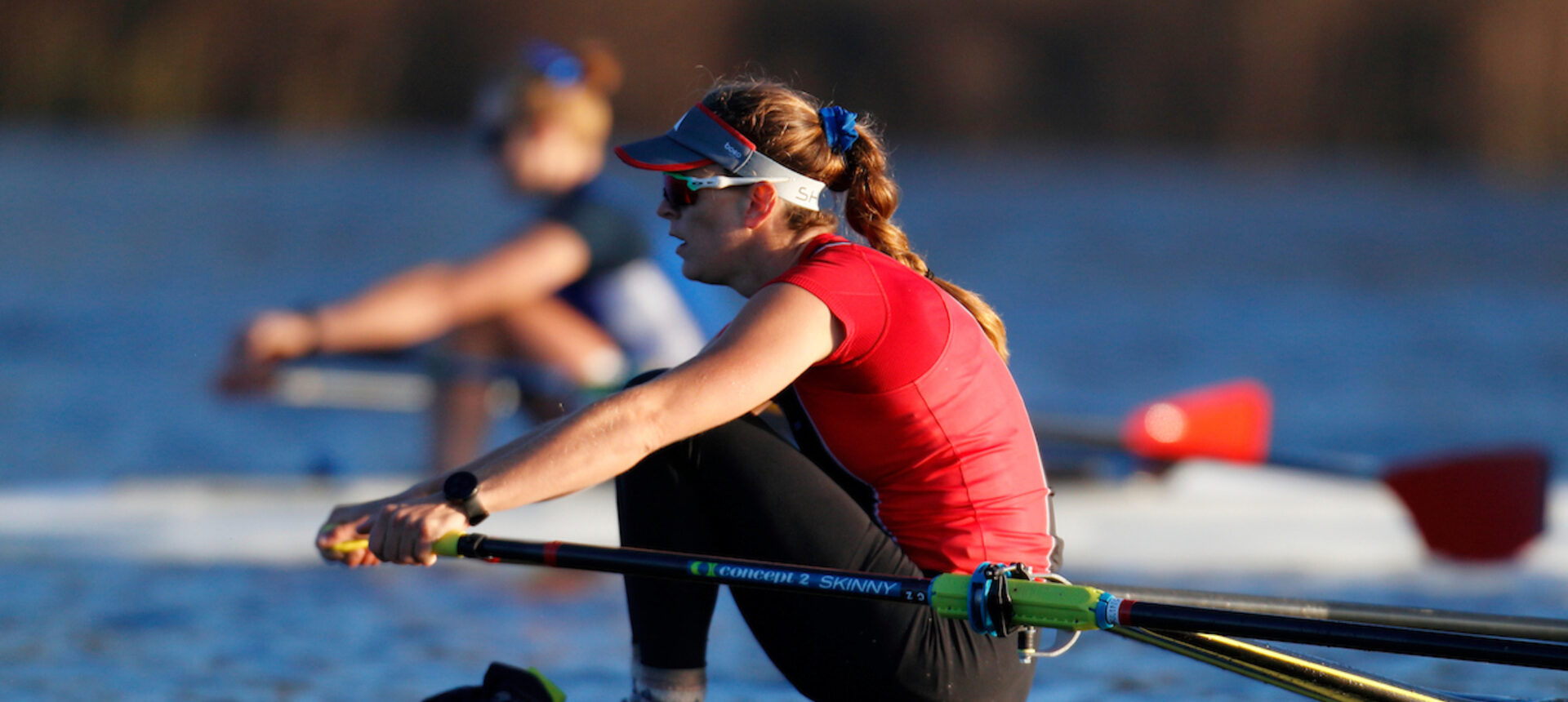 ---
Sunday November 13, 2022 – Quamichan Lake, BC
IMMEDIATE RELEASE
Quamichan Lake played host to the National Rowing Championships for the first time this weekend, with over 250 athletes from 45 different clubs racing in North Cowichan over November 11 and 12.
National Champions were crowned in singles and pairs events, and two new trophies named after RCA alumni were awarded for the first time to the National Champions in the lightweight events. Trophy recipients are listed in the results below.
At the Athlete Awards Banquet on November 12, Cait Whittard was named the recipient of the Bobby Pearce Award for Female Junior Athlete of the Year and Lucas Maroney and Owen Bartel were named the recipients of the Jack Guest Award for Male Junior Athlete of the Year. Ontario received both the Provincial Points Challenge Efficiency Award and the Provincial Points Challenge Grand Champion Award.
Watch the A and B finals HERE.
National Rowing Championships Results
Women's Single
Carling Zeeman (ON) – Gold *Silken Laumann Plate winner
Marilou Duvernay Tardif (QC) – Silver
Shannon Kennedy (ON) – Bronze 
U23 Women's Single
Grace VandenBroek (ON) – Gold
Elisa Bolinger (ON) – Silver
Shaye de Paiva (AB) – Bronze
U19 Women's Single
Madeson Scott (ON) – Gold
Autumn Crowe (ON) – Silver
Clara VanDyk (ON) – Bronze
Lightweight Women's Single
Jill Moffatt (ON) – Gold *Wendy Wiebe Trophy winner
Brigid Kennedy (Maple Bay Rowing Club) – Silver
Karissa Riley (AB) – Bronze
U23 Lightweight Women's Single
Karissa Riley (AB) – Gold
Sophie Inkpen (NS) – Silver
Genevieve Olsen (University of Victoria) – Bronze
PR2 Men's Single
Patrick Levis (BC) – Gold *Lagoa Rio Trophy winner
Men's Single
Liam Smit (BC) – Gold *Derek Porter Trophy winner
Gavin Stone (ON) – Silver
Andrew Hubbard (AB) – Bronze
U23 Men's Single
Liam Smit (BC) – Gold
Andrew Hubbard (AB) – Silver
Michael Ciepiela (ON) – Bronze
U19 Men's Single
Lucas Maroney (ON) – Gold
Owen Bartel (St. Catharines Rowing Club) – Silver
Riley Watson (Peterborough Rowing Club) – Bronze
Lightweight Men's Single
Emerson Crick (NS) – Gold *Brian Thorne Trophy winner
Stephen Harris (ON) – Silver
Christian Place (UBC) – Bronze
U23 Lightweight Men's Single
Emerson Crick (NS) – Gold
Stephen Harris (ON) – Silver
Christian Place (UBC) – Bronze
Women's Pair
Avalon Wasteneys (BC) & Sydney Payne (ON) – Gold *Kathleen Heddle & Marnie McBean Plate winners
McKenna Simpson & Piper Battersby (BC) – Silver
Kirsten Edwards (BC) & Alexis Cronk (ON) – Bronze
U23 Women's Pair
Ellie Sousa & Sally Jones (BC) – Gold
Gabrielle Yarema (AB) & Rachel Weber (Western) – Silver
Claire Ellison (NS) & Jacquie Groenewegen (ON) – Bronze
U19 Women's Pair
Sophia Regosa & Mira Calder (BC) – Gold
Kaliya Javra & Ainsley Salmon (AB) – Silver
Talia Nixon & Jade Postma (Ridley College) – Bronze
Men's Pair
Jakub Buczek (ON) & Curtis Ames (AB) – Gold *George Hungerford & Roger Jackson Trophy winners
Julian Black & Joel Cullen (BC) – Silver
Will Crothers (ON) & Terek Been (QC) – Bronze 
U23 Men's Pair
Julian Black & Joel Cullen (BC) – Gold
Mitchell Rodgers (ON) & Aidan Hembruff (Western) – Silver
Adam Krol (ON) & Alexander Gonin (BC) – Bronze 
U19 Men's Pair
Ellington Peacock & Adrian Breen (UBC/BC) – Gold
Grayson Laycock & Connor Bohlmann (ON/BC/SK) – Silver
Peter Scaccabarozzi & Liam Muir (Vancouver College) – Bronze
For more information:
Colleen Coderre
RCA Communications Lead
comm@rowingcanada.org
Liz Montroy
RCA Communications and Events Coordinator
lmontroy@rowingcanada.org