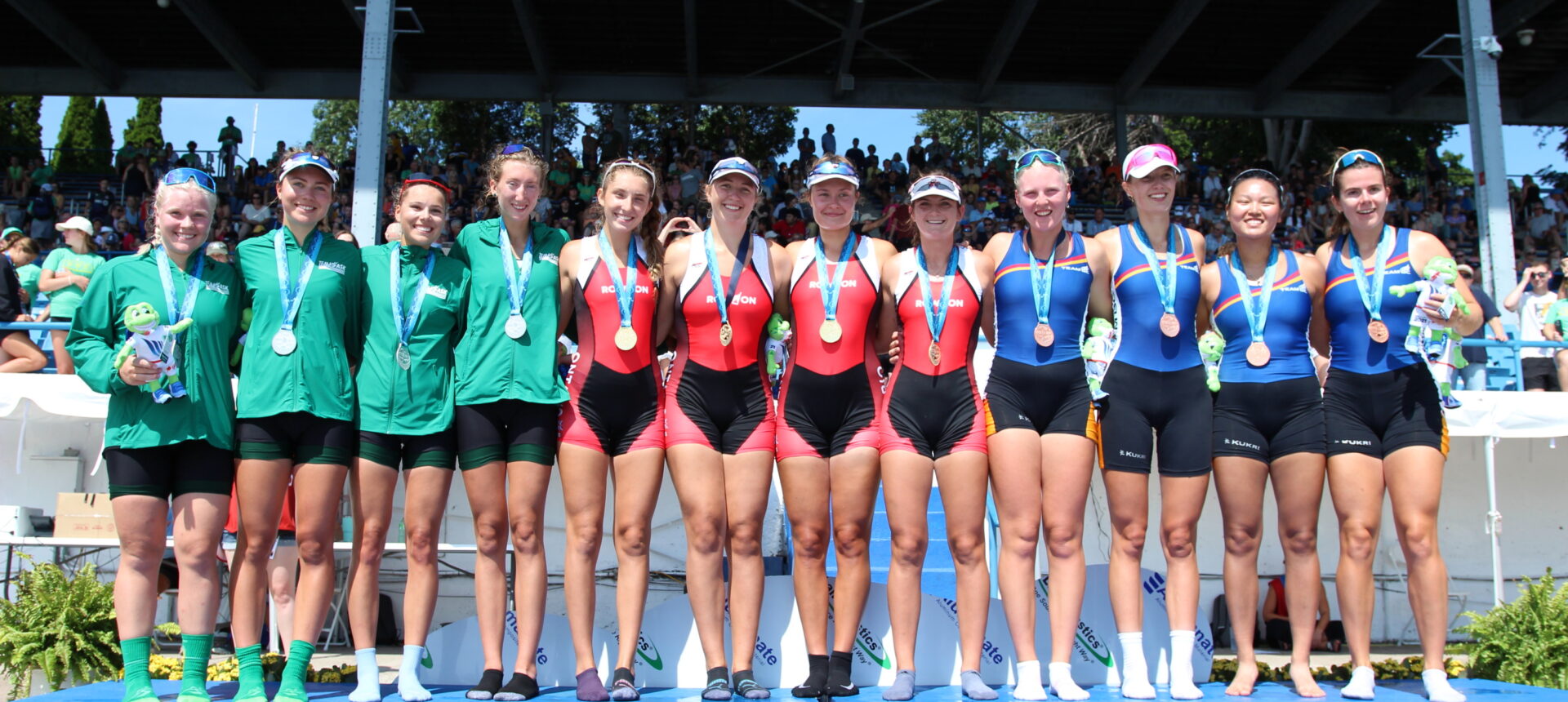 ---
Rowers from across the country took part in the Niagara 2022 Canada Summer Games last week, competing in 14 events at the Royal Canadian Henley Rowing Course in St. Catharines.
Part of Canada's largest multi-sport event, athletes represented their provinces over two days of heats and repechages and a weekend of finals.
Ontario led with 13 medals, including 11 golds, followed by British Columbia with 11 medals. Many members of Canada's U23 and U19 national teams took part, including 2022 World U23 Championship bronze medallist Stephen Harris (Ontario), who won triple gold (men's single, men's quad, lightweight men's double).
Several other athletes also left Niagara with multiple medals, including triple medallists Hailey Mercuri (Ontario), Maya Meschkuleit (Ontario), Pepper Howe (Saskatchewan), Giancarlo DiPompeo (BC), Sally Jones (BC), Ellie Sousa (BC), Danica Ariano (BC) and Axel Ewashko (Alberta).
Fans filled the Craig Swayze Memorial Grandstand, taking in a number of close A finals, including a photo finish for bronze in the women's eight, with Saskatchewan edging out Alberta by 0.18 seconds, and Ontario's men's eight crossing the line just 0.42 seconds ahead of BC to claim gold.
More information on the Niagara 2022 Canada Summer Games can be found here. Full results can be found here.
Connect with on Instagram, Twitter and Facebook @rowingcanada and on TikTok @rowingcanadaaviron with #rowingcanada #aviron #2022CanadaGames #JeuxDuCanada
Women's Single
Gold – Ontario (Hailey Mercuri)
Silver – Nova Scotia (Claire Ellison)
Bronze – Saskatchewan (Pepper Howe)
Men's Single
Gold – Ontario (Stephen Harris)
Silver – British Columbia (Giancarlo DiPompeo)
Bronze – Saskatchewan (Connor Dodds)
Women's Double
Gold – Ontario (Anna Pamenter, Cait Whittard)
Silver – Quebec (Maryann Côté-Mashala, Maylie Valiquette)
Bronze – Nova Scotia (Sophie Inkpen, Jana Peachey)
Men's Double
Gold – British Columbia (Gunnar Platt, Quinn Storey)
Silver – Ontario (Owen Bartel, Lucas Maroney)
Bronze – Saskatchewan (Grayson Laycock, Johnny McLeod) 
Women's Pair
Gold – Ontario (Stella Bittman, Maya Meschkuleit)
Silver – British Columbia (Sally Jones, Ellie Sousa)
Bronze – Nova Scotia (Claire Ellison, Jana Peachey)
Men's Pair
Gold – Alberta (Axel Ewashko, Andrew Hubbard)
Silver – Nova Scotia (Emerson Crick, Adam Giles)
Bronze – British Columbia (Jesse Harold, Liam Hodgins) 
Lightweight Women's Double
Gold – Ontario (Zoe Durcak, Julia Teixeira)
Silver – British Columbia (Meghan Camplin, Ehren Paterson)
Bronze – Quebec (Camélie Houle, Isabel Izquierdo-Bernier)
Lightweight Men's Double
Gold – Ontario (Stephen Harris, Alessio Perco)
Silver – Quebec (Samuel Maconco, Charles-Etienne Tabet)
Bronze – British Columbia (Giancarlo DiPompeo, Matthew Thompson)
Women's Four
Gold – British Columbia (Danica Ariano, Mira Calder, Sally Jones, Ellie Sousa)
Silver – Ontario (Malarie Jones, Ceilidh MacDonald, Hailey Mercuri, Maya Meschkuleit)
Bronze – Alberta (Kaliya Javra, Beth Miller, Gabriella Worobec, Gabby Yarema)
Men's Four
Gold – Ontario (Michael Ciepiela, Payton Gauthier, Aidan Hembruff, Niko Schramm)
Silver – Alberta (Axel Ewashko, Pat Milner, Eric Pettapiece, Sam Ree)
Bronze – Nova Scotia (Noel Balsor, Emerson Crick, Adam Giles, Robert Emil Walsh)
Women's Quad
Gold – Ontario (Fiona Elliott, Anna Pamenter, Madeson Scott, Cait Whittard)
Silver – Saskatchewan (Pepper Howe, Megan Kish, Shelby Lane, Lauren Matai)
Bronze – British Columbia (Danica Ariano, Natayla Ariano, Teagan Blue, Elisa Luo)
Men's Quad
Gold – Ontario (Owen Bartel, Stephen Harris, Lucas Maroney, Alessio Perco)
Silver – British Columbia (Giancarlo DiPompeo, Gunnar Platt, Quinn Storey, Matthew Thompson)
Bronze – Alberta (Michael Claassen, Andrew Hubbard, Ben Ravenscroft, Griffen Salmon)
Women's Eight
Gold – Ontario (Stella Bittman, Zoe Durcak, Fiona Elliott, Georgia Greenwood, Malarie Jones, Ceilidh MacDonald, Hailey Mercuri, Maya Meschkuleit, Teagan Orth)
Silver – British Columbia (Danica Ariano, Lyndsey Bryden, Mira Calder, Claire Hallett, Sally Jones, Caitlin Lawrence, Elisa Luo, Ellie Sousa, Willow Woon)
Bronze – Saskatchewan (Pepper Howe, Daya Wilde, Mya Kelln, Megan Kish, Shelby Lane, Elsa Lissel-DeCorby, Ellen Marion, Lauren Matai, Brooklyn Schwab)
Men's Eight
Gold – Ontario (Kai Bartel, Adrian Breen, Michael Ciepiela, Preston Darling, Payton Gauthier, Aidan Hembruff, Shane Keagan, Riley Pisek, Niko Schramm)
Silver – British Columbia (Connor Attridge, Alex Gonin, Jesse Harold, Liam Hodgins, Michael Keane, Frank Luo, Nicholas Murray-Coplen, Ellington Peacock, Liam Simpson)
Bronze – Alberta (Bob Bryden, Mac Dressler, Axel Ewashko, Henry King, Pat Milner, Eric Pettapiece, Sam Ree, Paige Sze, Alexis Vela)
Photo: Dan Labricciosa/Niagara 2022