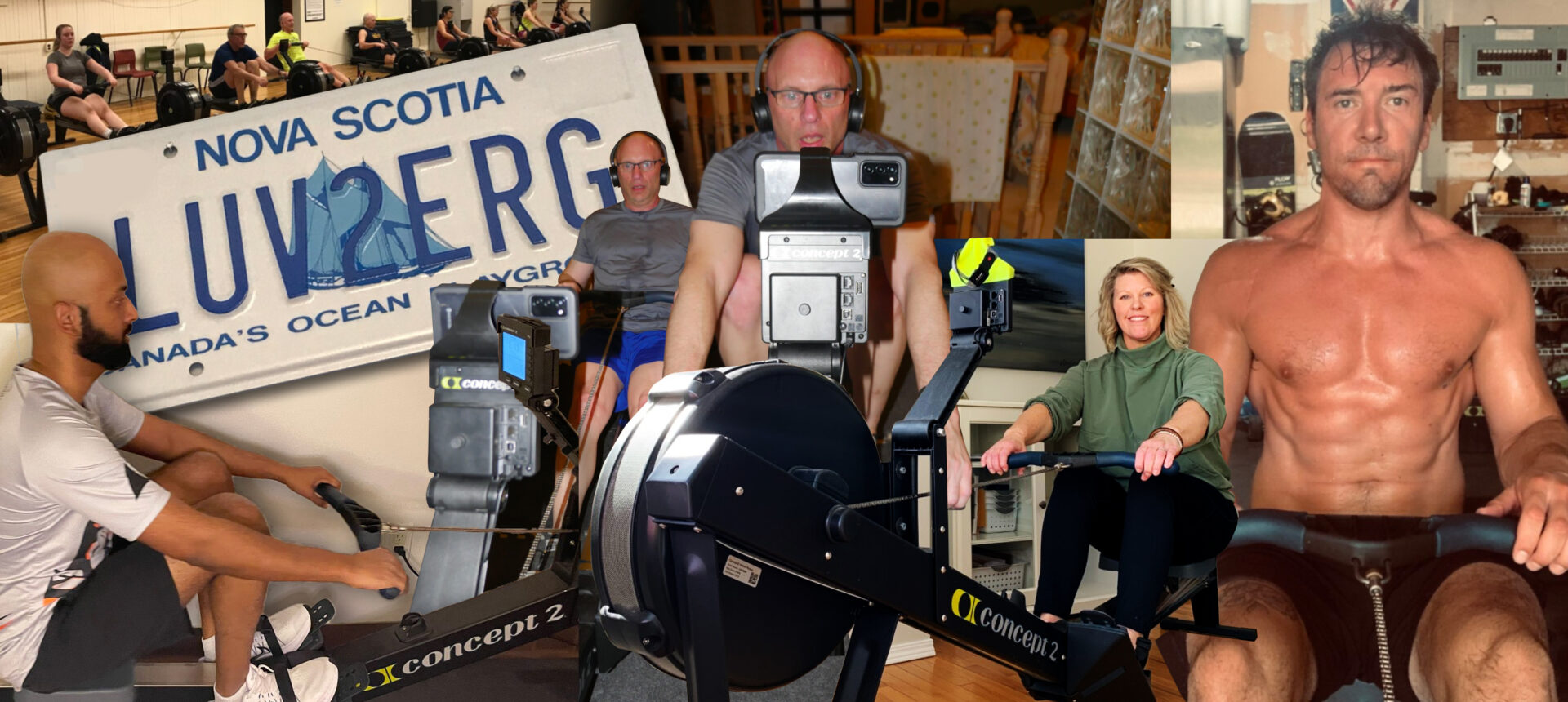 ---
In its biggest year to date, the Rowing Canada Aviron (RCA) Great Indoors Challenger Series has wrapped up the 2022-23 campaign with rowers embracing the competition's multi-challenge format.
Competing in various distances and timed challenges, the Challenger Series participants have completed over 750,000 metres on ergometers in just three months.
After debuting in 2021, the Great Indoors initiative continues to grow in popularity with rowing fans, rowing converts, first-time rowers, and fitness enthusiasts from all provinces trying their hand at the emerging rowing discipline.
"It has been wonderful to see the continued growth of the RCA Great Indoors," said RCA Director of Partnerships and Sport Development, Jennifer Fitzpatrick. "Now in its third edition, the Challenger Series continues to provide a great way for our rowing community to continue to enjoy our sport during the winter months, but also provides a great way for people to try rowing, often in the comfort of their own home."
Across the different categories of the Challenger Series, 18 winning participants have been selected to receive an RCA prize pack, while all participants will receive a commemorative medallion to showcase their achievement for taking part in the program.
British Columbia based participant Patrick Levis initially took up the sport of rowing only a few years ago after being recruited to join a para rowing program and found the Challenger Series provided an opportunity to push himself and improve his rowing ability.
"I enjoy any opportunity to participate in competitions to push myself to do better which motivates me to work harder. I am a para rower and I was recruited to try para rowing in November 2021, I remember seeing how smooth and how calm rowers looked on the water, and I thought to myself that would be an excellent sport," Patrick said. "I love the water and thought it would be an excellent sport to help me with dealing with mental illness and to get a good workout but what I didn't know is how technical it can be to be proficient at."
 

 

View this post on Instagram

 
"Before being recruited I hated using the rowing machine, because you're not going anywhere, the scenery is the same [laughingly]. I found that I didn't know the proper technique and I just didn't like it, but after being recruited you have to use the machine because of bad weather," Patrick said. "So that's when I really started using the erg and since then I've improved. Seeing other people's times, that was a motivator for me to work harder."
A highlight of the series was that I had never done a 10km on the erg in one sessions, until I did the distance through the Challenger Series," Patrick continues.
"I encourage everyone to take up a rowing club's offer with a come and try day… I am para rower so I row with a fixed seat, so anyone can row… it's a great, great sport.
Participants in the Challenger Series had the opportunity to try their best at a number of different categories, including 100m, 1,000m and 10,000m distance challenges, but also 1-minute, 2-minute and 15-minute timed challengers.
The Challenger Series also saw a number of athletes embrace rowing as their competitive outlet over the winter months.
For Chris Schenk, a former Major in the Canadian Air Force and National Military soccer player for over a decade, the Challenger Series provided the vehicle for his competitive side and also a place to join a community of like-minded individuals.
"Now as an avid cross-fitter for many years, I use the rower in various workouts. I began using the rower more and more [over the last few years] and now follow erg programming since 2022," Chris said. "For me, the best thing about the Challenger Series program and the rowing community writ large is the people you meet along the way. Everyone is on the same machine, doing the same workout, doing their best… I love the camaraderie of both shared pain and shared success."
 

 

View this post on Instagram

 
Former Canadian national basketball team player Kathy Spurr is another participant who has found a love for indoor rowing. After an impressive professional basketball career, that saw the Nova Scotia Sports Hall of Famer playing in Germany, a doctor's prognosis resulted in Kathy seeking a new challenge away from the basketball court.
"I found indoor rowing later in life, I was in my mid 40's, with a ruptured patellar tendon, and was told by my surgeon, if I ever run again, he likely can't put my knee back together," Kathy said. "I was looking for something that was non-weight bearing and could get my heart rate up and really challenged me and indoor rowing certainly fits that criteria."
A fortuitous newsletter article about RCA's Great Indoors Challenger Series sparked Kathy's competitive streak and enjoy the different offerings the series included.
"I saw the Great Indoors advertised and I thought, 'okay, this would be interesting to see where I am at', I had actually fractured a vertebrae last summer and the summer before I had fractured my shoulder, so it was a nice little challenge to do the Great Indoors series this year," Kathy said. "I liked the variety of distances for sure… it was a nice challenge. I didn't do anywhere near my best. But I'm being realistic with myself as I continue to recover from my injuries."
Based at the Halifax Rowing Club, Kathy joined with a number of other dedicated erg loving members to begin a morning indoor rowing program meeting three times a week.
"I feel very fortunate because you really feel the energy of the group. When you're in a group setting, it's much easier to make it through particular sets," Kathy said.
Rowing on the erg has become a passion for Kathy, a passion that has even inspired her to create a custom 'Luv2Erg' license plate for her car.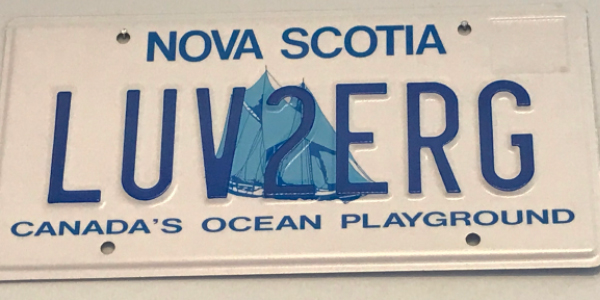 Kathy Spurr's custom license plate. (Supplied)
"People tease me because I actually love to erg and people are like, 'are you crazy?'," Kathy says with a laugh. "But having some limitations with my form [due to injuries], I really appreciate and value the indoor work because I'm sort of a data and numbers person so it's really nice to objectively measure progress and sometimes decline and it's nice to have that instant feedback."
For Ontario based rower Mat Roy, the pandemic proved to be the catalyst to take up a new hobby, jumping on the erg as a means of maintaining his fitness goals.
"For me, I started indoor rowing back during the pandemic," Roy said. "All the fitness centres were closed, so I really wasn't getting any physical activity, and my physical fitness wasn't where it used to be [pre-pandemic] … so I was looking at different things I could do for my fitness and I came across rowing. I realised it's a full body workout. It's not just about the aerobic fitness, but it also helps you build strength and endurance."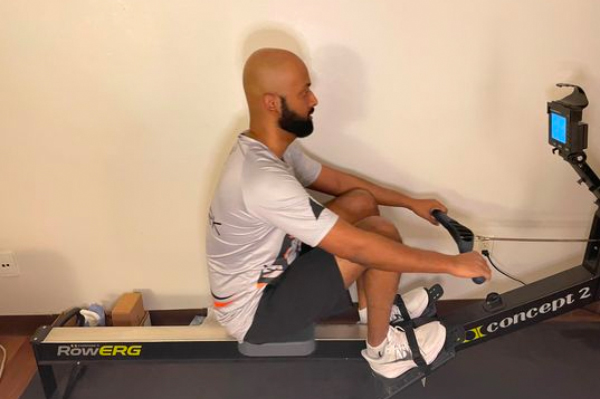 Mat Roy on his ergometer competing in the Challenger Series. (Supplied)
Mat's experience on the erg encouraged him to take to the next step in his rowing journey and enquire with his welcoming local rowing club and take it to the water.
"I did my first time rowing on water last year, so that initial indoor rowing experience did give me some help, especially with the form," Roy said. "It is fun [rowing on water], but it's not the same as indoor rowing, but it's still very fun and challenging… now me and my girlfriend row at the LaSalle Rowing Club. We love the communal aspect of rowing, and how inclusive it is," Mat said. "All the members, everyone I've met through rowing, whether part of our club or not, everyone's super friendly and inviting, we love it and it's something that we're planning on continuing into the coming season as well."
Last season, Mat competed at his first regatta and is looking forward to competing at more in the season ahead. But to complement his on-water rowing, the Great Indoors provided the perfect instrument for him to continue training his new passion.
"I found out about the Challenger Series through my girlfriend, we like doing these indoor rowing challenges, we were looking for something new to try and given the diversity of the different metres. We found that pretty interested and we wanted to try it."
There has even been a bit of friendly competition between the couple on the erg.
I would happily say that she is the better rower," Mat says laughingly. "It has been really fun, but she's way better. 
For anyone considering taking up the challenge of indoor rowing, Mat has some advice for anyone wanting to start the new hobby.
"Don't be intimidated [by the erg], give it a try. My second piece of advice is to start slow, when I first started, I may have pushed myself a little bit too hard but I realised that it's better to start slow and build up those distances and lower those times," Mat said. "But it's not just about the physical aspect of it, but once you realise that it also impacts your mental health in a positive way, for me that's a big thing and so if you're looking into something that helps with that, I would definitely recommend rowing."
Discover rowing with us this May for the third annual National Come Try Rowing Day!
In conjunction with RCA and Provincial Rowing Associations, clubs across the country are hosting free introductory on-water rowing sessions from Friday May 26 through Sunday May 28, 2023.
These sessions are designed to provide individuals new to rowing with their first on-water experience in a safe and welcoming environment.
The inaugural National Come Try Rowing Day was held in 2021, and over the last two years, PRAs, clubs, club staff and volunteers across the country have safely introduced thousands of Canadians to rowing for the first time.
The Great Indoors Challenger Series participant winners are:
| | |
| --- | --- |
| Name | Province |
| Mathew Roy | Windsor ON |
| Chris Schenk | Toronto ON |
| Stéphane Chamberland | St-Hubert QC |
| Warren Cinquina | London ON |
| Patrick Levis | Victoria BC |
| Guillaume Dallaire | Québec QC |
| Krista Loewen | Saskatoon SK |
| Diane Ouimet | Antigonish NS |
| Kathy Spurr | Halifax NS |
| Sophie Schlatter | Victoria BC |
| Lindsay Bushell | Cochrane AB |
| Ellie Rainnie | Charlottetown PE |
| Beth Hanlon | Calgary AB |
| Janet Thompson | Fredericton NB |
| Amanda Billesberger | Warman SK |
| Amber Pearse | Powell River BC |
| Lily Porter | Charlottetown PE |
| Tanya Rodger | St.Catharines ON |
For more information on RCA's Great Indoors, click here.