RCA statement on the passing of Ed Winchester
---
RCA is deeply saddened to hear of the passing of RCA alumnus and rowing reporter Edward (Ed) Vincent Winchester.
 
Ed died of natural causes in his home in Hanover, New Hampshire on Wednesday April 22, 2020.
 
Born in 1970 in New Brunswick, Ed began his rowing career at the Kennebecasis Rowing Club in Rothesay. He represented Canada at numerous international events, winning men's lightweight pair gold at the 2000 World Championships and men's lightweight eight bronze at the 1996 and 1997 World Championships. He also won silver and bronze medals at World Cup events in 1999 and 2000, and was a spare at the 2000 Olympic Games in Sydney.
 
"The Canadian and international rowing community has lost an absolute legend in Ed Winchester," said RCA High Performance Director, Iain Brambell. "There is no replacing his charisma and love for life and rowing. Those of us that were lucky enough to have called him a friend and teammate will forever be indebted to him for what he brought into our lives and sport. Ed's tenacity and fun-loving way of life will be sadly missed at all levels of our sport, but fondly celebrated in the re-telling of amazing moments both on and off the water with Ed."
 
A well-known and respected journalist, Ed spent the last 20 years covering rowing and served as the editor of Rowing News.
 
He will be greatly missed by his rowing family.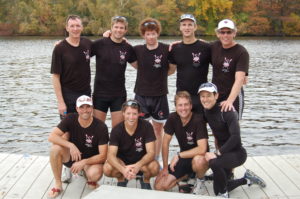 Photo: Courtesy of Andrew Lamont. Ed is in the bottom row, second from the left.