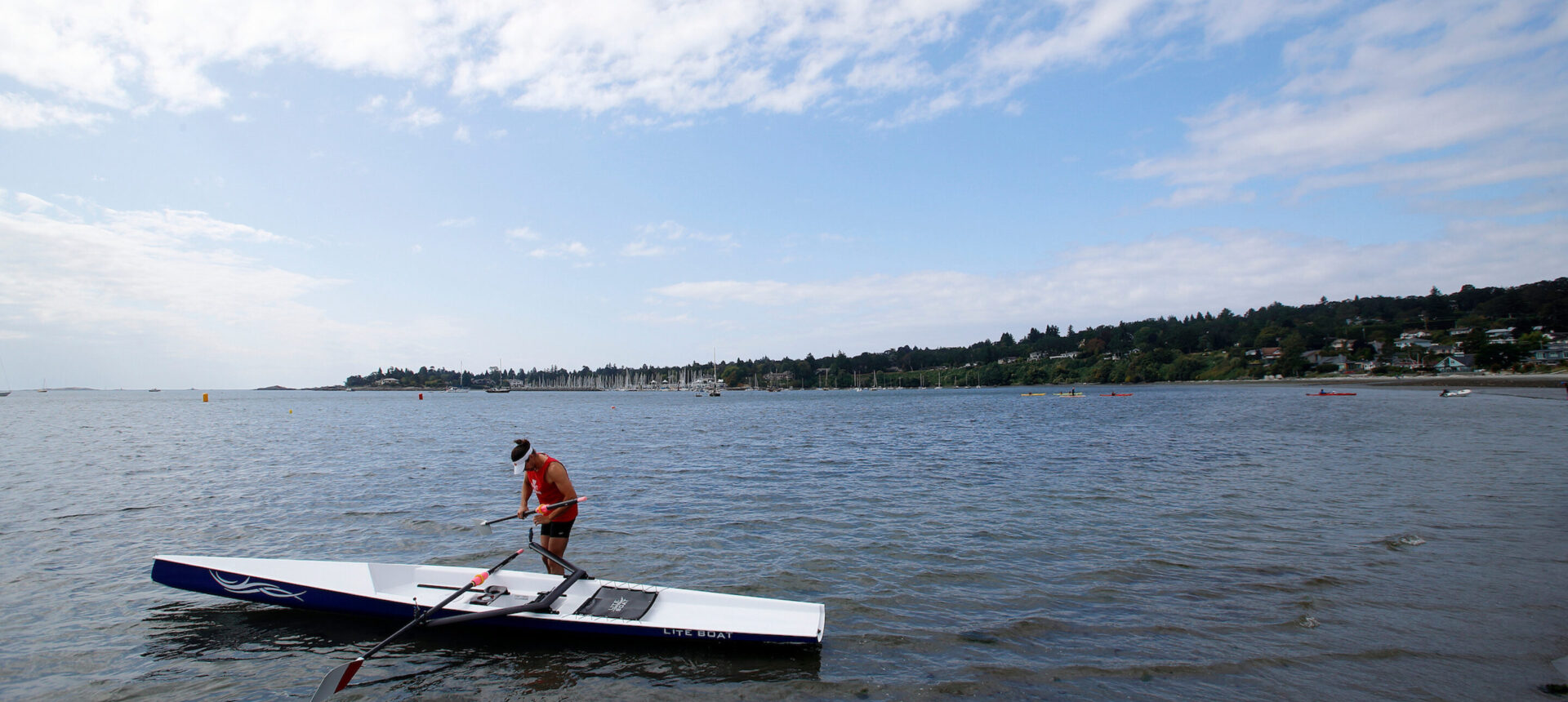 ---
Tuesday September 27 – Victoria, BC
IMMEDIATE RELEASE
Seven athletes will represent Canada at the 2022 World Rowing Beach Sprint Finals in Great Britain from October 14-16. Rowers will race in Wales' Pembrokeshire National Park at the Saundersfoot beach and harbour.
This marks the third appearance at the World Rowing Beach Sprint Finals for Sarah Pidgen and Aubrey Oldham, who will race in the solo events and in the mixed double.
Canada is entering U19 crews for the first time. Beckett Della Siega and Alexander Joiner will team up in the U19 men's double, while Elena Sati and Alex Duggan will race in the U19 women's double. Dennis Ovdiyenko will compete in the U19 men's solo.
These athletes were selected to represent Canada through the RCA Beach Sprint Trials, a series of regattas that took place this summer.
The World Rowing Beach Sprint Finals is a coastal rowing competition that involves a barefoot sprint on a beach to the competitors' boats, 250m of slalom racing around buoys, and a final beach sprint from the water's edge to the finish line.
Preliminary rounds start on Friday October 14, with quarterfinals, semifinals and finals taking place on Saturday October 15 and Sunday October 16.
Pidgen and Oldham will also race in the 2022 World Rowing Coastal Championships from October 7-9.
For more information on how to follow, including up-to-date schedule and results information, visit www.worldrowing.com.
Join the conversation @rowingcanada: #WRBeachSprint #WRBSF #BringOnTheWaves #rowingcanada #aviron
Canada's Beach Sprint Finals Team
| | |
| --- | --- |
| Women's Solo (CW1x) | |
| Sarah Pidgen | Don Rowing Club |
| Men's Solo (CM1x) | |
| Aubrey Oldham | Leander Boat Club |
| Mixed Double (CMix2x) | |
| Sarah Pidgen | Don Rowing Club |
| Aubrey Oldham | Leander Boat Club |
| U19 Men's Double (JCM2x) | |
| Beckett Della Siega | Victoria City Rowing Club |
| Alexander Joiner | Victoria City Rowing Club |
| U19 Women's Double (JCW2x) | |
| Elena Sati | Cambridge Rowing Club/Don Rowing Club |
| Alex Duggan | Kingston Rowing Club |
| U19 Men's Solo (CJM1x) | |
| Dennis Ovdiyenko | Don Rowing Club |
| U19 Women's Solo (CJW1x)* | |
| Alex Duggan | Kingston Rowing Club |
| U19 Mixed Double (CJMix2x)* | |
| Elena Sati | Cambridge Rowing Club/Don Rowing Club |
| Dennis Ovdiyenko | Don Rowing Club |
 *Additional boats that may race depending on schedule and timing
Coaches:
Katie Bahain-Steenman
Iain Wilson
Team Manager:
John Armitage
For more information:
Colleen Coderre
RCA Communications Lead
comm@rowingcanada.org
Liz Montroy
RCA Communications and Events Coordinator
lmontroy@rowingcanada.org