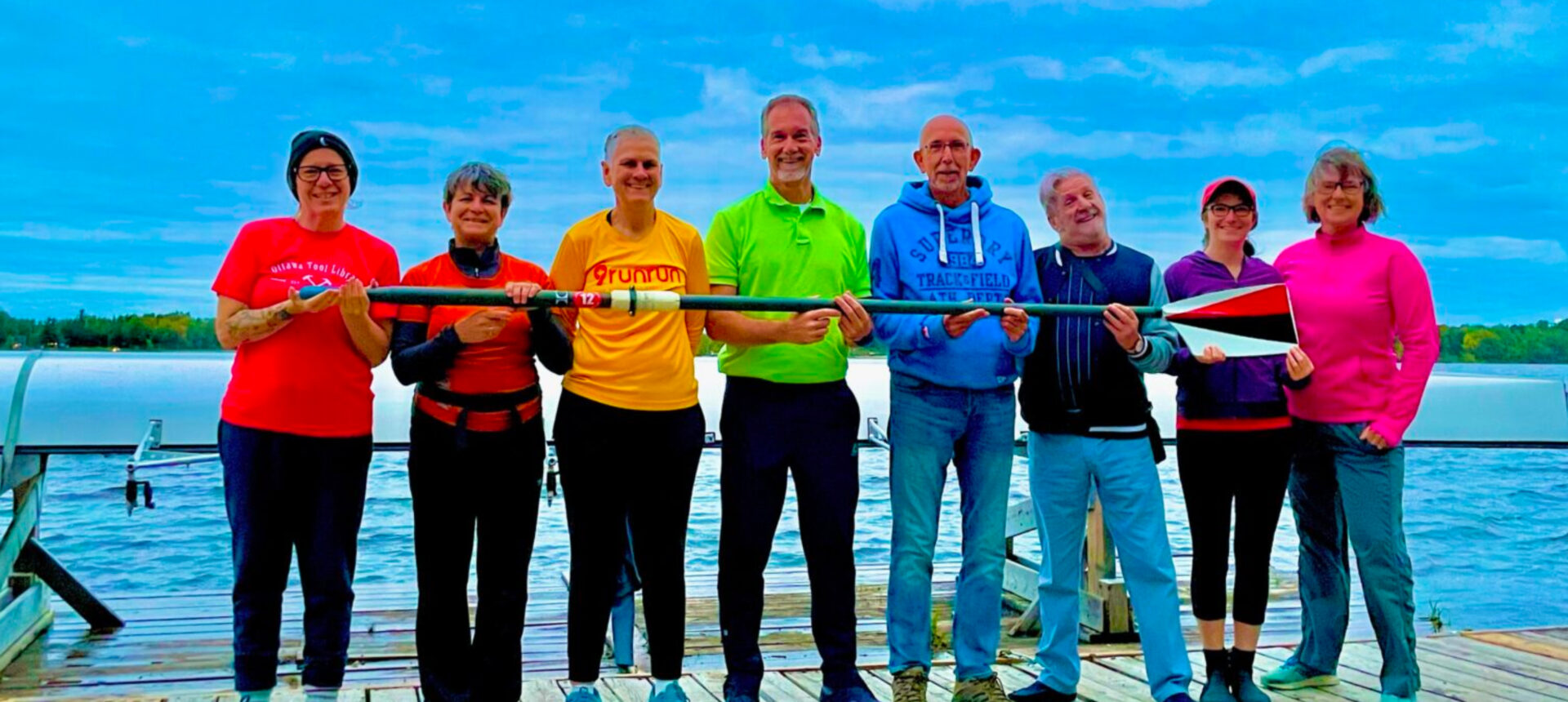 ---
In a bid to promote inclusivity and forge meaningful connections, the Ottawa New Edinburgh Club (ONEC) launched a ground breaking learn-to-row program, which has captured the hearts and minds of the 2SLGBTQQIA+ senior community of the nation's capital. Spearheading this transformative initiative is John Moore, a club member and a passionate advocate for adventure and inclusivity in rowing.
A recipient of the Community Sport for All Initiative funding from Sport Canada and Rowing Canada Aviron (RCA), ONEC with its rich history of promoting social and touring aspects of rowing, recognized the potential to extend their passion for adventure and rowing to marginalized communities.
John's vision was to provide a low-impact and social sport experience aligned perfectly with the club's goals, prompting a partnership with the Ottawa Senior Pride Network to bring the program to fruition.
"Rowing has the power to bring people together, foster connections, and create a sense of belonging," Moore explained. "Our aim was to introduce the 2SLGBTQQIA+ senior community to the joy and adventure of rowing, ensuring they feel included and supported throughout their journey."
The collaboration between ONEC and the Ottawa Senior Pride Network has been instrumental in the program's resounding success. Moore expressed heartfelt gratitude to George Hartsgrove, whose invaluable connections and promotional support ensured the program reached a remarkable number of participants.
Adopting a hybrid model, the program combined elements of an inviting "Come Try Rowing" event and a learn-to-row program. Participants were given the opportunity to experience rowing firsthand while reconnecting with their initial learning group. Each two-hour session allowed ample time for participants to familiarize themselves with the sport, learn proper technique, and form bonds with fellow participants.
"By offering a hybrid model, we wanted to ensure that participants could truly immerse themselves in the sport. It allowed them to experience the physical and social aspects of rowing while forming lasting connections with their fellow participants," Moore elaborated. "The social aspect of rowing is as important as the physical. It's about finding your tribe, supporting one another, and celebrating each other's achievements."
Beyond the on-water sessions, social get togethers were organized at ONEC's picturesque club pavilion. These gatherings provided a relaxed and inclusive space for participants to share their experiences, forge new friendships, and revel in the sense of community that comes with being involved at a rowing club.
"Community is at the heart of this program. We wanted to create a safe and welcoming environment where participants could not only learn and grow but also feel a sense of belonging. The social get togethers were an integral part of that experience," Moore shared.
Creating a safe and inclusive environment was paramount to the program's success. The presence of a supportive coaching team and ONEC's commitment to safe sport practices ensured that participants felt comfortable and empowered.
"Our coaching team worked tirelessly to create an atmosphere of support and encouragement. We wanted our participants to feel confident in their abilities and comfortable pushing their boundaries," Moore emphasized.
 

 

View this post on Instagram

 
Norma Strachan, the head coach at ONEC, played a pivotal role in fostering leadership and coaching skills among the team members, further enhancing the inclusivity of the program.
"Norma's expertise and dedication have been instrumental in the success of this initiative. She has not only imparted her knowledge of rowing but also nurtured the leadership potential of our team members," Moore praised.
The impact of the program has been profound, with participants reporting increased confidence, improved physical fitness, and a sense of belonging within the 2SLGBTQQIA+ senior community.
"Seeing the joy and pride in our participants as they overcome challenges and achieve personal milestones has been incredibly rewarding," Moore shared. "Many of them have decided to continue their rowing journey by becoming members of ONEC, solidifying the impact of this initiative and the transformative power of rowing."
ONEC's collaboration with the Ottawa Senior Pride Network and the introduction of the learn-to-row program showcased the power of rowing to foster inclusivity, social connections, and a sense of belonging. By providing a supportive and engaging environment, the program enabled members of the 2SLGBTQQIA+ senior community to experience the joy of rowing and form lasting connections. But the work for ONEC continues, as the club continues to champion adventure and inclusivity in rowing, as they look forward to expanding their programs and welcoming more diverse communities, ensuring that rowing becomes a sport for all.
Click here for more information about the Ottawa New Edinburgh Club and the club's rowing programs.
June is Pride month, and you can join RCA in celebrating the month with the RCA Pride T-Shirt.
Rowing Canada Aviron Pride Identity T-Shirt
Available in unisex sizing, this 50% organic cotton and 50% recycled polyester t-shirt is cut and sewn in Canada and stands out from the rest with the addition of RCA's special edition Pride Identity Crest.
A portion of the proceeds from sales of the Pride Identity T-Shirt will go towards RCA's diversity, equity and inclusion initiatives.