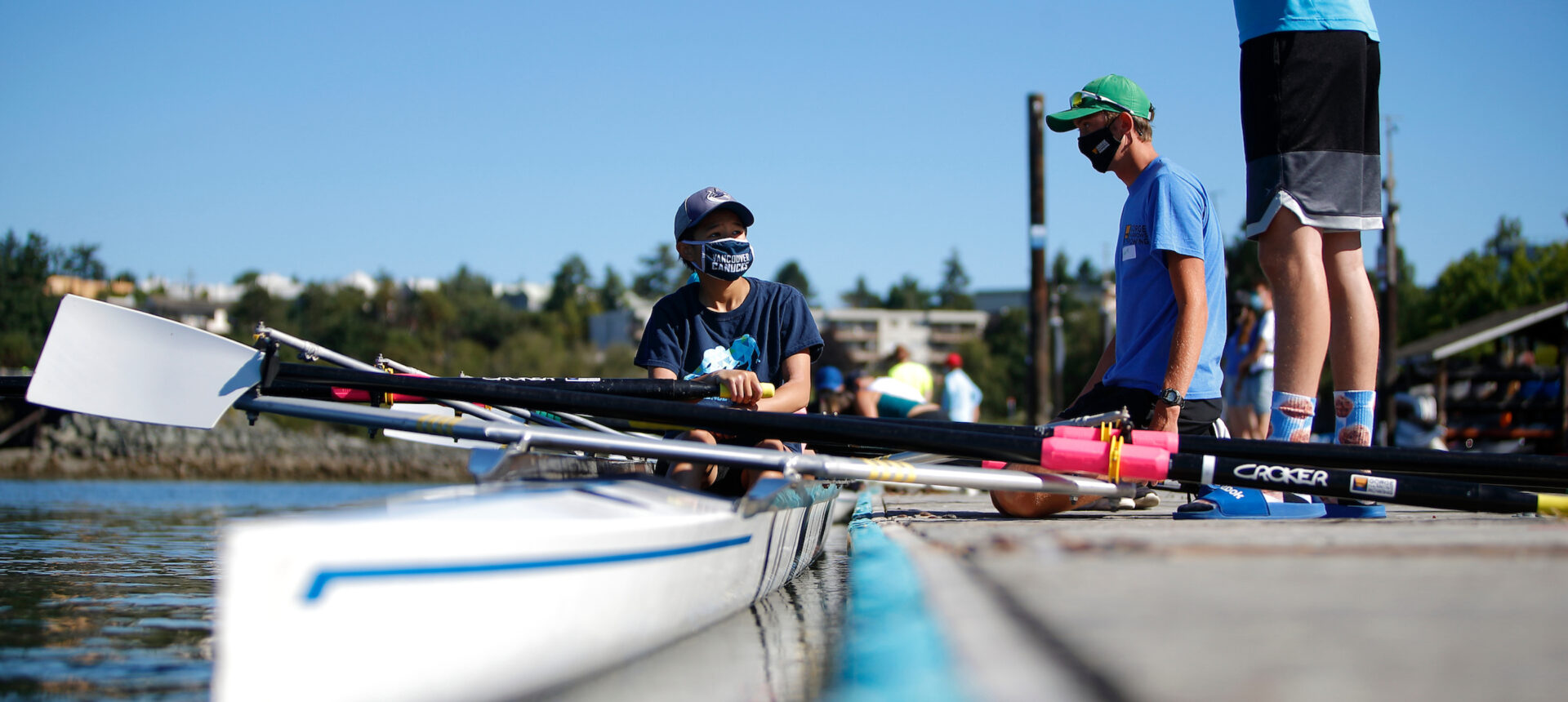 ---
From coast to coast, people in Canada arrived at rowing clubs over the weekend of June 26 to 27 to discover rowing as part of National Come Try Rowing Day.
This inaugural initiative saw RCA partner with PRAs and over 25 clubs on delivering free Come Try sessions for people new to the sport to get their first on-water experience in a safe and welcoming environment.
In British Columbia, individuals of all ages braved the heat at events in Burnaby, Duncan, Nelson, Port Moody, Kelowna, Salmon Arm, Salt Spring Island, and Victoria.
"This was an event that brought the community together at a pivotal time in Victoria," said Rachel Davis, Gorge Narrows Rowing Club Manager. "The easing of COVID restrictions [in BC] allowing for larger outdoor gatherings, beautiful sunshine, and a very enthusiastic team of volunteers set the stage for success. As club manager, I was so proud to watch a blend of 45 Gorge Narrows Rowing Club member volunteers work together to create a safe rowing experience for over 130 first time participants."
Inquiries were high for sessions and Learn to Row programs at participating Albertan clubs in Calgary, Edmonton, and Vermilion.
"The Edmonton Rowing Club had an overwhelming response to our Come Try event," said Jess Phillips, Edmonton Rowing Club Manager. "Even in 30 degree heat, we had just under 40 people come and try rowing, and we had even more people reach out with inquiries about our club. A huge shoutout goes to all of our invaluable staff and volunteers for making this event possible."
In Saskatchewan, events were held in Prince Albert, Regina, and Saskatoon.
Don Rowing Club's participants included MPP Rudy Cuzzetto and City Councillor Stephen Dasko, as well as the President of the Port Credit BIA, Jake Pedlar, and the Peel Regional Police Marine Unit. Ontarians also flocked to events in Kenora, Kingston, Peterborough, and Thunder Bay.
Nova Scotia's Mic Mac Amateur Aquatic Club was able to provide one-on-one hour-long instruction and support to their Junior, U23 and Masters participants.
RCA would like to thank PRAs, clubs, and club staff and volunteers for their support of National Come Try Rowing Day and their efforts to grow and share our sport.
Due to COVID-19 regulations and adverse weather, a number of National Come Try Rowing Day events in Manitoba, Ontario and Nova Scotia have been postponed to July. See HERE for a full list of events.
Connect with us @rowingcanada on social media: #ComeTryRowing #EssayerLAviron