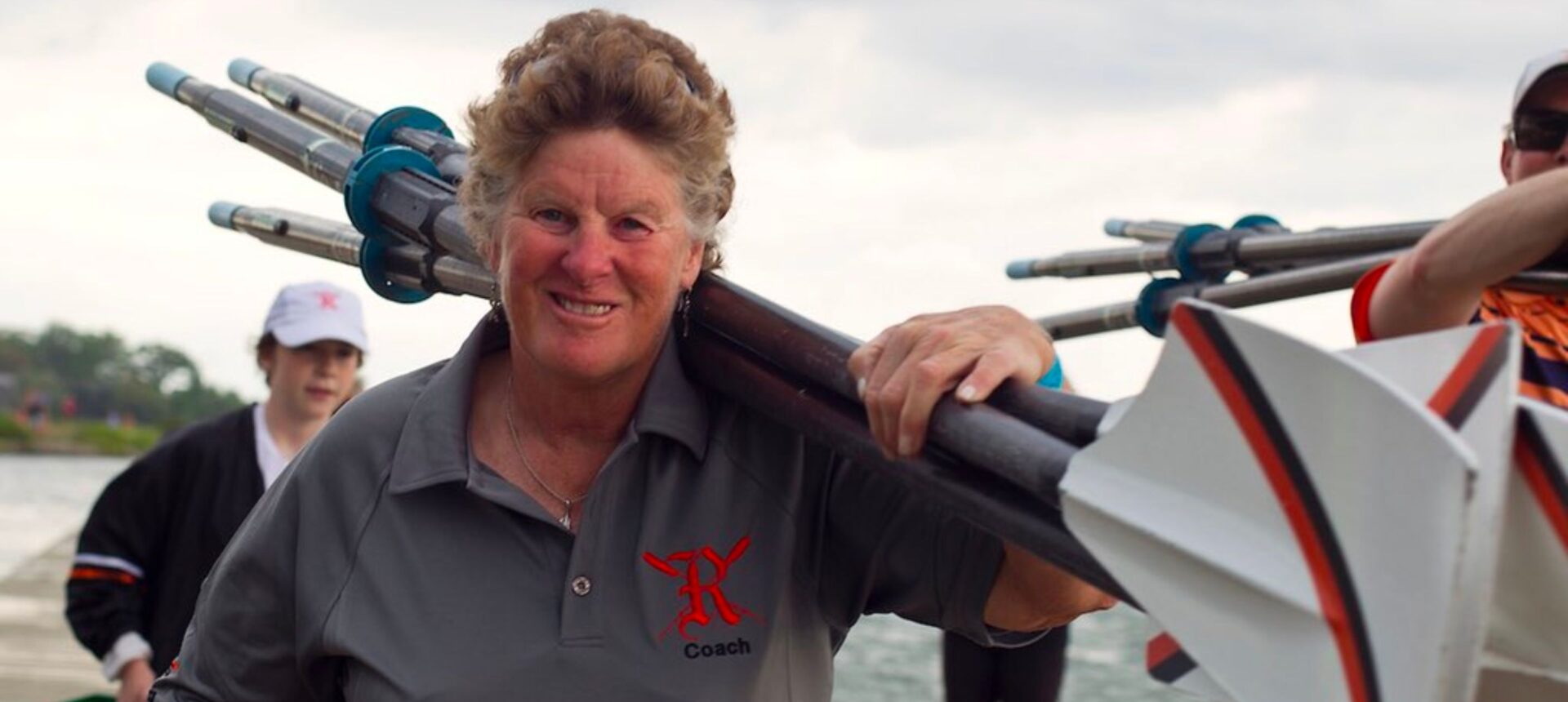 ---
On behalf of the staff and board at Rowing Canada Aviron, we offer our deepest condolences to Nancy's family and friends. Nancy left her indelible mark on many aspects of rowing – coaching being her greatest joy.  With her easy smile and enthusiasm, she contributed to our sport in so many ways, garnering many dear friends locally and around the world.  She will be dearly missed.
Carol Purcer, President of Rowing Canada Aviron
Obituary
Nancy Hitchcock Storrs passed away peacefully in her sleep after a courageous battle with cancer on September 8, 2023. She was born on March 24, 1950 in Huntington, New York. one of the six Storrs children. Nancy was a very active child growing up, but found her lifelong passion for rowing while a student at Williams College. She was a trailblazer in the sport of rowing as a member of the Red Rose Crew, the first American Women's Rowing Team to compete at the World Championships in 1975. They came away with a silver medal in the women's eight. She would compete in 3 more World Championships, earning a total of 4 World Championship medals. She was also an Olympian, competing for the United States in the 1976 Montreal Olympics, the first Olympics to include women's rowing, as well as being named to the boycotted 1980 Olympic Team. In 1985, she moved north of the border to St Catharines where she spent the next 4 decades sharing her love of rowing out of the Ridley Graduate Boat Club. Nancy had a unique talent when it came to coaching. It didn't matter to her if you were training to be the next World Champion or a novice taking your first strokes, she gave you the same passion and attention that made it hard to not enjoy the sport as much as she did. Whether you rowed for a few years or a lifetime, Nancy made sure your memories of the sport were fond ones and the lessons learned could be applied to all areas of life. Nancy was the consummate volunteer around Henley Island. She coached athletes from all clubs on the island, helped run local regattas including the Royal Canadian Henley and Canadian Secondary School Championships, as well as helped out with maintenance on and off the rowing course. Nancy could always be counted on to lend a hand whenever help was needed. 
Nancy is predeceased by her partner, Jack Nicholson, parents Frances and Richard Storrs, brothers David Storrs (Landon, Landon & Ty, David Jr.) and Nick Storrs (Jeanie, Leslie & Bruce, Rich & Jessica). She is survived by her sisters Ginny Akabane (Gige) and Ayer Bellermann (Mark & Vesper, Wendy & Josh, Jamie & Stephanie) and brother Cleveland Storrs. She will be remembered fondly by her many Rousmaniere and Gordon cousins. Nancy will be missed by her many friends in the rowing community both in Niagara and around the world. 
Visitation will be held at George Darte Funeral Chapel on Sunday September 17 at 1:00-5:00pm With a Celebration of Life on Sunday September 24 from 1:00-4:00pm at the Neil Campbell Training Centre on Henley Island. In lieu of flowers, please honour Nancy's memory with donations to the Canadian Henley Rowing Corporation.
(Obituary, courtesy of Nancy's family)