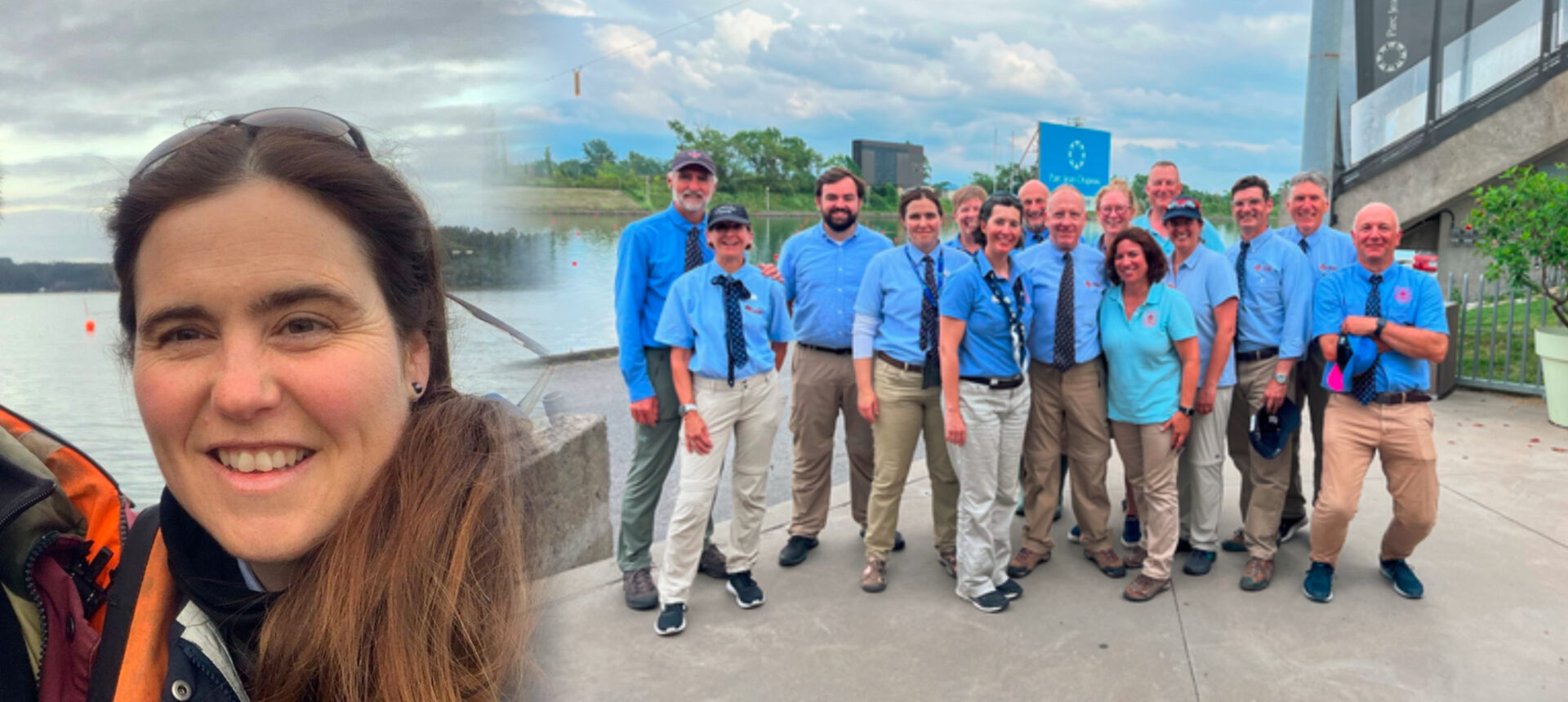 ---
Mélanie Bryce's journey in umpiring is filled with passion, dedication, and a deep love for rowing. It's a journey that recently saw Mélanie, a World Rowing certified international umpire, participate at the Pan American Games Qualification regatta in Chile in April 2023, which allowed her to marvel at the technical aspects of the course and the vibrant rowing culture in the city.
As a member of the international jury, Mélanie cherished the opportunity to interact with umpires from different nationalities, who shared a mutual passion for the sport. The experience broadened her perspective and made her appreciate her Canadian background.
"It was such an honour to be part of the umpiring jury in Chile, to have all these different nationalities at the same table it certainly has opened my eyes on my situation," Mélanie said. "And how I'm fortunate in life to be Canadian and have French and English as my baseline to discuss rowing with other umpires from across the world, but it's always nice to get another perspective."
Her love for rowing began during her university days when she joined as a novice. The Ottawa Rowing Club became her second home, where she found a tight-knit and passionate community that fostered her love for the sport.
"I was brought into the community at the Ottawa Rowing Club. It's a big club, and there are a lot of engaged and dedicated volunteers and I got drawn into that aspect. I very much enjoyed the community aspect of the club," Mélanie recalls. "My involvement in the sport just kept going from there and being surrounded by people from the club's community."
Immersed in this world, Mélanie's involvement with rowing grew steadily over the years. She transitioned from being an athlete herself to coaching university novices and high school crews while also managing her professional and family responsibilities. As her commitments away from the boathouse increased, her time available for rowing waned but Mélanie sought a way to stay connected to rowing without overwhelming herself. It was then that Wes Kuran, a respected figure in the Canadian rowing scene, introduced her to the idea of becoming a rowing umpire.
"As my professional and family responsibilities grew, I couldn't really commit to the day-to-day needs of rowing but helping out in a reduced capacity certainly remained attainable for me. So, I was recruited by Wes Kuran to look at becoming an umpire," Mélanie shares. It was great to retain a role in the ecosystem of supporting athletes and being able to help out through having a more manageable chunk of involvement in the sport and the club."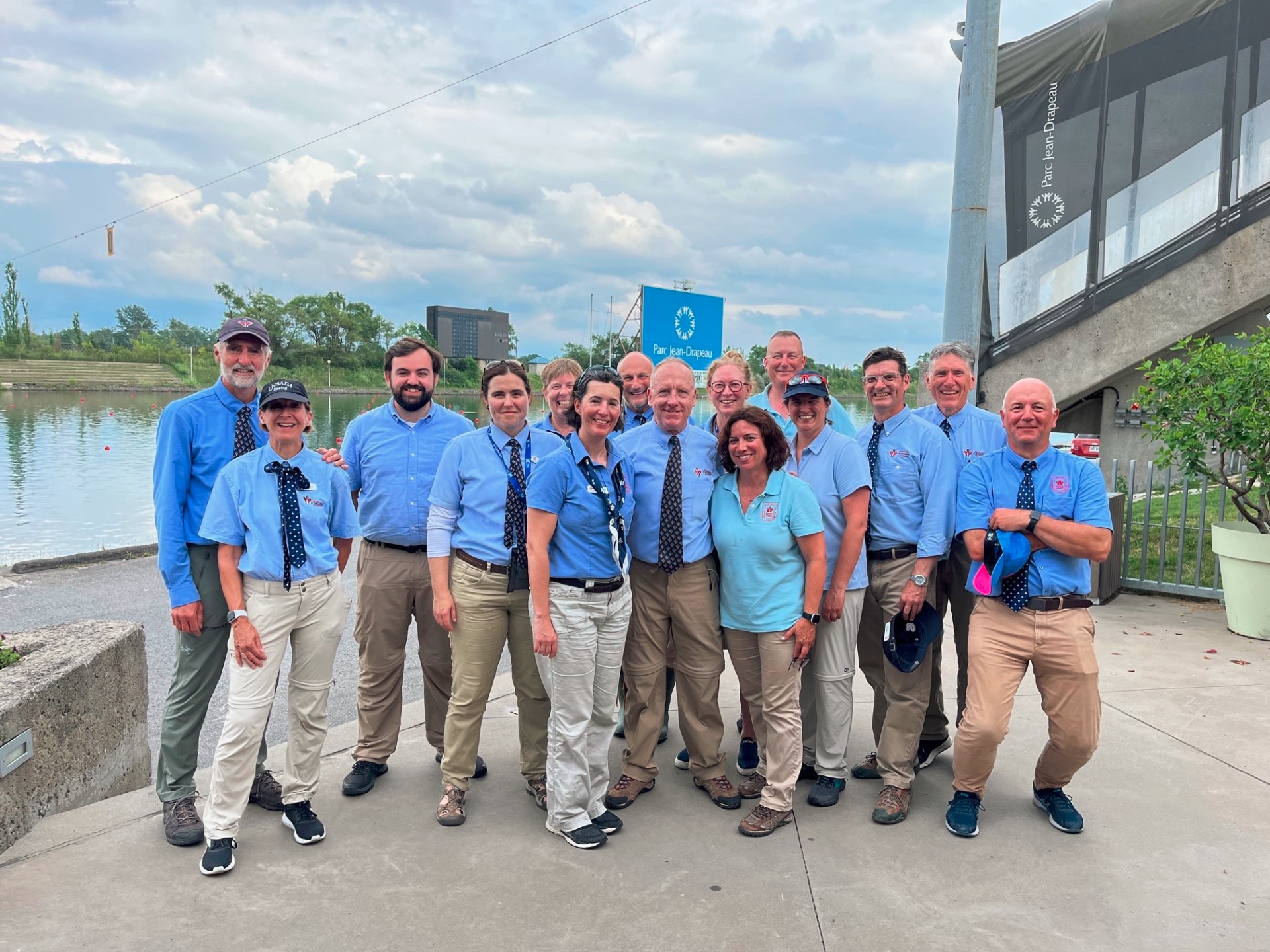 Mélanie Bryce (fourth from left) and her fellow umpires
at the 2023 Montreal Eastern Rowing Association Regatta (Supplied)
Mélanie quickly embraced this suggestion and her newfound role in the rowing ecosystem, and learning about the important and crucial part rowing umpires play in the sport. Being a rowing umpire means upholding the safety of athletes and ensuring fair races. Mélanie carries out her responsibilities from various posts, such as the start tower, finish line, race umpire and control commission. While she acknowledged that the role can be challenging, she emphasizes that it differs from other sports like soccer or hockey, where referees make play-by-play calls. Umpiring requires a comprehensive understanding of the rules and practical application, as well as strong interpersonal skills for interacting with athletes, coaches, and organizing committees.
"I don't want to portray being a rowing umpire as stressful," Mélanie says laughingly. "Being a rowing umpire, we have to communicate with the athletes, the coaches, the organizing committees. You need to have clear and effective communication to ensure everyone is on the same page regarding rules and race details to ensure safety and fairness and enhance the overall experience for everyone."
One of the best parts of the role for Mélanie is the great satisfaction of working alongside a dedicated team of umpires. Like the teams and crews who are competing on race days, Mélanie believes that she and her fellow umpires are a team too.
"When I go to a race, I don't feel like I'm by myself. The umpires on the jury, we are a team," Mélanie says. "Yes, sometimes as a Chief Umpire, I have to be the one who makes the decision. But we all are working together. So, there's still heavily that team aspect in being an umpire."
One piece of advice Mélanie encourages everyone involved in rowing to stay informed and engaged, reading the regatta package and the Rules of Racing before attending an event, but always encourages athletes, coaches and administrators to talk with the umpires and ask questions, something Mélanie has learnt throughout her career from her umpire mentors.
"That team aspect has also helped on my own development pathway, I have learnt from a team of great umpires during my career, Wes Kuran has played a big role in getting me involved in rowing umpiring, another has been Guylaine Bernier who has been a builder in our sport and someone who motivates me. And Judy Sutcliffe, has been someone who I admire, and I believe ups my umpire game being around her."
Reflecting on her experiences and her career to date, Mélanie's passion for being a rowing umpire remain strong, regardless of the level of competition. Whether it was assisting novice rowers or being the Chief Umpire at national regattas, she found motivation and fulfillment in every aspect of her role. Mélanie urges others interested in becoming umpires to start small, follow the development pathway outlined by Rowing Canada Aviron, and gain practical experience by attending regattas.
"For those going to the regattas and being on the competition circuit, there are plenty of opportunities to volunteer and to become an umpire. You can complete the online course and try it and start small, as it is attainable," Mélanie said. "It's manageable being an umpire, and anybody who has an interest in rowing or already has a passion for the sport, then absolutely I would suggest getting on the umpire development pathway."
To all those captivated by the world of rowing, Mélanie Bryce's journey serves as an inspiration, knowing that there are always opportunities in the umpiring community to contribute to the sport by embarking on a fulfilling and rewarding path as an umpire.
Regattas could not run without umpires. All RCA Licensed Umpires undertake training to ensure that racing is fair and safe for all competitors. The training, development and licensing of umpires is overseen by the RCA Umpires Committee and is supported by Provincial Rowing Associations.