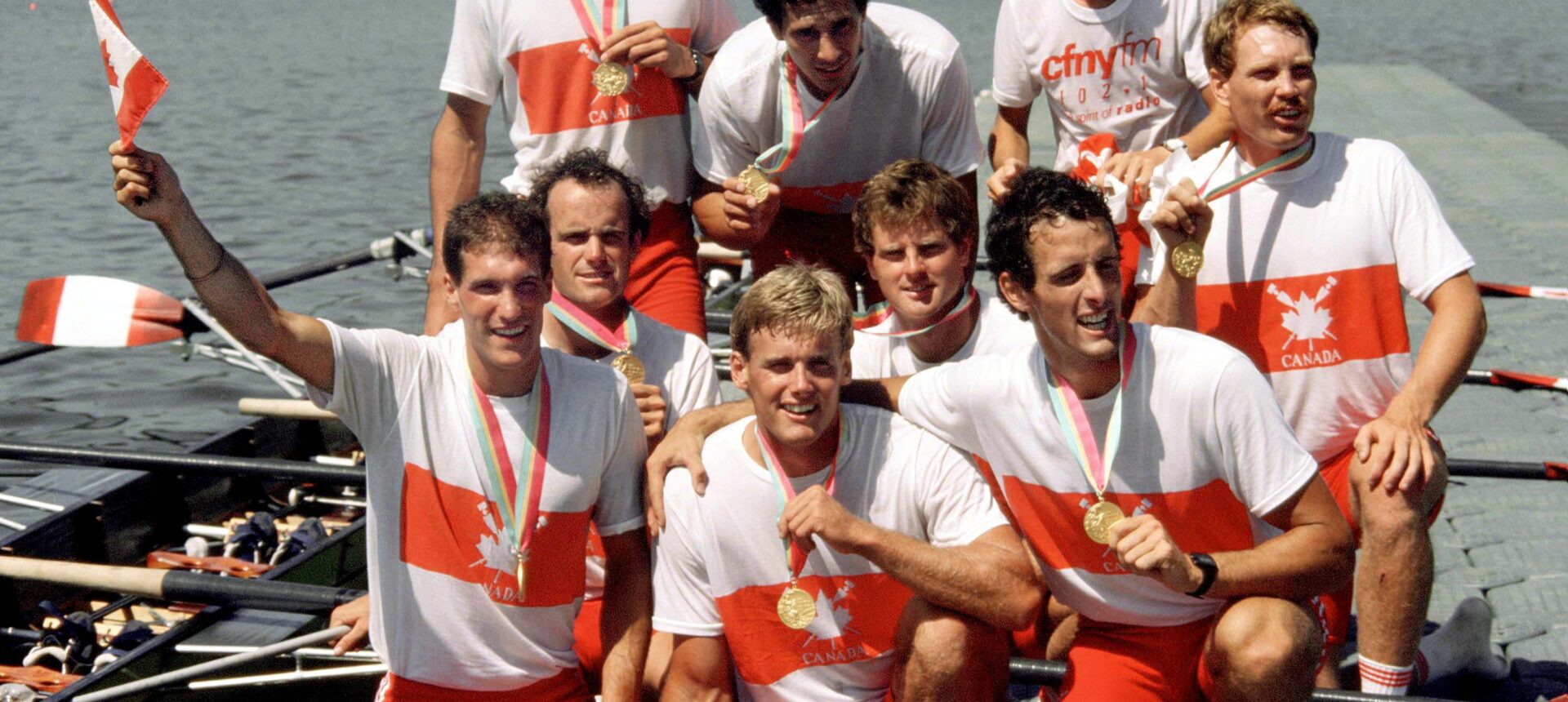 ---
Rowing Canada Aviron is deeply saddened to hear of the passing of Kevin Neufeld (1960-2022).  Kevin is an Olympic gold medalist in the men's eight from the 1984 Los Angeles Olympic Games and a beloved friend and teammate to so many in the rowing community.
Kevin took up rowing at West Park Secondary School in St. Catharines, Ontario and transitioned into competing for the St. Catharines Rowing Club where he had numerous successes in the Junior and Senior ranks at the Canadian Henley, Canadian Championships, and U.S. Nationals, as well as many other local and regional regattas.  
By 1982, Kevin was a member of the Canadian National Team and first represented Canada on the world stage at the 1983 World Championships in the coxed eights event.
Kevin joined Canadian crewmates, Blair Horn, Dean Crawford, Michael Evans, Paul Steele, Grant Main, Mark Evans, Pat Turner and Brian McMahon (cox) to take gold in the men's eight event at the 1984 Summer Olympics, leading start-to-finish and beating the Americans by 0.4 seconds in a thrilling and memorable Olympic final. 
The 1984 crew would go on to reunite each October for the Head of The Charles Regatta in Boston MA., winning the Men's Championship Eights four consecutive years from 1984 to 1987, even setting a course record. Kevin was also part of several other national team crews with notable achievements including winning the Stewards Cup at the Royal Henley Regatta and a gold medal at the Commonwealth Games in Edinburg, Scotland in the straight 4.
Kevin also had an illustrious university career, attending the University of Victoria from 1982 to 1988, part of a rowing dynasty at that time, dominating local and national stages.  Kevin was a two-time recipient of the prestigious President's Cup while at Uvic —awarded annually to the outstanding student-athlete in their fourth and fifth year who best combines scholastic and athletic achievement. His 1983 eight's crew was inducted into the UVIC Sports Hall of Fame in 2009. 
Kevin retired from competitive rowing after the 1988 Olympic Games, graduating from the University of Victoria that same year with a degree in human performance. He was well-respected for his leadership and professionalism in sales, marketing and performance development, as a sales consultant, trainer and executive.
He has been inducted, along with the rest of his gold medal-winning crew, into the British Columbia Sports (1985) and Canadian Olympic (2003) Halls of Fame, in addition to an individual selection for the St. Catharines Sports Hall of Fame in 2011 and the Greater Victoria Sports Hall of Fame in 2009.
Kevin leaves behind a rich legacy for the sport that will be cherished forever by the Canadian rowing community and beyond.  Most importantly, Kevin will be remembered for being a role model and inspiration off-the-water.  A remarkable and loving father to a very special family, and a person of deep faith who was respected, admired and loved by so many for his good nature, quick wit and sense of humour, humility, honesty and integrity.
We offer our deepest condolences to Kevin's family (Connie, Matthew, Kai, Travis, parents – Willie and Len, and sister Lynda) and friends.
(The Neufeld family is holding a celebration of Kevin's life on May 17 in Victoria, BC at Central Baptist Church at 2:00pm. In addition, friends anticipate establishing a GoFundMe account for donations to support the twins Kai and Travis and their continuing special needs. Kevin's obituary can be found here.)