In Memoriam: Kathleen Heddle
---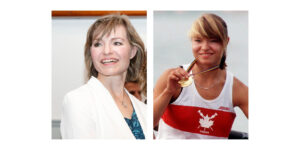 Rowing Canada Aviron releases the following statement on behalf of the family of Kathleen Heddle.
After an astonishing and courageous six-year battle with breast and lymph node cancer, followed by melanoma and brain cancer, Kathleen passed away peacefully, surrounded by the love of her family, at home in Vancouver, B.C., on January 11th, 2021.
Kathleen has left our hearts overflowing with love and wonderful memories. She brought our family so much joy.
While our grief is as heavy as the darkest moment of night, the gifts given to us by Kathleen shine bright as the moon and stars. With time, memories of our happiest days with Kathleen will be sure to overcome our tears.
Kathleen was born on November 27th, 1965, in Trail, B.C., into the loving arms of Marilyn and Duncan, and her adoring sisters, Libby and Peggy, and brother, Murray.
As an eight-month old baby, Kathleen became a Vancouver girl, where her family built a wonderful life together in the heart of Kitsilano. Her time in Kits brought with it Kathleen's first and most enduring friendships, as well as many athletic achievements and a lifelong love of sport.
UBC followed and brought joy to Kathleen, where her athletic career really took flight, first with volleyball, then rowing. At UBC, Kathleen earned a Bachelor's in Psychology, and later an Honourary Doctorate of Laws. Burnaby Lake R.C. provided a mastery of sculling.
Rowing brought Kathleen to the world stage. A country and a sport got to know and understand her resolve. A quiet strength was seen; undaunted, unbowed, inspiring. Praised as a generational athlete, Kathleen was the Mozart of her era.
As an Olympic and World Champion who touched perfection, Kathleen never sought the spotlight. A pure athlete, a role model by actions and demeanour. She was revered by teammates, coaches, opponents, and those who knew her best. She was quintessentially Canadian.
After the national team, Kathleen continued her involvement in rowing as a member of the FISA Athletes Commission and was a recipient of the rare Thomas Keller Medal. Friends forever, Kathleen and her Old Gold crew won the Head of the Charles Regatta in 2019.
Parenthood was Kathleen's proudest accomplishment and role, raising her children, Lyndsey and Mac, with her husband Mike. Vancouver remained home, this time in Kerrisdale, where times of wonder, family, and friendships flourished.
Kathleen was so proud of her entire family, rooted in Vancouver, the Kootenays, the prairies, and Scotland. The Heddle, Buchanan, Bryden, Neal and Zoschke families each gave so many vibrant relationships and memorable times together.
Those close to Kathleen knew she loved the calm of a good book, a shared meal, birthday parties with chocolate cake, being amongst true friends, dog walks rain or shine, and spending time with her family.
Kathleen had an incredible sense of touch, seemingly aware of the natural rhythm and flow in things. Kathleen loved the serenity of being on the water and in nature, always a proponent of wearing a hat and sunscreen, even on a cloudy day.
Our gratitude to Kathleen's entire health care team is boundless, as their care and attention afforded her grace, dignity, privacy, hope and strength. With special thanks to Drs. Carolan, Pauls, Shenkier, Smiljanic, and her entire nursing team.
"How is it that amongst some of the worst days ever, you can also experience some of the best?" – Kathleen Heddle, O.B.C., November 2020
In lieu of flowers, please send donations in the name of Kathleen Heddle to Lions Gate Hospital Foundation or BC Cancer Agency.
A celebration of Kathleen's life will be held at a later date.  For more information or condolences, please contact kathleenheddlecondolences@gmail.com
For more information:
Colleen Coderre
RCA Communications Lead
comm@rowingcanada.org
Photos: Kevin Light, Canadian Olympic Committee