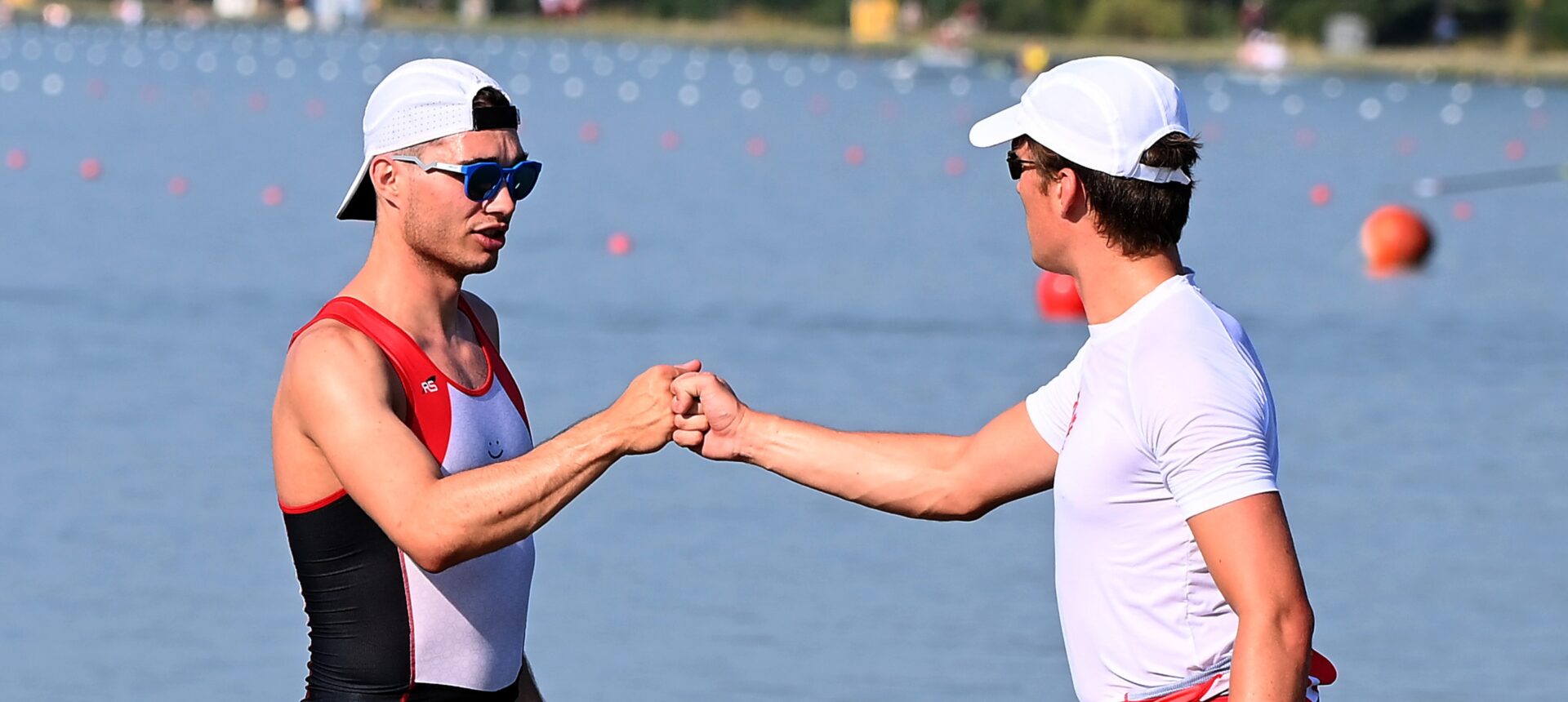 ---
Rowing Canada Aviron (RCA) will be proudly represented by 29 rowers at the 2023 World Rowing Under 23 Championships (WRU23CH) in Plovdiv, Bulgaria from July 19-23, 2023. WRU23CH will bring up to 1000 of the world's best under-23 rowers to compete in 22 boat classes including eight lightweight boat classes. The competition returns to Plovdiv's artificial canal was custom designed to meet international rowing standards and specifically located to be surrounded by natural forests, to offer fair and equal conditions for all lanes, the first time the competition returns to the ideal venue since 2017.
Canada will be represented by four crews on the opening day of competition, beginning with the Women's Pair (BW2-) of Sally Jones and Rachel Weber competing in the Heats at 11:25am (local time) / 4:25am ET / 1:25am PT, before the Men's Pair (BM2-) of Michael Keane and Bob Bryden competing in the Heats at 11:35am (local time) / 4:35am / 1:35am PT.
Then the Men's Lightweight Quad (BLM4x) of Giancarlo DiPompeo, Emerson Crick, Lucas Celia and Connor Dodds will compete in the Preliminary Race for Lanes at 11:55am (local time) / 4:55am ET / 1:55am PT. The last Canadian crew on Day 1 is Stephen Harris in the Men's Lightweight Single (BLM1x) Heats at 12:25pm (local time) / 5:35am ET / 2:35am PT.
The medal races will take place on Saturday, 22 July and Sunday, 23 July. The times for the medal races will be confirmed later today following the draw at 15:00 EEST (14:00 CET).
Here is how to follow the event on mobile, tablet, or desktop:
The provisional time table for the events can be found here, and entries for all the races are available here.
Live race tracker and LIVE audio will be available for ALL races on www.worldrowing.com.
LIVE video streaming will be available on the World Rowing website on Saturday, 22 July from for the A/B Semifinals and A-Finals, and Sunday, 23 July for the A-Finals.
The video streaming will start 5 minutes before the first race.
Join the conversation!

Use the hashtags #WRU23CH and #WRU23CHPlovdiv and #UnitedByWater and tag us @RowingCanada if you're following our teams in action.