1976 Women's Olympic Team
2019 Inductee
Single Sculls
Colette Pépin
Double Sculls
Bev Cameron
Cheryl Howard
Coxless Pair
Tricia Smith
Elizabeth Craig-Eaton
Coxed Four
Linda Gail Schaumleffel
Dolores Young
Monika Draeger Seymour
Joy Fera
Barbara Mutch Cameron
Coxed Quadruple Sculls
Sandra Kirby
Barbara Boettcher
Guylaine Bernier
Elaine Bourbeau
Johanne Delisle
Coxed Eight
Carol (Eastmure) Love
Rhonda Ross
Nancy Higgins
Ina Winterburn
Susan Antoft
Wendy Pullan
Christine Ferrara
Gail Cort
Illoana Smith
Spares
Trice Cameron
Becky Stevenson Ostrom
Jane Pal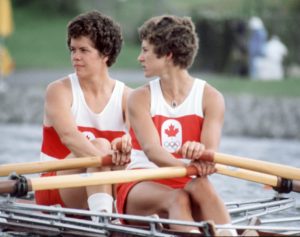 Olympic women's rowing debuted at the 1976 Olympic Games in Montreal with 1000m races. Canada sent six boats to compete in these inaugural races: single sculls (Colette Pépin), double sculls (Cheryl Howard, Bev Cameron), coxless pair (Tricia Smith, Elizabeth Craig-Eaton), coxed four (Linda Gail Schaumleffel, Dolores Young, Monika Draeger Seymour, Joy Fera, Barbara Mutch Cameron), coxed quadruple sculls (Sandra Kirby, Elaine Bourbeau, Guylaine Bernier, Barbara Boettcher, Johanne Delisle) and coxed eight (Carol [Eastmore] Love, Rhonda Ross, Nancy Higgins, Ina Winterburn, Susan Antoft, Wendy Pullan, Christine Ferrara, Gail Cort, Illoana Smith).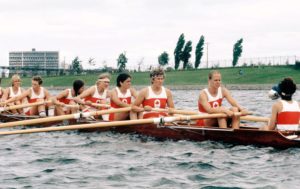 Up to and during the time of the 1976 Games, the common perception of women in sport was that they could not push their bodies as hard as men could. Athletic participation was viewed as 'unfeminine' and it was even considered to be medically inadvisable for women to train and compete as elite athletes.
The 1976 Canadian women's Olympic rowing team overcame a lack of coaching, resources and support to get to the Games in Montreal. These women are rowing pioneers who overcame societal discrimination and a lack of equal funding and resources to get to the highest level of our sport.
Photos: Canadian Olympic Committee
---
Career Highlights
First Canadian women to compete in rowing at an Olympic Games (at the Olympic debut of women's rowing in 1976)