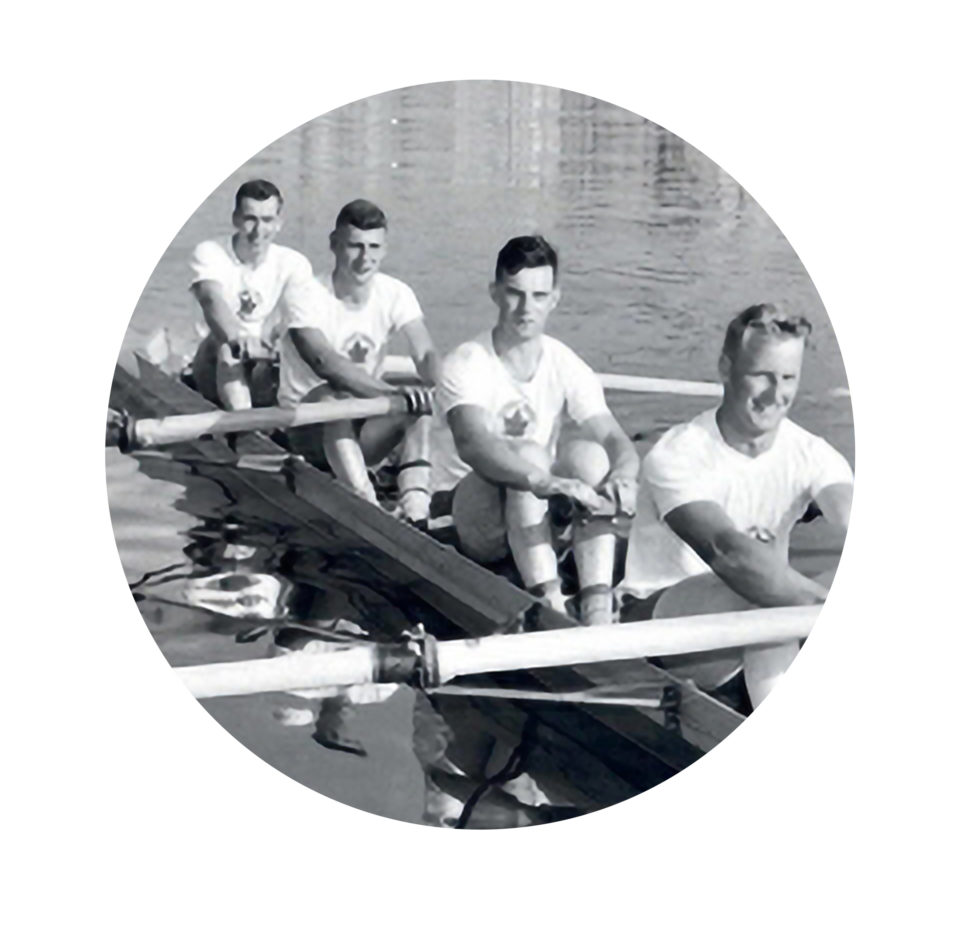 1956 Men's Coxless Four
2018 Inductee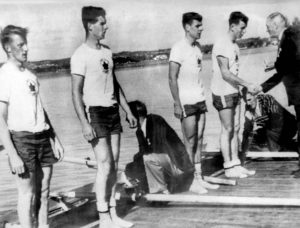 Donald Arnold (stroke seat)
Walter D'Hondt (three seat)
Lorne Loomer (two seat)
Archibald MacKinnon (bow)
The 1956 Men's Coxless Four won Canada's first ever Olympic gold medal in rowing. Their achievement is even more remarkable because of their underdog status going into the Games.
Arnold, D'Hondt, Loomer and MacKinnon, all UBC students, did not make the Olympic eight, and were training as spares when they were thrown together before the Royal Canadian Henley Regatta to compete in the four event, with the winner going on to represent Canada at the Olympics in Melbourne.
The men trained under legendary coach Frank Read and lived in Spartan conditions near Vancouver's Coal Harbour, sleeping on bunk beds left over from the UBC wartime officers training program, and working as day labourers between rowing practices.
Pitted against their favoured rivals from Brockville Rowing Club at Henley, the UBC four set a punishing pace en route to setting an unofficial world record and crushing their competition by over 10 lengths. It was a glimpse of their speed to come.
The crew steadily improved at the Olympic regatta, defeating the Germans in the heats by 11 seconds and the French in the semifinal by 20 seconds. In the final the rookie crew took a bad first stroke, but with determination rowed from behind to pass four crews on their way to victory. They secured Canada's first Olympic gold medal in rowing in heroic fashion, by an astonishing five length lead over the American silver medallists.
The men continued their winning ways at the 1958 British Empire and Commonwealth Games as members of the gold medal winning eight. Two years later, Arnold, D'Hondt and McKinnon secured a silver medal in the eight at the 1960 Rome Olympics.
Loomer further contributed to Canadian rowing by founding the stellar University of Victoria rowing team, which has produced many Olympic and World Champions. Sadly, Loomer passed away in January 2017.
The Men's 1956 Four has been inducted into the Canadian Sports Hall of Fame, the Olympic Hall of Fame, the British Columbia Hall of Fame and the UBC Sports Hall of Fame.
Their fiery determination has inspired generations of Canadian Olympic rowers that have followed in their lead.
Photos: Canadian Olympic Committee
---
Career Highlights
Won Canada's first ever Olympic gold medal in rowing