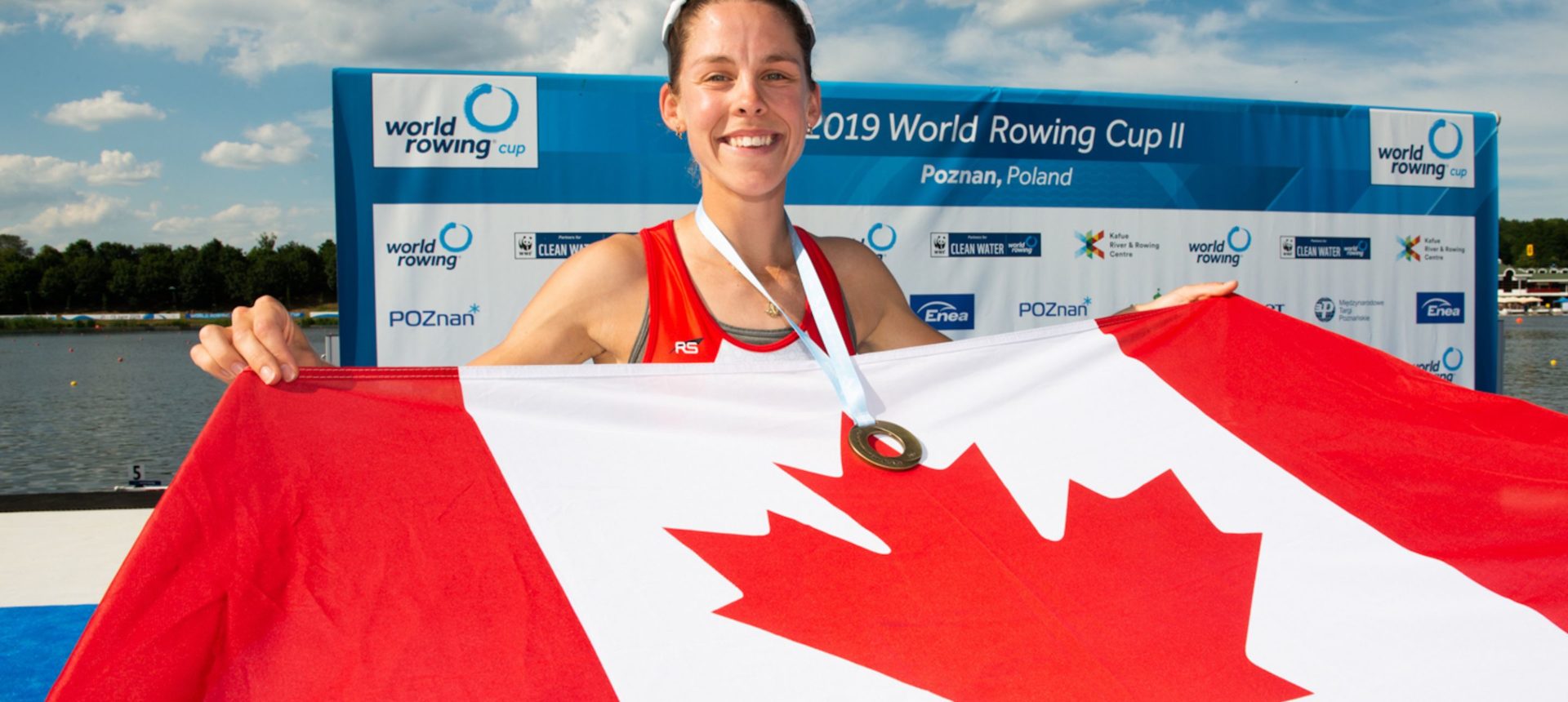 ---
It was a golden day for Team Canada on the second day of World Rowing Cup action in Poznan, Poland. Jill Moffatt (Bethany, ON) staged quite a comeback in the Women's Lightweight Single A Final, to take home the gold with a time of 8:16.43. China's Mengyin Cheng finished in silver position (8:17.35) and Australia's Georgia Nesbitt (8:18.76) took home the bronze. This will be Moffatt's first be World Cup medal, previously finishing 5th at World Cup 3 and World Championships in 2018. 
"I knew it would be a long race, and we had this morning's race as well," said Moffatt. "It's a headwind out there. But our team has put in a lot of work in over the winter and I knew I could handle a race of any length. I was at the back of the pack and was thinking "don't let them get too far". I did what worked for me."
Jeremy Hall (St. Paul, AB) captured the silver medal in the PR2 Men's Single event, continually closing the gap on World Champion Corne De Koning from the Netherlands. This is the second silver medal for Hall, placing 2nd at the 2018 World Championships in Plovdiv.
"Because of the conditions, I knew today was going to be a little bit harder and slower than yesterday. Yesterday I left a little bit in the tank at the end of the race so today I just wanted to lay it all out there."
Six more Canadian crews have earned their way to the A Finals tomorrow including Conlin McCabe (Brockville, ON) and Kai Langerfeld (Vancouver, BC) in the Men's Pair. The Men's Lightweight Double crew, Maxwell Lattimer (Delta, BC) and Patrick Keane (Victoria, BC) locked down their spot along with Hillary Janssens (Cloverdale, BC) and Sydney Payne (Toronto, ON) in the Women's Pair. Carling Zeeman (Cambridge, ON) will also line up in the Women's Single A Final. 
Both Canadian big boats have qualified for the A Final tomorrow. The Men's Eight won their repechage today and the Women's Eight finished 3rd to secure their spot in the big boat showdown.
Tune into all the action tomorrow with streaming live at CBC Sports and World Rowing on Sunday. The first A Final for Canada is set to start at 5:08ET/2:08PT.
Team Canada Results and Progressions (in order of event)
PR2 Men's Single – Jeremy Hall
Silver Medal 🥈 
Lightweight Women's Single – Jill Moffatt
Gold Medal 🥇 
Women's Pair 
Janssens/Payne 3rd in A/B semi-final > A Final
Bauder/Roman 14th overall
Men's Pair  
McCabe/Langerfeld 2nd in A/B Semi-final > A Final
De Groot/Schrijver 13th overall
Women's Double Sculls – Andrea Proske & Gabrielle Smith
4th in A/B Semi-final > B Final
Men's Double Sculls – Matt Buie & Aaron Lattimer
14 overall
Women's Four -Christine Roper, Colleen Nesbitt, Karen Lefsrud, Stephanie Grauer
13th overall
Women's Single Sculls – Carling Zeeman
1st in A/B Semi-final > A Final
Lightweight Women's Double – Jennifer Casson & Ellen Gleadow
13th overall
Lightweight Men's Double – Maxwell Lattimer & Patrick Keane
3rd in A/B Semi-final > A Final
Women's Coxed Eight (Roster below)
3rd in Rep > A Final
Men's Eight (Roster below)
1st in Rep > A Final
 
Live Streaming will be available for finals on Sunday June 23 at CBC Sports and World Rowing.
When and Where
June 21-23, 2019
Poznan, Poland
Racing starts 9:00am local time (3:00amET / 12:00amPT)
How to Follow Racing 
Live tracking and blogging every day at www.worldrowing.com.
Live streaming of finals on Sunday available in Canada at CBC Sports.
Join the conversation @rowingcanada: #WRCPoznan #rowtotokyo #rowingcanada
Schedule and Results available at worldrowing.com.
 
Canadian Crews – World Cup 2
| | |
| --- | --- |
| PR2 Men's Single | |
| Jeremy Hall | Edmonton Rowing Club |
| | |
| Women's Eight | |
| Madison Mailey | Burnaby Lake Rowing Club |
| Susanne Grainger | London Rowing Club |
| Jennifer Martins | Western University Rowing Club |
| Nicole Hare | Calgary Rowing Club |
| Avalon Wasteneys | University of Victoria Rowing Club |
| Kasia Gruchalla-Wesierski | Calgary Rowing Club |
| Hillary Janssens | University of British Columbia Rowing Club |
| Rebecca Zimmerman | University of Victoria Rowing Club |
| Kristen Kit (coxswain) | University of British Columbia Rowing Club/St. Catharines Rowing Club |
| Women's Pair | |
| Hillary Janssens | University of British Columbia Rowing Club |
| Sydney Payne | Brentwood College Rowing Club |
| | |
| Kristin Bauder | Middlesex-Western Rowing Club |
| Lisa Roman | Middlesex-Western Rowing Club |
| | |
| Women's Four | |
| Christine Roper | Ottawa Rowing Club |
| Colleen Nesbitt | Calgary Rowing Club |
| Karen Lefsrud | Calgary Rowing Club |
| Stephanie Grauer | Burnaby Lake Rowing Club |
| | |
| Women's Double | |
| Andrea Proske | Victoria City Rowing Club |
| Gabrielle Smith | Knowlton Rowing Club |
| | |
| Spare: Morgan Rosts | Ridley Graduate Boat Club |
| | |
| Lightweight Women's Double | |
| Ellen Gleadow | Burnaby Lake Rowing Club |
| Jennifer Casson | Kingston Rowing Club |
| Lightweight Women's Single | |
| Jill Moffatt | Western University Rowing Club |
| | |
| Women's Single | |
| Carling Zeeman | Sudbury Rowing Club |
| | |
| Men's Pair | |
| Conlin McCabe | Brockville Rowing Club |
| Kai Langerfeld | University of Victoria Rowing Club |
| | |
| David de Groot | Brock University Rowing Club |
| Tim Schrijver | Brock University Rowing Club |
| | |
| Men's Eight | |
| Benjamin de Wit | University of British Columbia Rowing Club |
| Cody Bailey | MicMac Aquatic Center |
| Gavin Stone | Queen's University Rowing Club |
| Jakub Buczek | Burnaby Lake Rowing Club |
| Mackenzie Copp | Western University Rowing Club |
| Martin Barakso | Brentwood College Rowing Club |
| Taylor Perry | Leander Boat Club |
| Will Crothers | Kingston Rowing Club |
| Lesley Thompson-Willie (coxswain) | London Rowing Club |
| | |
| Men's Double | |
| Matthew Buie | St. Catharines Rowing Club |
| Aaron Lattimer | University of British Columbia Rowing Club |
| | |
| Lightweight Men's Double | |
| Maxwell Lattimer | University of British Columbia Rowing Club |
| Patrick Keane | Victoria City Rowing Club |
| | |