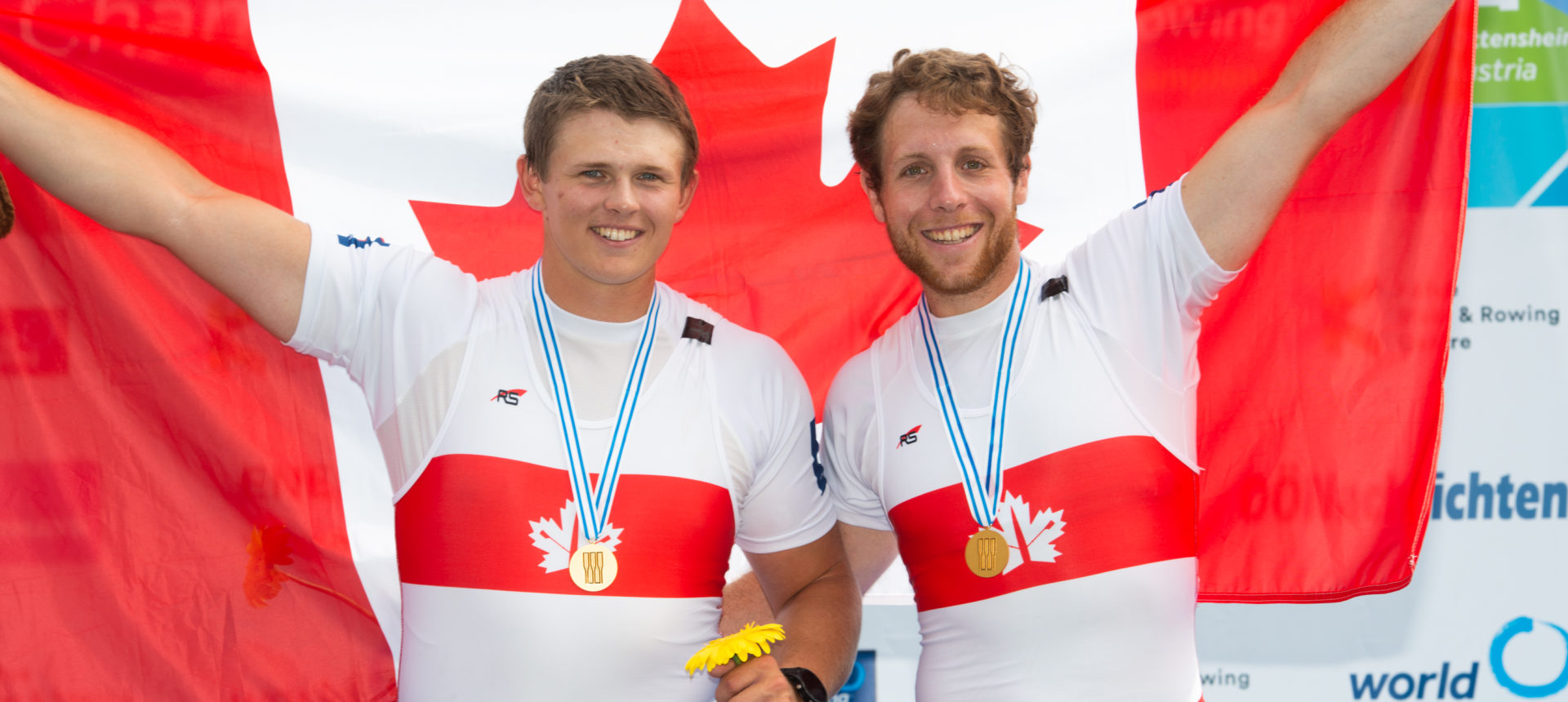 ---
August 30, 2019 – Linz-Ottensheim, Austria
IMMEDIATE RELEASE
Day 6 at the World Rowing Championships saw Canada defending a world championship title in the PR3 Men's Pair, a silver medal in the PR2 Men's Single and qualification in two additional Olympic boats for Tokyo 2020 – Women's Double and Women's Single. 
The 2018 defending World Champions in the men's PR3 Men's Pair, Andrew Todd (Thunder Bay, ON) and Kyle Fredrickson, (Duncan, BC) lined up in the A Final well prepared for what would be an epic battle with Australia, who entered the Final with faster heat time. With both boats sprinting to the line, Canada clinched the win in 7:16.42, with Australia crossing second (7:17.83) and France rounding out the podium with (7:24.00).
"It's pretty cool to win again," said Todd. "We felt like we had a target on our backs coming into this final, but we pulled it off and it's really special. I have had a year of illness and injury to the point where I was actually in a cast right up until the day we left to come here."
This pinnacle event was the first opportunity for this Canadian Para crew to compete together this year.
"It was harder this year to accomplish what we did for sure," said Fredrickson. "It was a mentally tough year not being able to race and we knew the Aussies were going to be fast. We just took it 15 strokes at a time."
Jeremy Hall (St. Paul, AB) had his work cut out for him in the PR2 Men's single A final, racing against World Best Time holder Corne de Koning from the Netherlands. Hall did close the gap on de Koning, rating higher that de Koning at 32 through the 1000m mark but would ultimately settle for silver in 8:42.78 and de Koning in 8:47.44. Italy took the bronze medal. Jeremy will race again tomorrow in the PR2 Mixed Double with partner Jessye Brockway. This pairing will be seeking one of two remaining 2020 Paralympic qualification spots.
"It's been a tough week doubling up. It's been up and down emotionally. This race has been a tougher one that usual to prepare for, but I think I was able to focus and execute a great race out there."
Canada delivered a nail-biting A/B semifinal race in the Women's Double, crossing the line in a photo finish with the Netherlands. Top 3 was the lucky number for A Final and Olympic boat qualification. Andrea Proske (Langley, BC) and Gabrielle Smith (Unionville, ON) stole the 2nd place finish behind New Zealand.
"It's pretty surreal I don't think it's sunk in yet," said Gabbie Smith. "We went out there to just race our best race and if we didn't make it [Olympic qualification], we would have had another opportunity in the B Final."
"We row best when we row for the joy of it," said Proske.  "There's no expectations other than what we put on ourselves I think we really have a shot at the podium."
Carling Zeeman (Cambridge, ON) secured her spot in the A Final and an Olympic spot for the Women's Single in Tokyo 2020. Zeeman delivered one of her strongest races of the year against World Champion Sanita Puspure of Ireland and World Cup winner, Emma Twigg of New Zealand. Ireland, New Zealand and Canada qualified their boats for the Tokyo Olympics and will face off in the A Final on Sunday.
"This means everything," said Zeeman tearfully.  "It's the hardest thing I've ever done. You have one chance at this and you don't want to mess it up."
Ellen Gleadow (Vancouver, BC) finished 5th in the lightweight women's single A Final today, while Aaron Lattimer (Delta, BC) finished 6th in the Men's Lightweight Single A Final.
The Men's Pair crew were up against it today with only three boats advancing to the A Final. Conlin McCabe (Brockville, ON) and Kai Langerfeld (Vancouver, BC) raced against a stacked A/B semi-final finishing 5th with New Zealand, Australia and France taking the top three spots. Conlin and Kai will continue to battle for one of 5 remaining Olympic qualification spots in the B Final.
Tomorrow, Hillary Janssens and Caileigh Filmer will contest the A final in the Women's Pair and Canada will look to secure Olympic and Paralympic qualification in B Finals – PR2Mix2x, M2-, LM2x, LW2x, W4-.
Racing continues until September 1, 2019 with live streaming available every day at CBC Sports.
Photos of Team Canada (copyright Rowing Canada Aviron) can be viewed here.
To receive live event updates and results via whatsapp for Finals starting on Friday, join the group here. (phone and whatsapp required)
The 2019 World Rowing Championships Qualification System for Tokyo 2020 can be found here.
When and Where
August 25-September 1, 2019
Linz-Ottensheim, Austria
Schedule to be released here
How to Follow Racing 
Live tracking and blogging every day at www.worldrowing.com.
Live streaming available in Canada at CBC Sports.
Media Guide
View World Rowing's World Rowing Championships media guide here. Bio information for Canadian team found here.
Join the conversation @rowingcanada: #WRChamps #rowtotokyo #rowingcanada #truenorthstrong