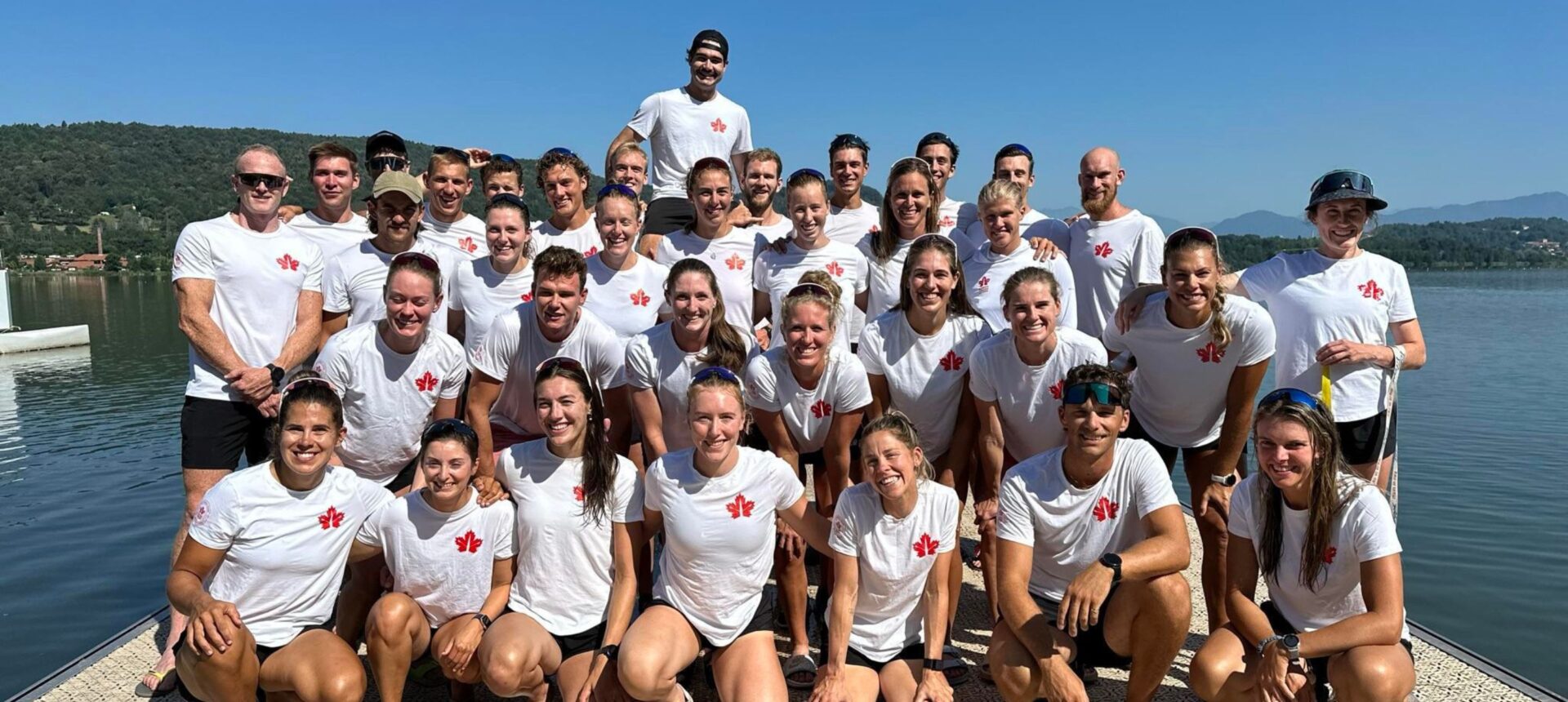 ---
Rowing Canada Aviron (RCA) has nominated 10 crews and 39 athletes for selection to take on the world's best rowers at the 2023 World Rowing Championships in Belgrade, Serbia. The World Rowing Championships taking place September 3-10, is the first opportunity for our National Rowing Team to qualify boats for the Paris 2024 Olympics.
The Canadian National Rowing Team is an exceptional blend of rising stars and seasoned veterans, forming a formidable roster that will proudly dawn the maple leaf on their oars and represent the nation with passion and dedication. This talented lineup includes nine rowers, making their World Rowing Championships debut for the nation, adding a new chapter to Canada's rowing legacy.
Among the crews, the Women's Eight stands out, following their impressive silver medal finish at World Cup III in Lucerne, Switzerland in early July. They are expected to be strong contenders in the hotly contested Women's Eights field. Meanwhile, the Men's Eight continues to build momentum after their sixth-place finish at World Cup III, aiming to make a splash at the upcoming Championships.
RCA Director of High Performance, Adam Parfitt, expressed confidence in the nominated group, stating, "We have talked about going to Belgrade with the goals of our best possible performances and qualifying boats for next year's Paris Olympics. With those goals in mind, we have nominated a talented and experienced squad of rowers who we believe can achieve these goals. The nominated crews are the result of an extensive selection period at the National Training Centre, and our team is excited to take to the waters in Belgrade."
The World Rowing Championships will witness fierce competition from rowing powerhouses across the globe, including Germany, the United States, and Great Britain, among the top contenders vying for medals. The Canadian Rowing Team has a proven track record and is ready to take on the world's best with unwavering determination.
As the countdown to the 2023 World Rowing Championships begins, the entire nation rallies behind the Canadian Rowing Team. You have the opportunity to support our Canadian Rowing Team towards the World Rowing Championships and the upcoming Paris 2024 Olympics and Paralympics. RCA has recently launched an initiative entitled "Patrons for Paris" to power the teams on their journey to the Paris 2024 Games.
We invite you to join the movement and become a valuable member of a supportive community. With the support of their fellow Canadians, the National Rowing Team athletes are bolstered by the knowledge that they carry the hopes and dreams of a nation on their shoulders and that support will help them achieve success on the international stage.
LEARN MORE ABOUT PATRONS FOR PARIS
2023 World Rowing Championships – Canadian Team:
Women's Coxed Eight
Morgan Rosts – Ridley Graduate Boat Club / Ontario
Cassidy Deane – Kingston Rowing Club / British Columbia
Avalon Wasteneys – University of Victoria Rowing Club / British Columbia
Sydney Payne – Brentwood College Rowing Club / Ontario
Kirsten Edwards – University of Victoria Rowing Club / British Columbia
Alexis Cronk – University of Victoria Rowing Club / British Columbia
Kasia Gruchalla-Wesierski – Club d'Aviron Knowlton / Alberta
Jessica Sevick – University of British Columbia / Calgary Rowing Club / Alberta
Kristen Kit (cox) – University of British Columbia / St. Catharines Rowing Club
Men's Coxed Eight
Will Crothers – Kingston Rowing Club / Ontario
Jakub Buczek – St. Catharines Rowing Club / Ontario
Curtis Ames – Calgary Rowing Club / Alberta
Gavin Stone – Queen's University Rowing Club / Island Lake Rowing Club / Ontario
Cody Bailey – London Western Rowing Club / Ontario
Liam Keane – Victoria City Rowing Club / British Columbia
Joel Cullen – University of British Columbia / University of Washington / British Columbia
Ryan Clegg – Western University Rowing Club / Ontario
Laura Court (cox) – St. Catharines Rowing Club / Ontario
Men's Coxless Pair
Josh King – Ottawa Rowing Club / Ontario
Luke Gadsdon – Leander Boat Club / Brock University / Ontario
Women's Coxless Pair
Caileigh Filmer – University of Victoria Rowing Club / British Columbia
Maya Meschkuleit – Don Rowing Club / Ontario
Women's Coxless Four
Rebecca Zimmerman – University of Victoria Rowing Club / Brockville Rowing Club / Ontario
Kristen Siermachesky – Brockville Rowing Club / BC NextGen Performance Centre / Ontario
Kristina Walker – Kingston Rowing Club / University of British Columbia Rowing Club / Ontario
Piper Battersby – Victoria City Rowing Club / British Columbia
Men's Quadruple Scull
Liam Smit – University of British Columbia Rowing Club / South Africa
Terek Been – Montreal Rowing Club / Quebec
Steven Rosts – Ridley Graduate Boat Club / Ontario
Daniel De Groot – St. Catharines Rowing Club / Ontario
Women's Quadruple Scull
Shannon Kennedy – London Western Rowing Club / Ontario
Grace VandenBroek – Peterborough Rowing Club / Trent University / Ontario
Carling Zeeman – Sudbury Rowing Club / Ontario
Elisa Bolinger – University of Western Ontario / Ontario
Women's Double Scull
Katie Clark – University of British Columbia Rowing Club / British Columbia
Marilou Duvernay-Tardif – Knowlton Rowing Club / Quebec
Women's Lightweight Double Scull
Jill Moffatt – Western University Rowing Club / Ontario
Jennifer Casson – Kingston Rowing Club / Ontario
Men's Single Scull
Trevor Jones – Peterborough Rowing Club / Ontario
Coaches
Lauren Fisher
Jeremy Ivey
Maksym Kepskyy
Dane Lawson
Carol Love
John Wetzstein