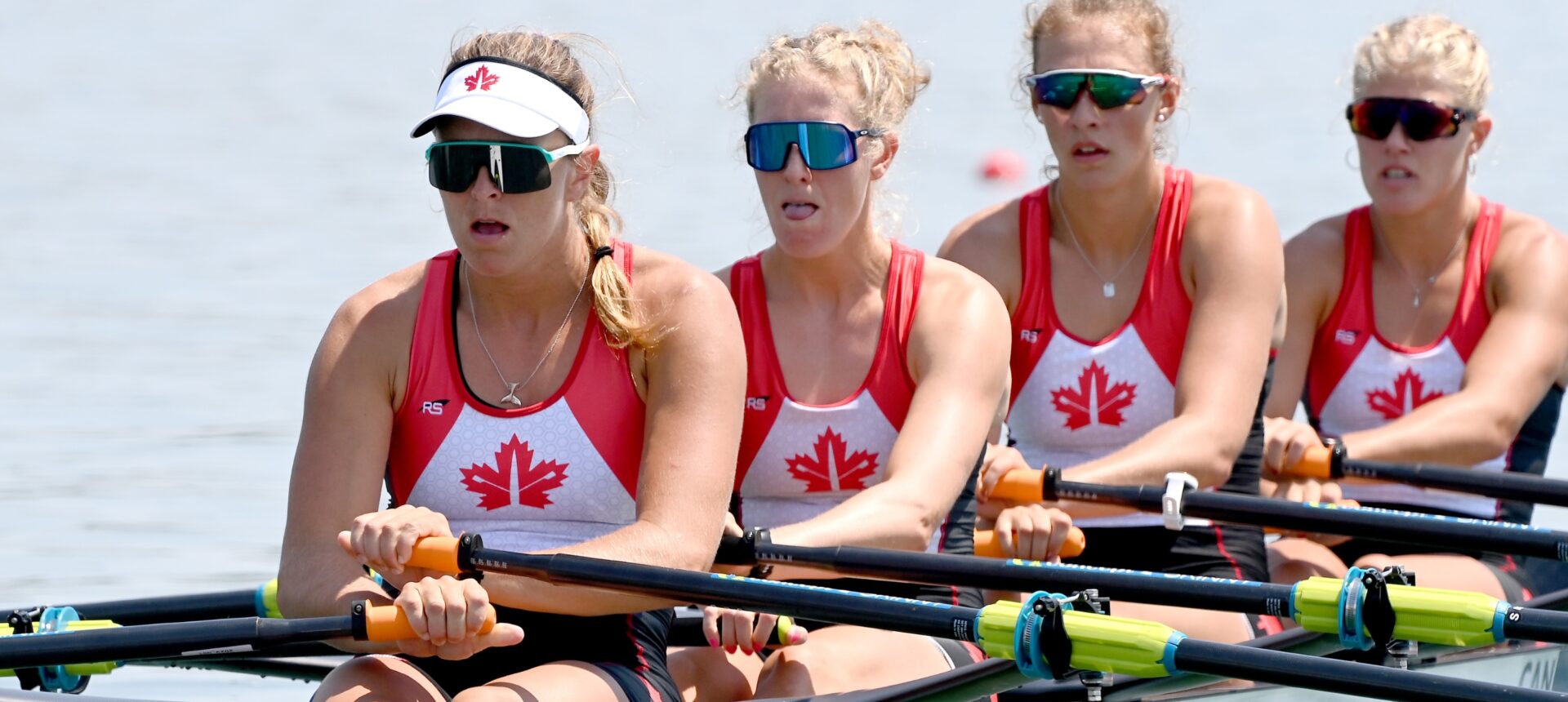 ---
Rowing Canada Aviron (RCA) will be represented by 35 rowers at the prestigious Henley Royal Regatta on the River Thames in England this week. Known as one of the most celebrated rowing events in the world, bringing together elite rowers from various nations to compete on the iconic waterway, the national team are amongst the esteemed participants in one of the largest Henley regattas in history.
Over 730 entries from 17 nations have registered to compete at the 2023 edition of Henley, the second-highest-ever total in its 184-year history, with a record number of 1400 female rowers set to compete, doubling the previous record number set in 2019. The competition begins on Tuesday 27 June with heats in the amateur club level categories through to Sunday 2 July when all finals are held. While the entries were made by RCA, following Henley tradition, most of our nine crews of rowers will compete under club colours and names rather than the national team moniker.
RCA Director of High Performance, Adam Parfitt, is excited for our athletes to partake in the historic regatta, using the event not only as an important performance checkpoint but also an opportunity to soak in the unique experience that is Henley.
"Competing at Henley is one of the most memorable moments in any rowers' career. It is such a unique regatta, where a club rower could find themselves lining up against an Olympic championin the same race," Parfitt said. "But more importantly it is another valuable performance opportunity for our athletes and crews to gain race experience against world-class competitionand continue building towards our goals."
Over the years, the Canadian National Rowing Team has delivered several outstanding performances at the Henley Royal Regatta, leaving a lasting impression on rowing enthusiasts worldwide. One of the most memorable moments occurred in 2008 when the Canadian men's eight crew, including current team member Will Crothers, triumphed in the Grand Challenge Cup, securing a historic victory against fierce competitors from around the world. Their extraordinary teamwork, precision, and sheer determination propelled them to an unforgettable win.
The Canadian women's eight crew has also significantly impacted the regatta, showcasing their skill and prowess on numerous occasions. Their exceptional performance in 2015 resulted in a hard-fought victory in the Remenham Challenge Cup, highlighting the team's resilience and tenacity.
For Men's quad sculler Terek Been, having the opportunity to compete at Henley is a great moment in his burgeoning national team career and an important milestone in his and his teammates ultimate goals for this season.
"Competing at Henley is another great opportunity to line up against quality crews. Poland and Australia are world class quads so any chance to test ourselves against that level of crews is amazing. Henley is one of the best and biggest regattas in the world so it will be fun to be a part of the rowing community and we are looking forward to the racing," Been said. "It's been fun to be back racing internationally to see where we stand and find out where the weaknesses are in our crew. We've definitely had some great races and strokes so now I'm excited for us to start putting it all together."
"At Henley we're trying to finalize our race plan and be able to expand on what we learned at World Cup II. When we get to Lucerne I'm confident we'll be able to throw down some good times and get a good assessment of where we stand and how each of us in the boat work together, so when we come back for world champs in September, we'll be ready to qualify the quad for the Olympics."
Fellow sculler Shannon Kennedy is looking forward to competing with her teammates in the Women's Quad at Henley with a focus on the rest of the International season.
"Henley Royal has always been a bucket list regatta for me, we were supposed to do it the summer of 2020 but then Covid hit so it's quite exciting to have the opportunity this year, I'm looking forward to seeing all the British fashion. Racing overseas is my favourite time of the year, I love competing. Winter is a long grind, so I am very grateful to be back in the sun and getting three opportunities to race and see where we are at compared to other countries," Shannon said.
"The women's quad is a new event for us that Canada has not raced in for many years and we are a very new crew together. Our main goal is to learn as much as we can about ourselves and the rest of the field and use that to progress through each race and regatta. The ultimate goal of the season is to qualify the boat for the Olympics at the World Champs so for now we need to use these races to steadily improve and build into September to be ready to do that."
The Henley Royal Regatta competition begins on Tuesday 27 June with heats in the amateur club level support categories, with heats in the open categories beginning on Wednesday 28 June.
Crews winning their heats and progressing through to the quarter-final stage of racing on Friday 30 June or to semi-finals which will be held on Saturday July 1. All finals will take place on Sunday July 2.
The racing schedule and up-to-date information regarding the regatta can be found on the Henley Royal Regatta website here: https://www.hrr.co.uk/events-overview/
View the complete 2023 List of Entries here: https://www.hrr.co.uk/compete/list-of-entries/
Follow along live as racing is streamed at https://www.youtube.com/user/HenleyRoyalRegatta
2023 Henley Royal Regatta Crew Lists 
The Diamond Challenge Sculls
(Men's Single – M1x)
Trevor Jones (Peterborough Rowing Club)
Liam Smit (University of British Columbia, Canada)
The Princess Royal Challenge Cup
(Women's Single – W1x)
Cassidy Deane (Rowing Canada Aviron)
The Silver Goblets & Nickalls' Challenge Cup
(Men's Pair – M2-)
Jack Walkey & Joel Cullen (Rowing Canada Aviron)
The Stonor Challenge Trophy
(Women's Double – W2x)
Katie Clark & Marilou Duvernay-Tardif (Maple Bay Rowing Club)
Jill Moffatt & Jenny Casson (Shawnigan Lake School)
The Queen Mother Challenge Cup
(Men's Quad – M4x)
Steven Rosts, Terek Been, Ryan Clegg & Daniel De Groot (Ridley College & Maple Bay Rowing Club)
The Princess Grace Challenge Cup
(Women's Quad – W4x)
Shannon Kennedy, Grace VandenBroek, Carling Zeeman & Elisa Bolinger (Shawnigan Lake School)
The Remenham Challenge Cup
(Women's Eight – W8+)
Morgan Rosts, Kirsten Edwards, Alexis Cronk, Kasia Gruchalla-Wesierski, Sydney Payne, Jessica Sevick, Kristina Walker, Avalon Wasteneys & Kristen Kit (cox) (Maple Bay Rowing Club)
The Grand Challenge Cup
(Men's Eight – M8+)
William Crothers, Liam Keane, Cody Bailey, Josh King, Luke Gadsdon, Gavin Stone, Curtis Ames, Jakub Buczek & Laura Court (cox) (Maple Bay Rowing Club)