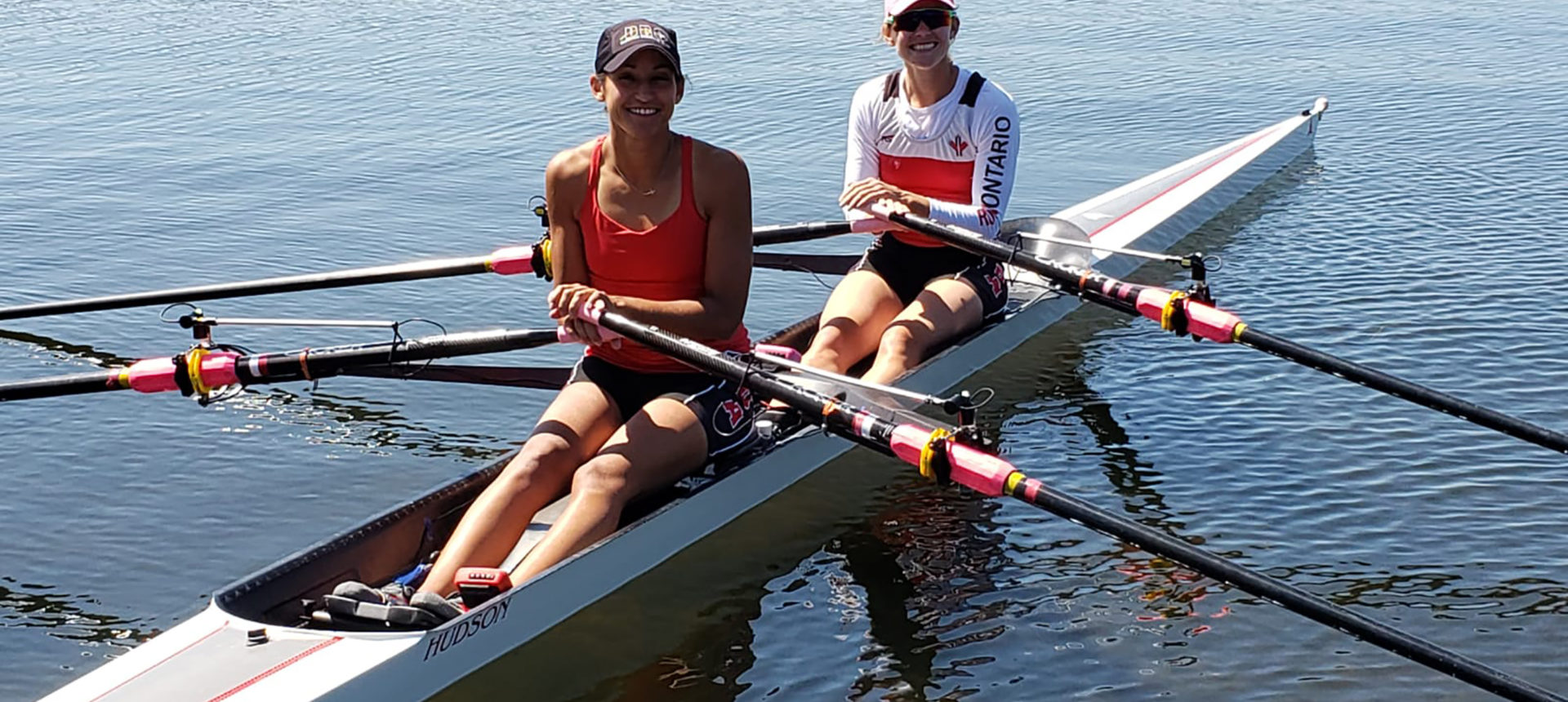 ---
When Kate Haber competes at her second Pan American Games next week, her supporter group will be slightly bigger than it was in 2015 when she won gold in Toronto. This time around, her fans cheering her on from home will include her son, who was born in 2017.
What's more, Haber is not the only mother representing Canada in rowing this month. In fact, her new Pan Am Games rowing partner, Jaclyn Stelmaszyk, will be competing in her first international rowing event since becoming a mom. Her daughter and Haber's son were born just four days apart.
"Kate and I can really relate to each other in life right now, both being married and moms helps us bond," said Stelmazsyk, who grew up in Uxbridge, Ontario, but spent two years representing Poland internationally, winning World Championship Lightweight Women's Quad gold in 2012. She last represented Canada at the 2013 World Cup I, winning gold in the Lightweight Women's Single event.
"[Kate and I] have lots of fun sharing about how each of our kids are growing and developing. Furthermore, it is so great having a teammate that understands you at your level and stage in life. What we are doing is hard and having someone really understand what you endure day (and night) is wonderful and less stressful."
Since competing in the 2015 Pan American Games, Toronto-born Haber has represented Canada at three World Championships, winning Lightweight Women's Single bronze in 2016. Like Stelmaszyk, Haber appreciates being able to train and compete with someone who has had similar experiences off the water.
"It is so wonderful to have a teammate that I can relate to and vice versa," said Haber. "It really helps to be able to understand what each of us needs when it comes to training, recovery and emotional support. I also think it brings an added level of compassion, patience and maturity into our crew."
Nicknamed 'the Mommy Double', Haber and Stelmaszyk will be competing in Peru in the Lightweight Women's Double event.
"The Mommy Double was actually a name that had been thrown around by a few of the coaches at the boathouse [in Victoria]," explained Stelmaszyk. "Kate and I wanted to come up with some name relating to the fact that we are moms, but the Mommy Double just kind of stuck, and we like it!"
Thirteen rowers will be representing Canada at the 2019 Pan American Games in Peru. Racing starts at Albufera Medio Mundo in Huacho on Tuesday August 6 at 9:00am local time (7:00amPT/10:00amET) and runs until Saturday August 10. Results and schedule information can be found at www.lima2019.pe/en
Click here for the 2019 Pan American Games team announcement.
Click here to contribute to the 2019 #RCANextGen campaign.
Get a behind the scenes look at what it takes to prepare to compete at the Pan American Games when the Mommy Double (@themommydouble) takes over the RCA Instagram account on Monday August 5! Don't miss out on any of the action by following RCA on Instagram at @rowingcanada