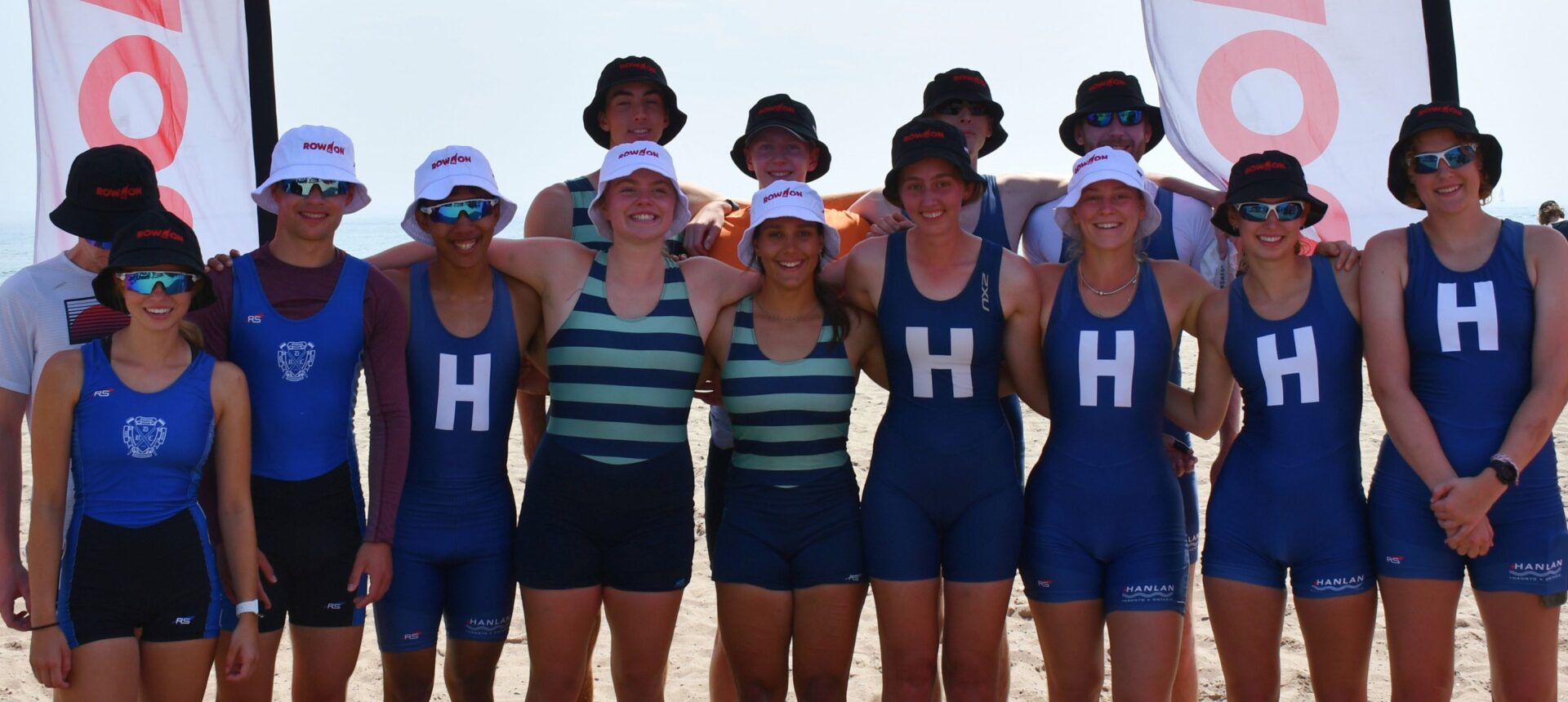 ---
An exciting weekend of Coastal Rowing has concluded with seven rowers earning the opportunity to represent Rowing Canada Aviron (RCA) at the 2023 World Rowing Beach Sprint Finals from September 29 through October, 1 at the coastal town of Barletta, Italy.
The National Beach Sprint Selection Regatta, hosted by Aviron Lachine, in conjunction with Aviron Quebec, saw coastal rowing pioneers Aubrey Oldham (Don Rowing Club) and Sarah Pidgen (Don Rowing Club) earning the opportunity to again represent Canada on the world stage.
In the Men's Solo (CM1x), Oldham utilized his skill and experience to secure victory over Pierre Laroulandie in the A Final, with Matthew Seaby (Peterborough Rowing Club) narrowly beating Michael Bryenton (Montreal Rowing Club) by just two seconds in a thrilling B Final. The Women's Solo (CW1x) A Final witnessed Pidgen defeat Ella Rose Duval (Montreal Rowing Club) to take home the gold medal, while Brienne Miller (North Star Rowing Club) beat out Geneviève Perreault (Club d'aviron de Laval) in a hard-fought B Final.
Capping their regatta, Oldham and Pidgen joined forces to take out the Mixed Doubles (CMix2x) crown beating out Isabel Izquierdo-Bernier and Paul Arnautovitch (Montreal Rowing Club) in the A Final. Showcasing their composure and experience, Oldham and Pidgen eased away in the final stretch and now turn their focus towards Italy. In the B Final, Miller and Austin Page (North Star Rowing Club) claimed bronze with a stirring seven second victory against Alexis Ouellet and Kayla Pearce (Aviron Lachine).
The RowOn Beach Sprint Championships, held by the Hanlan Boat Club, in conjunction with RowOntario, served as the selection event for the Under 19 athletes to represent Canada at the Beach Sprint Finals.
A captivating A Final in the Under 19 Men's Solo (CJM1x) saw Dennis Ovdiyenko (Don Rowing Club) narrowly defeat John Liu (Hanlan Boat Club) to earn an opportunity to represent Canada in September. The B Final saw Luke Winterbottom (Ridley College) beat out Aditya Raman (Argonaut Rowing Club) to claim the bronze medal. Argonaut Rowing Club duo Ruth McDonald and Ava Semeniuk surged in the Under 19 Women's Double (CJW2x) A Final slashing over six seconds off their best time to upset the top qualifiers and earn their spot for Italy.
In the Under 19 Men's Double (CJM2x), former solo competitors Ovdiyenko and Liu joined forces to win the doubles crown and earn their opportunity to represent Canada with a stellar performance in the final. Another thrilling final came in the Under 19 Mixed Double (CJMix2x) event that showcased all-Argos match-up as teammates battled for the title. Seminuik joined with Elliott Curtis-Young to defeat McDonald and Simon Whittaker in a friendly encounter.
Coastal rowing continues to gain momentum and popularity on the international sporting stage. World Rowing has formally proposed coastal rowing to the International Olympic Committee for inclusion in the 2028 Olympic Games in Los Angeles, which could lead to significant changes in the global rowing landscape. A decision on this proposal is expected in September 2023, heightening anticipation within the rowing community.
2023 Rowing Canada Aviron Beach Sprint Selection Regattas – Final Results
National Beach Sprint Selection Regatta
Elite – Men's Solo (CM1x)
Gold – Aubrey Oldham (Don Rowing Club)
Silver – Pierre Laroulandie
Bronze – Matthew Seaby (Peterborough Rowing Club)
Elite – Women's Solo (CW1x)
Gold – Sarah Pidgen (Don Rowing Club)
Silver – Ella Rose Duval (Montreal Rowing Club)
Bronze – Brienne Miller (North Star Rowing Club)
Elite Open – Mixed Double (CMix2x)
Gold – Aubrey Oldham & Sarah Pidgen (Don Rowing Club)
Silver – Isabel Izquierdo-Bernier & Paul Arnautovitch (Montreal Rowing Club)
Bronze – Brienne Miller & Austin Page (North Star Rowing Club)
RowOn Beach Sprint Championships
Under 19 Men's Solo (CJM1x)
Gold – Dennis Ovdiyenko (Don Rowing Club)
Silver – John Liu (Hanlan Boat Club)
Bronze – Luke Winterbottom (Ridley College)
Under 19 Men's Double (CJM2x)
Gold – Dennis Ovdiyenko (Don Rowing Club) & John Liu (Hanlan Boat Club)
Silver – Matthew Ellwood & Aditya Raman (Argonaut Rowing Club)
Under 19 Women's Double (CJW2x)
Gold – Ruth McDonald & Ava Semeniuk (Argonaut Rowing Club)
Silver – Browyn Hayes & Jennifer Hambly (Don Rowing Club)
Bronze – Renee Campbell & Nicolle Campbell (Hanlan Boat Club)
Under 19 Mixed Double (CJMix2x)
Gold – Ava Seminuik & Elliott Curtis-Young (Argonaut Rowing Club)
Silver – Ruth McDonald & Simon Whittaker (Argonaut Rowing Club)
Bronze – Olivia Richardson & Aditya Raman (Argonaut Rowing Club)