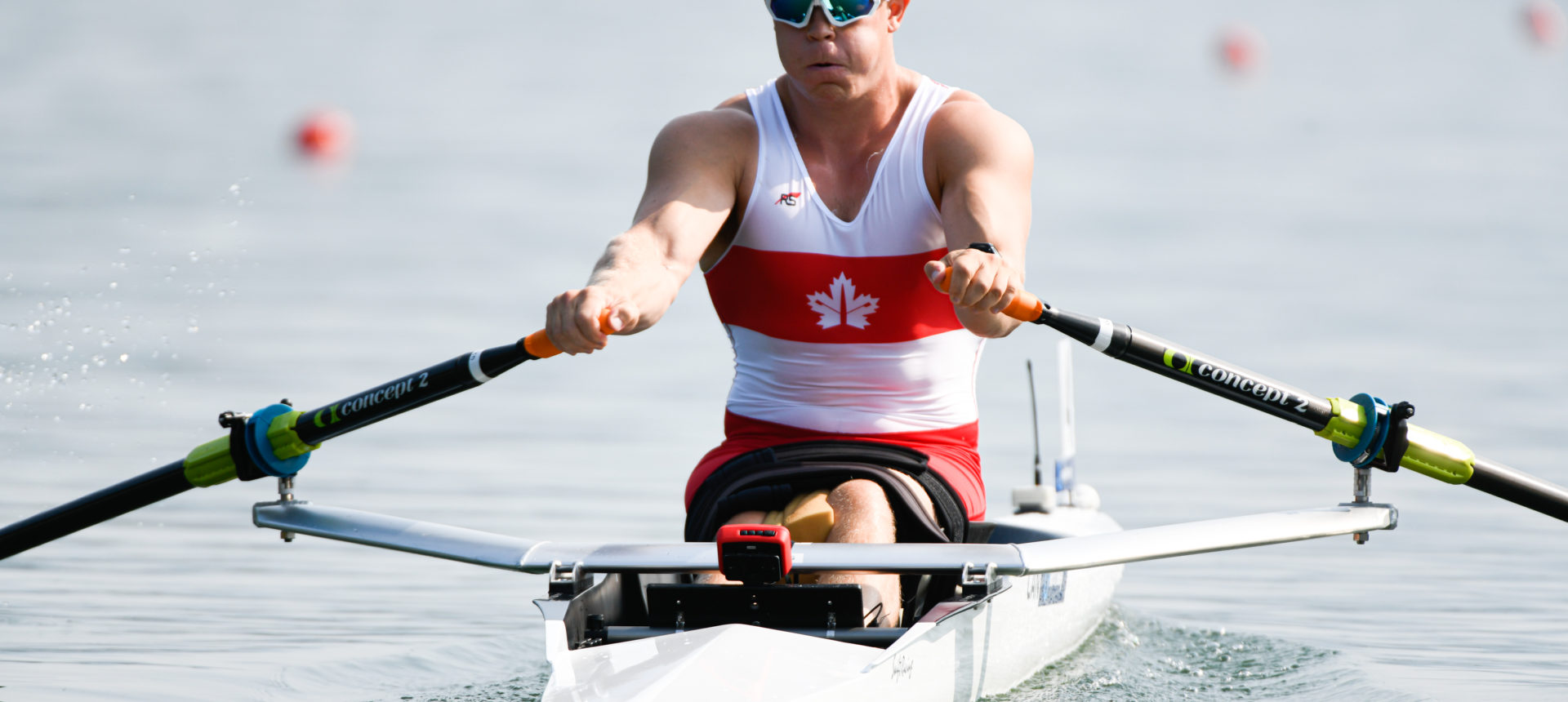 ---
August 26, 2019 – Linz-Ottensheim, Austria
IMMEDIATE RELEASE
Hot conditions and strong results continue for the Canadian team on Day two at the World Rowing Championships. Canada raced in three events with two Para heat wins and spots secured for the A Final on Friday.
Jeremy Hall (St. Paul, AB) makes his return to the PR2 Men's Single following his silver medal performance at the 2018 World Championships in Plovdiv, Bulgaria. Jeremy cleanly crossed the finish line posting the fastest overall heat time in 8:52.35. Jeremy advances directly to the A Final on Friday.
"The primary goal here this week is to qualify the PR2 mixed double for Tokyo 2020," said Hall. "That being said, I definitely want to prove that last year was not just a fluke. Leading this race, from start to finish, was a good test for me and I'm pumped to be racing in Friday's A final. In the meantime, my focus remains on getting through tomorrow's PR2 double rep with my partner Jessye and securing a Paralympic Games berth for Canada later this week."
Defending World Champions Andrew Todd (Thunder Bay, ON) and Kyle Fredrickson (Duncan, BC) contested the first of two heats for PR Men's Pair today locking up the win and securing their spot in the A Final on Friday.
"Honestly I'm just really happy to even be here," said 2016 Paralympic bronze medallist, Andrew Todd. "It has been a long year of illness and injury for me and I'm happy we got this race under our belts. Before I arrived here in Linz, I made a list of all the people who helped me get here and it's quite extensive. I am really grateful for the huge team behind the team."
The Women's double was the last race for Canada today with only one boat progressing from each heat to the semi-finals. Andrea Proske (Langley, BC) and Gabrielle Smith (Unionville, ON) surged through the 1500m mark, trying to close the gap on race leaders Madden/Stone (USA) before running out of water and facing off again in Wednesday's repechage.
The Men's and Women's eights start their heats tomorrow with repechage action for the women's four, lightweight women's single, and PR2 mixed double.
Racing continues until September 1, 2019 with live streaming available every day at CBC Sports.
Photos of Team Canada (copyright Rowing Canada Aviron) can be viewed here.
The 2019 World Rowing Championships Qualification System for Tokyo 2020 can be found here.
When and Where
August 25-September 1, 2019
Linz-Ottensheim, Austria
Schedule to be released here
How to Follow Racing 
Live tracking and blogging every day at www.worldrowing.com.
Live streaming available in Canada at CBC Sports.
Media Guide
View World Rowing's World Rowing Championships media guide here. Bio information for Canadian team found here.
Join the conversation @rowingcanada: #WRChamps #rowtotokyo #rowingcanada #truenorthstrong
Canadian Crews – World Rowing Championships
| | |
| --- | --- |
| PR2 Men's Single | |
| Jeremy Hall | Edmonton Rowing Club |
|   | |
| PR2 Mixed Double | |
| Jeremy Hall | Edmonton Rowing Club |
| Jessye Brockway | Gorge Rowing Club |
|   | |
| PR3 Men's Pair | |
| Andrew Todd | North Star Rowing Club |
| Kyle Fredrickson | University of Victoria Rowing Club |
| | |
| PR1 Men's Single | |
| Loren Pearson | Victoria City Rowing Club |
|   | |
| Women's Eight | |
| Lisa Roman | Middlesex-Western Rowing Club |
| Susanne Grainger | London Rowing Club |
| Nicole Hare | Calgary Rowing Club |
| Avalon Wasteneys | University of Victoria Rowing Club |
| Kasia Gruchalla-Wesierski | Calgary Rowing Club |
| Hillary Janssens | University of British Columbia Rowing Club |
| Christine Roper | Ottawa Rowing Club |
| Caileigh Filmer | University of Victoria Rowing Club |
| Kristen Kit (coxswain) | University of British Columbia Rowing Club/St. Catharines Rowing Club |
| Women's Pair | |
| Hillary Janssens | University of British Columbia Rowing Club |
| Caileigh Filmer | University of Victoria Rowing Club |
|   | |
| Women's Four | |
| Madison Mailey | Burnaby Lake Rowing Club |
| Jennifer Martins | Western University Rowing Club |
| Stephanie Grauer | Burnaby Lake Rowing Club |
| Sydney Payne | Brentwood College Rowing Club  |
|   | |
| Women's Double | |
| Andrea Proske | Victoria City Rowing Club |
| Gabrielle Smith | Knowlton Rowing Club |
|   |   |
|   | |
| Lightweight Women's Double | |
| Jill Moffatt | Western University Rowing Club |
| Jennifer Casson | Kingston Rowing Club |
| Lightweight Women's Single | |
| Ellen Gleadow | Burnaby Lake Rowing Club |
|   | |
| Spares | |
| Kristin Bauder | Middlesex-Western Rowing Club |
| Morgan Rosts | Ridley Graduate Boat Club |
| Rebecca Zimmerman | University of Victoria Rowing Club |
| Laura Court | St. Catharines Rowing Club |
|   | |
| Women's Single | |
| Carling Zeeman | Sudbury Rowing Club |
|   | |
| Men's Pair | |
| Conlin McCabe | Brockville Rowing Club |
| Kai Langerfeld | University of Victoria Rowing Club |
|   | |
| Men's Eight | |
| Benjamin de Wit | University of British Columbia Rowing Club |
| Cody Bailey | MicMac Aquatic Center |
| Gavin Stone | Queen's University Rowing Club |
| Jakub Buczek | Burnaby Lake Rowing Club |
| Mackenzie Copp | Western University Rowing Club |
| Martin Barakso | Brentwood College Rowing Club |
| Taylor Perry | Leander Boat Club |
| Will Crothers | Kingston Rowing Club |
| Lesley Thompson-Willie (coxswain) | London Rowing Club |
|   | |
| Men's Double | |
| Matthew Buie | St. Catharines Rowing Club |
| Trevor Jones | Peterborough Rowing Club |
|   | |
| Lightweight Men's Double | |
| Maxwell Lattimer | University of British Columbia Rowing Club |
| Patrick Keane | Victoria City Rowing Club |
| | |
| Lightweight Men's Single | |
| Aaron Lattimer | University of British Columbia Rowing Club |
| | |
| Spares | |
| David De Groot | Brock University Rowing Club |
| Tim Schrijver | Brock University Rowing Club |
-30-
For more information:
Colleen Coderre
RCA Communications
comm@rowingcanada.org